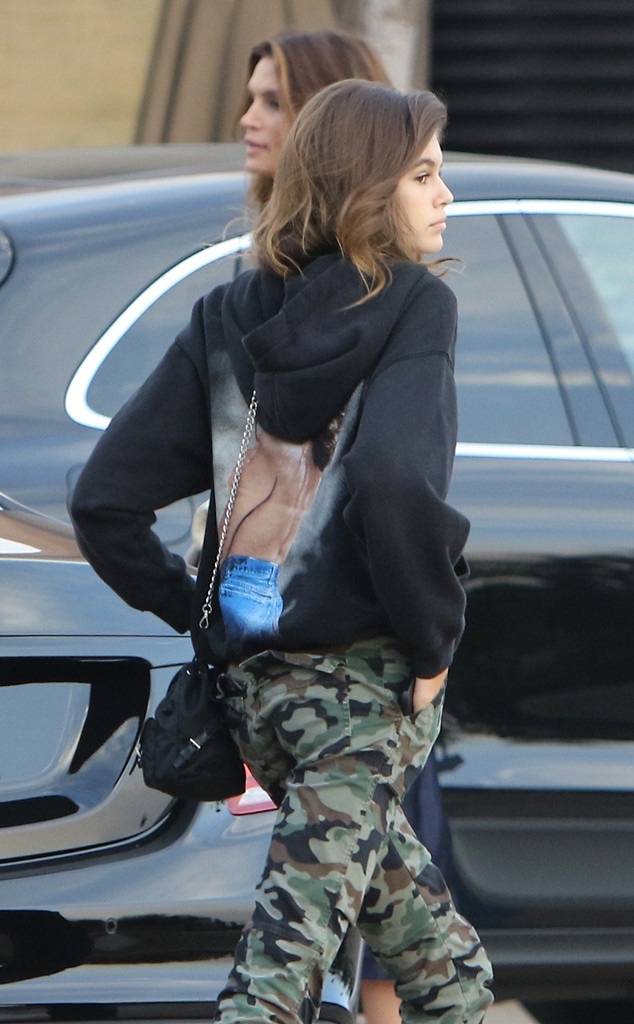 LESE/BACKGRID
Cindy Crawford's look-alike daughter Kaia Gerber is wearing her heart on her sleeve, or rather her back.
The 15-year-old model was photographed this week heading to dinner in Malibu with her famous supermodel mom and dad Rande Gerber.
Kaia wore a black hoodie bearing an image of one of Cindy's topless modeling photos on the back. It is part of her and Re/Done's officially licensed Crawford capsule collection and retails for $260.
Kaia is the youngest child of Cindy, 51, and Rande, 55. They are also parents to son Presley Gerber, 18. Both he and his sister are models.
Kaia was named the new face of Young Versace, Donatella Versace's first collection for girls ages 12 and under, in 2012, when she was 10. She has since appeared in many photo campaigns and has graced covers of magazines such as Vogue and Teen Vogue. Over the years, her fanbase has grown; She maintains more than 1.6 million followers on Instagram.
"My parents have always taught me to be myself and to follow my instincts," she told Teen Vogue this summer. "They also say that you should never let what other people do affect what you want to do. It changes everything when you accept who you are and you don't try to change yourself."
"It is so key to me to be a good role model for young girls and someone their mom would want them to look up to," she added. "I now reach so many people, and it's hard for them to know what is real. I don't take any platform I have lightly. It's so important to send a good message."