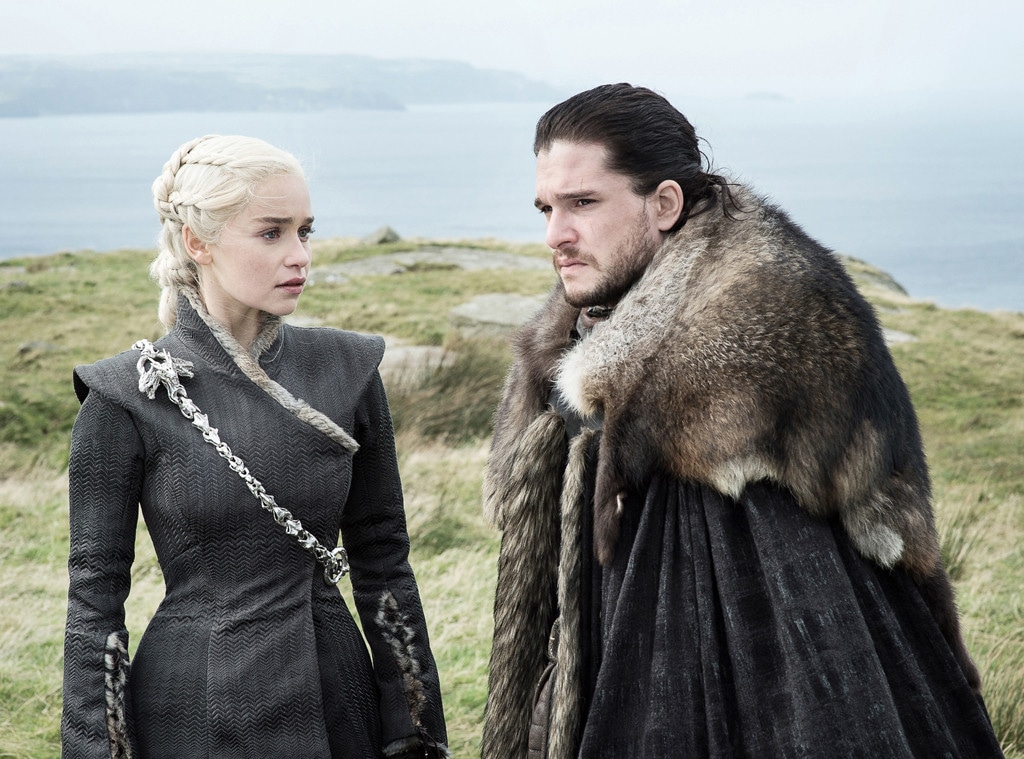 HBO
After a season of smoldering stares, Jon Snow and Daenerys Targaryen finally gave into temptation and did the deed in Game of Thrones' season seven finale, giving fans what they wanted (two hotties knocking boots and another look at Kit Harington's naked booty, TBH) despite the fact that they're, you know, aunt and nephew.
But if you found the scene tame in comparison to most of the sexual antics the show's gotten up to in the past, there was a good reason for that. And the person you can blame? Director Jeremy Podeswa.
"With Jon and Dany's scene, the important thing for me was that it wouldn't be prurient in any way, that there's a very strong undercurrent in that scene," he told Indiewire. "It was shot very, very simply. It's basically just one steady push in shot to Jon and Dany and then that very important look between them at mid-level. And then a one-shot looking at Jon, then looking down at Dany. It wasn't about shooting a big lovemaking scene. Once they're making love, that's the story. There's no reason to kind of linger on that."
As the director explains it, it was more important to focus on what the act meant to the unknowingly incestuous couple, rather than the act itself. "But the real story within the story, was actually what was going on with their eyes and what's happening — there's an understanding between them that even though they know in some part of them that they shouldn't really be doing this, they cannot not do it," he added. "There's some element of destiny that's brought them together, and they can't fight it."
The irony of Jon and Dany (Emilia Clarke) finally consummating their growing passion while Bran (Isaac Hempstead Wright) and Sam (John Bradley) confirmed for viewers that the King of the North is, in fact, the legitimate son of Rhaegar Targaryen and Lyanna Stark (complete with interwoven flashbacks to their wedding and Jon's birth) was absolutely intentional, as Podeswa explained it was meant to drive home just how fated these two are to one another. 
"It was exactly as written in terms of the intercutting of those scenes," he explained. "It was also intercut with the younger Ned Stark and Lyanna telling the secret of Jon's identity. All those things were meant to be interwoven, to give a kind of prismatic view of the history that brought Jon to this point, and Jon and Dany together in this sweep of destiny, in this sweep of history. It was very much written that way. My contribution to that was really making that cinematic and making this feel like a fluid movement through time as we're seeing this all unfold."
Exactly how Jon and Dany will choose to move forward once they learn the truth remains to be seen, but one thing we know for sure is that the wait for those answers is going to be a long one. With production on the eighth and final season set to begin in October and likely running as late as August 2018, THR reports that Game of Thrones' return could possibly be delayed until 2019. Until then, you'll find us rewinding Jon and Dany's scene over and over again...
Were you expecting Jon and Dany's romp in the sheets to be more explicit than it was? Or did they get it just right? Sound off in the comments below!