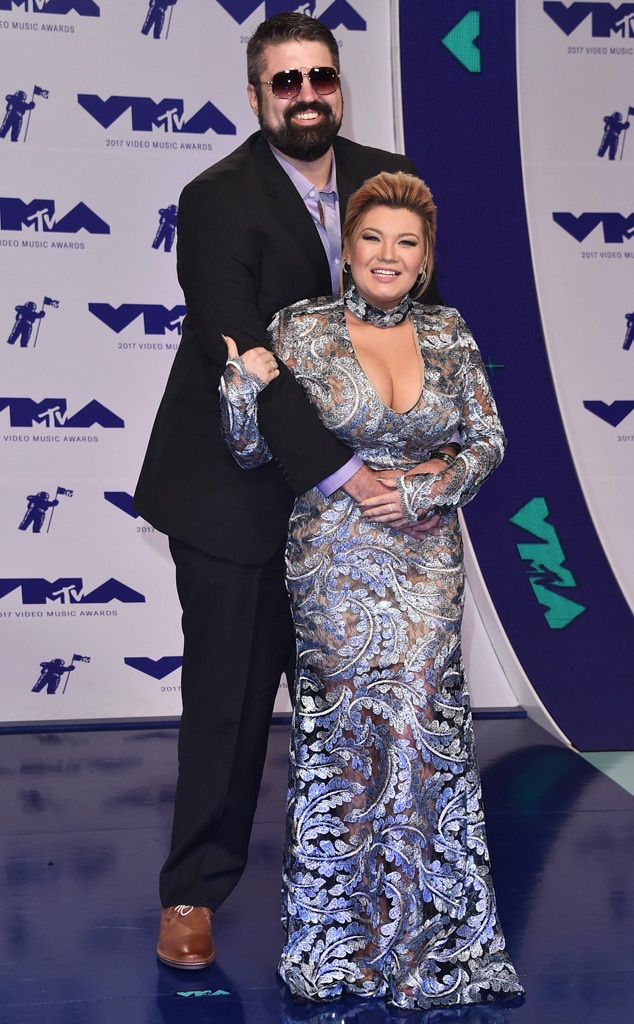 Alberto E. Rodriguez/Getty Images
Amber Portwood and her new boyfriend are ready to make their red carpet debut as a couple.
As the Teen Mom star stepped out Sunday evening at the 2017 MTV Video Music Awards, there was a special man by her side.
Ladies and gentlemen, let us introduce you to Amber's new man Andrew Glennon.
While posing for photographers at the Forum in Inglewood, the MTV star wore a sheer, floral dress. As for Andrew, he opted for a black suit with a purple button-down.  
Earlier this month, E! News confirmed that Amber and Andrew were in fact a new couple. In fact, they met while Amber was filming Marriage Boot Camp with her ex Matt Baier.
"It makes sense Amber and Andrew grew close during filming. Her relationship with Matt was in bad shape and when you're shooting a show like this where there is a lot of heightened emotion, participants bond with the crew," an insider shared.
Our source also insisted that lines weren't crossed and "nothing happened" between the two until Amber returned home.
As for how Matt is reacting to the new relationship, he can't help but wish he did things a little differently.
"I'll hold out hope for reconciliation," Matt recently shared with E! News. "But if nothing else, I hope we can stay friends. We started off as best friends and that's what I miss the most from her—her friendship. To not have that is painful. When something happens, my natural instinct still is to call her and tell her everything. She was my family."
Hear more from Amber Portwood when she appears on E! News and Daily Pop Wednesday on E!