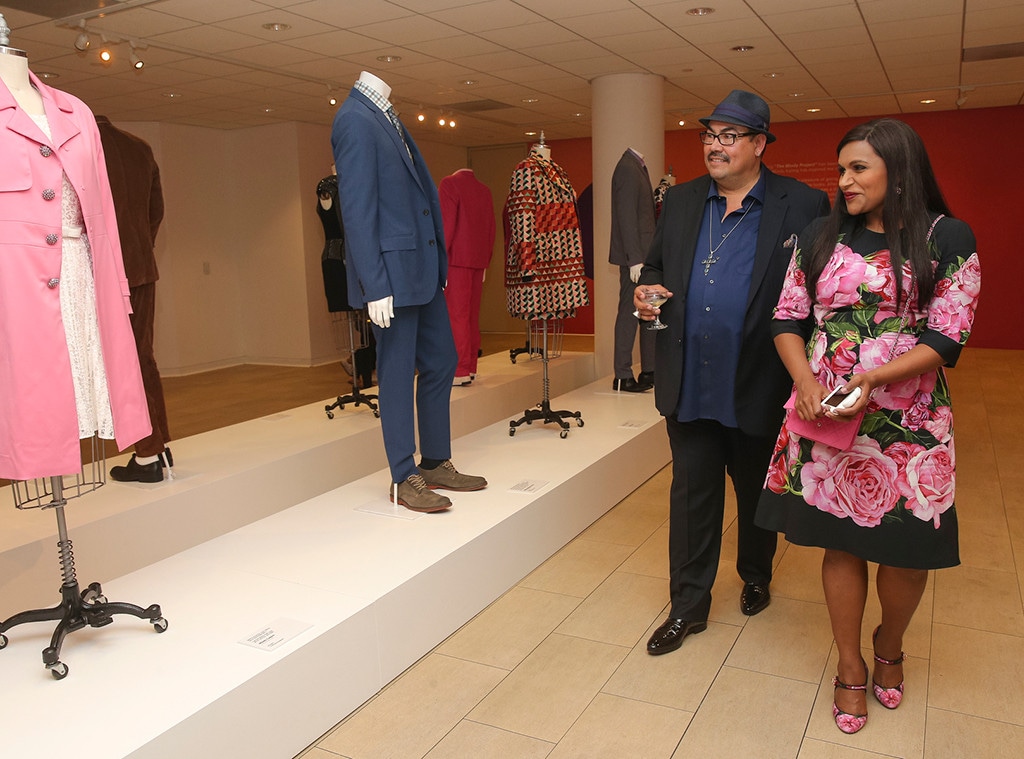 Imeh Bryant/The Paley Center for Media
Say it ain't so!
Our beloved Mindy Project is nearing its end, but E! News caught up with Mindy Kaling and the show's costume designer, Salvador Perez, to talk fashion and final goodbyes.
"It's getting a little sentimental and sad actually," Kaling confessed about the last month of shooting.
However, fashion fans will certainly have something to look forward to during the show's last hoorah. "Sal is pulling out all the stops for the last few episodes for costumes," Kaling added.
In fact, while supporting Perez at his costume exhibit at the Paley Center last night, Kaling couldn't help but think back to when she first convinced him to design costumes for the show.
"I'm a pretty ambitious person, and it was the same kind of dream that takes you to think that you can go from having a small part in The Office to having your own show...[I knew] we could we do a show that had so many incredibly gorgeously designed costumes that inspire so many young women," she explained. "He's so determined, I'm so determined and we worked really, really hard."
Imeh Bryant/The Paley Center for Media
Perez added, "She sold me on the idea. She was like, 'I want this show to be inspirational. And I was like, 'Oh I like this!'"
Still, it wasn't easy for her to convince him to drop everything and join her.
"I was in the middle of Liz & Dick with Lindsay Lohan so you can imagine, I didn't ever want to work anymore," Perez laughed, adding, "I actually turned this job down several times...And [then] I met Mindy."
She told him her view for the show, promising it would be way more than just lab coats and doctor's offices and looking to "push the edge" for fashion in television. 
And it certainly did!
Perez said he thinks the fashion element of the show struck a chord with people because Kaling is not the "average actress size" and yet she "always looks impeccable."
He explained, "I think that it's shown to regular-sized girls across America that you can have fun with fashion no matter what size you are. And she really pushes fashion. I make sure that she always looks great, it's about great fit."
Imeh Bryant/The Paley Center for Media
Needless to say, you can imagine what an emotional roller coaster working on the final season has been.
"We had our last read through [this week]," Perez revealed. "I read the final script a couple of times, and I cried for an hour afterwards."
He continued, "Mindy has written the most beautiful script. It is the most beautiful finale. For the stories, they just wrap up. And you don't get that emotion where it ends awkwardly. She just puts a nice little bow on this, and you're just going to walk away satisfied, happy for everybody, and I am so excited for everybody to see this final episode."
As for hiding Kaling's pregnancy—which we confirmed last month—for the final few episodes, Perez noted that things are going well so far.
"She doesn't show yet, but we have another four weeks of shooting. I'm hoping to get away with it, but yeah, I am buying lots of stretch. So far so good, fingers crossed!"
Well, we can't wait to watch! The final seasons returns on Sept. 12 to Hulu.