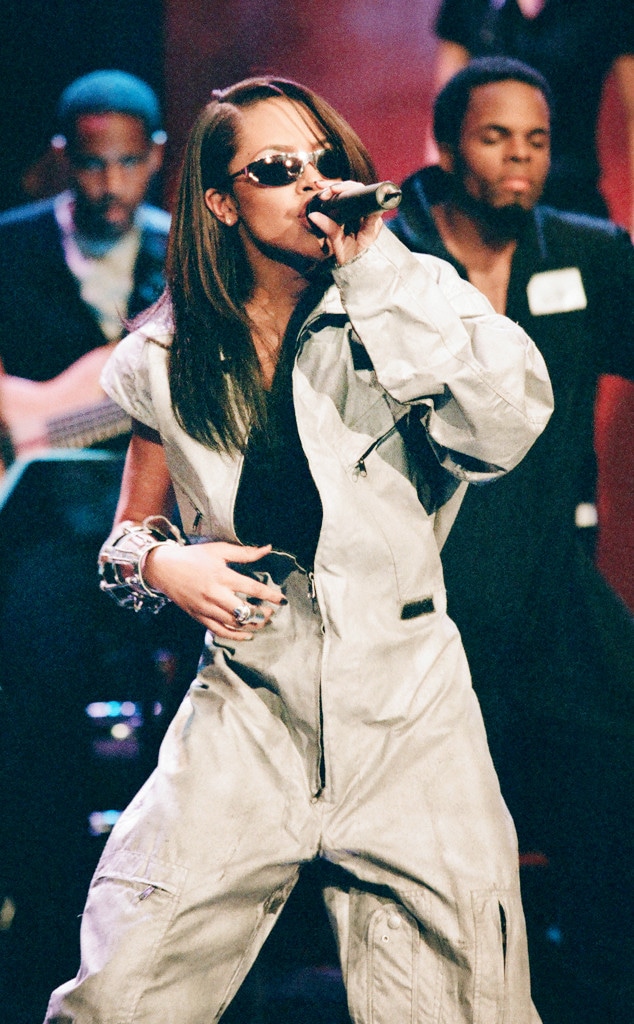 Margaret Norton/NBC/NBCU Photo Bank via Getty Images
Sixteen years ago today, the world said a heartfelt good-bye to the reigning R&B queen, Aaliyah. 
At the time of her tragic passing, the singer's iconic status was inevitable. By 15, she had a double platinum record, Age Ain't Nothing but a Number. At 17, she reappeared with music heavy hitters Missy Elliott and Timbaland at her side, releasing One in a Million, another double platinum record. Then, the star started her acting career, starring in Romeo Must Die with martial artist Jet Li, and continued acting as the vampire vixen in Queen of the Damned. In 2001, she picked up her first love, recording Billboard #1 Aaliyah—and, she achieved all of this by 22.
While this list of accolades seem like the reason that so many love the pop star, there was something else that attracted the masses: her effortlessly cool style. 
In the '90s, there weren't many stars that showed up to events in sweatpants (for a good reason). Yet, whenever Aaliyah dressed down with cropped tops and baggy clothes, it never looked sloppy. In fact, it was the opposite. Her soft-toned voice, eloquence and grace made any look feminine, including a menswear jumpsuit.
The recipe to her effortless style is easy. The consistent choice for crop tops (see: her abs) made her sexy, while her masculine-appearing bottoms made her cool. Her style stepped out of the diva personality that so many expected to her have and made her relatable. Her style transformed her from a high-achieving diva to an artist that you can see yourself being friends with. 
"[Aaliyah] came in and was so warming; she made us immediately feel like family," Missy Elliott told MTV.
Close to two decades later, this style continues to resonate with the fashion-obsessed. From Rihanna's feminine athleisure line to Gigi Hadid's collaboration with Tommy Hilfiger to the celebs' obsession with oversized clothing, the late R&B star's effortlessly sexy fashion is on trend. 
Ready to channel your inner Aaliyah? Shop the looks below! 
More proof that Aaliyah's style is relevant today: Next summer, MAC will release #AaliyahforMAC to celebrate the singer's timeless beauty. The collaboration is a result of a petition on Change.org that her fans started two years ago. The campaign, with support from her brother, garnered over 26,000 signatures, pushing the late singer to join the likes of Taraji P. Henson and Nicki Minaj.
Although she isn't physically with us today, her legacy is very much alive.