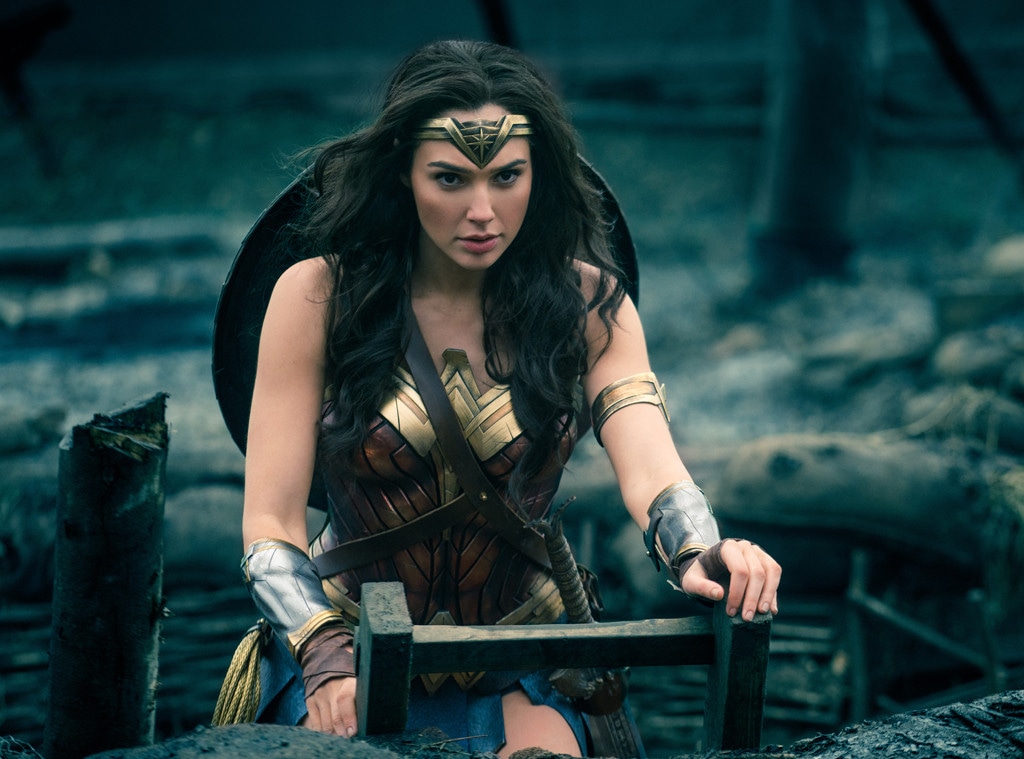 Clay Enos/ TM & © DC Comics
Wonder Woman is one of the best-reviewed superhero movies ever and continues to smash box office records. There's one scene in particular that struck—and continues to strike—a chord with viewers: The introduction of Wonder Woman. You probably just gasped remembering it.
Yes, the scene where Gal Gadot's Amazon princess took to the battlefield in No Man's Land and deflected bullets left, right and center. It's probably the most important scene in the movie, one director Patty Jenkins became obsessed with—and one that almost didn't happen.
"The thing about No Man's Land is I fully believed that that scene could and had to be all of that. I was like this is it, this is the reveal of Wonder Woman, this is the turning point of the movie, this is a huge shift in her dynamic with mankind and her involvement in that world," Jenkins said.
"And so I was super hands on, obsessed with that scene from the very start because it's also not an obvious scene. Who is she fighting? We're not angry at the villain, it's not about that, it's about her and so that's a very certain kind of scene. It's very specific. It's not an action scene necessarily just, it's a character beat. I was super fixated on that scene and I worked on it 'til the second we finished the film and even so I lobbied to make changes after we had locked it completely. I was like, 'If I just…' because I knew how important it was," she continued.
It's a scene that has prompted numerous articles, tweets and reactions (tears) from audiences everywhere. Mission accomplished, Patty! But there was also another scene that struck a chord with audiences that Jenkins wasn't expecting.
Clay Enos/ TM & © DC Comics
"I think the [Amazon] beach battle surprised me much more, that people cried during the beach battle, because that was never a crying, emotional—I didn't ever think it would be that way," she said. "And the fact that women had such a strong reaction to seeing themselves fight in that way, and in that number was more surprising to me. I was like, 'Oh, wow, yes, of course.' We were so involved with every step that we never could step out and seeing it that time, but of course it's surprising to see for the first time."
Lucy Davis, Etta Candy, was one of those who cried. "The slow motion and the music was so beautiful, I think, that when you see the women fighting—I just remember the one woman who went around in the air—I cried. I was like, 'Oh this is happening.' It was amazing. I loved it," Davis said.
Clay Enos/ TM & © DC Comics
In fact, Davis cried quite a bit when she first saw the movie.
"When I first saw the movie and it was only me and Connie Nielsen in a screening. I saw the first bit of the Amazons training together…and I just remember crying in that and then I cried in No Man's Land and then I cried when apparently love is the answer at the end," she said. "I was worn out! It was great to see that."
While Jenkins and Co. accomplished what they had set out to do, she admitted she wasn't necessarily sure that would be the case.
"You know, there was tremendous pressure from day one. I'm a very ambitious person for my own films…Like, I want to make a masterpiece, which you'll never do, but already you're like, every night, 'What can I have done better today?'…I already put that bar on everything that I do. And then to be the one to get to do Wonder Woman from the moment I took the job I was like, 'Oh my god, this is it. This is everybody's one Wonder Woman—could be the only one Wonder Woman. It's got to be the best movie we could possibly make,'" Jenkins said.
"But then from that moment on you sort of tune it out because I did feel like a perfectly good filmmaker to do it…I was the only one I knew of who had been talking off and on for so long about doing it, and wanting to do it for long. So I was like, 'This is the right choice, it's a specific choice to me that makes sense, so let's just do our best. But then at the end when it was done, I definitely…in the weeks between it was done and when it came out, I definitely felt like the vice coming down like, 'Wow! Better be good! Wow this is going to really suck,' and I had alternate plans…but there's nothing you can do but try to make the greatest film at the time," she continued.
Clay Enos/ TM & © DC Comics
Those fears are all in the past now. Jenkins said the first time she really felt the movie was a success was the second week it was out "when everybody came again the way that they did and our drop was so low." And then the conversations she began having with fans sealed the deal.
"I remember at the very end of making the film saying to Gal literally, 'Gal, I don't know. Listen man, we don't know. Like, maybe somebody will see the movie we tried to make. I've lost the forest through the trees. I know that's the best we can do. It is what it is,'" she said. "So when anybody says, 'I saw the movie you were trying to make and it affected me as you were'—and then for a number of people to be saying that, it was like, 'Oh my god! We made the movie—they saw the movie we were trying to make.' And that's incredible. That was it."
Wonder Woman arrives on Blu-Ray and DVD September 19 and is available digitally on August 29.