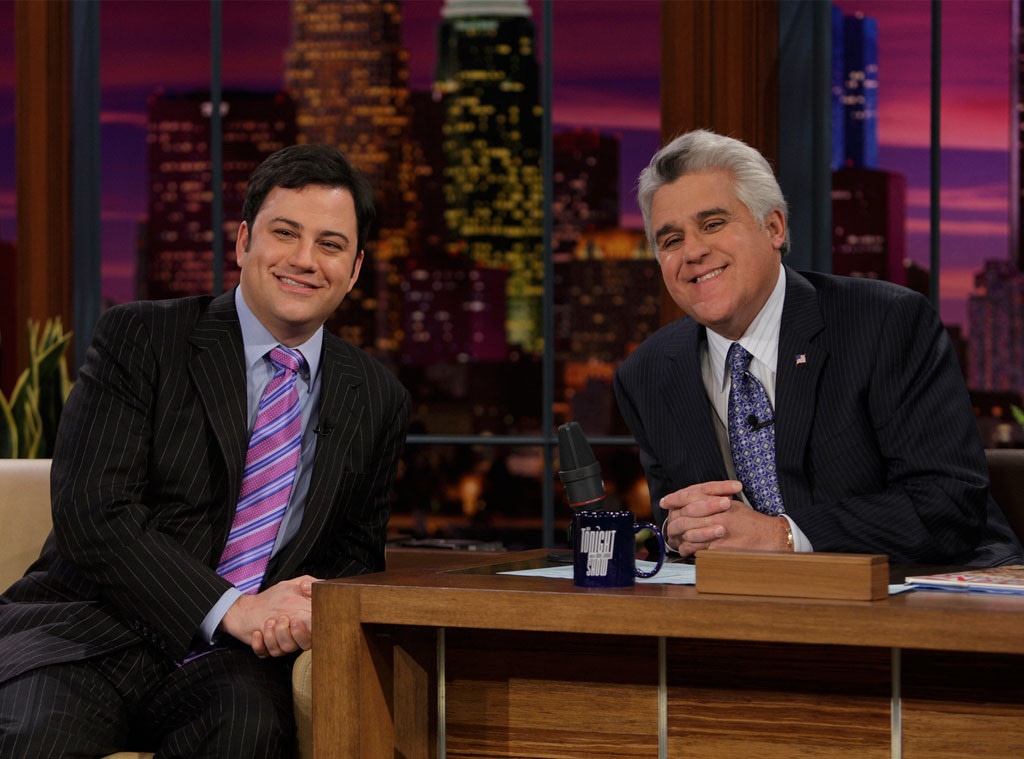 NBC Photo: Paul Drinkwater
For years, there was no love lost between late-night talk hosts Jimmy Kimmel and Jay Leno. But now, Kimmel says, they "made peace" after his emotional announcement about his baby boy.
In May, the Jimmy Kimmel Live! and 2017 and 2018 Oscars host said on his show that his wife Molly McNearney recently gave birth to their son William John Kimmel and that the newborn had undergone heart surgery for a congenital heart defect. He has since shared positive health updates about the baby.
"Jay and I have made peace," Kimmel said on The Hollywood Reporter's Awards Chatter podcast last week. "After my son had his operation, he called me and he was very nice."
"What he did was, you can't argue with his success, his longevity," he continued. "I will say, when I was in high school, going to college, he was one of my all-time favorite comics." 
Kimmel and Leno's feud stems from NBC's infamous 2010 Tonight Show shakeup.
Leno had taken over for iconic host Johnny Carson in 1992 and hosted the late-night talk show until 2009, after which Conan O'Brien was given the job. Leno then hosted the newly created The Jay Leno Show, which aired earlier. After seven months, following lackluster ratings for both his new series and The Tonight Show With Conan O'Brien, as well as a dispute with NBC over a proposed time slot change, Leno returned as host of The Tonight Show. O'Brien left the company and became the host of his own TBS late-night series, Conan.
Kimmel and Leno have traded harsh words about each other since the shakeup. On the Awards Chatter podcast, Kimmel said he was initially a fan of his rival David Letterman, who had famously feuded with Leno over the Tonight Show as well, and had "started off with a negative feeling" about the issue.
In 2010, Kimmel mocked Leno by impersonating him on Jimmy Kimmel Live! Also, two months before Leno returned to The Tonight Show, Kimmel appeared via satellite on The Jay Leno Show and joked about the shakeup. When asked, "What's the best prank you ever pulled?" Kimmel responded, "I think the best prank I ever pulled was, I told a guy that five years from now, I'm going to give you my show, and then when the five years came, I gave it to him and then I took it back almost instantly."
Kimmel talked about Leno and the Tonight Show shakeup again during an event at New York City's 92nd Street Y in 2012, after it was announced Jimmy Kimmel Live! would be moving from 12:05 a.m. to a 11:35 p.m. time slot, pitting it against The Tonight Show.
"F--k him," xfinity.com reported Kimmel as saying. 
"As a comedian, you can't not have disdain for what he's done: He totally sold out," Kimmel told Rolling Stone in 2013.
Also that year, Kimmel told Playboy, "I always feel bad if I hurt anybody's feelings, but I don't believe Jay Leno has actual feelings, and he doesn't seem to be that worried about other people's feelings."
In a 2015 interview with TV Line, Leno slammed the Jimmy Kimmel Live! host, saying, "The most element you can have in doing a late night show is kindness. Because the show makes you arrogant. I think that's Jimmy Kimmel's problem. I think he's a talented guy, I think he's funny. But he has a mean streak, and it comes across."
"I never had any problems with the guy, but he chose to go after me," Leno said on NBC's Today show a few months later," Leno explained. "And that's fine, welcome to show business."
Kimmel and Leno's feud had already appeared to fizzle in 2014, when the latter star left The Tonight Show for the second time.
"Issues aside, 20 years at #1 is a remarkable achievement," Kimmel tweeted at the time. "Congratulations and best wishes to @jayleno on an incredible run."