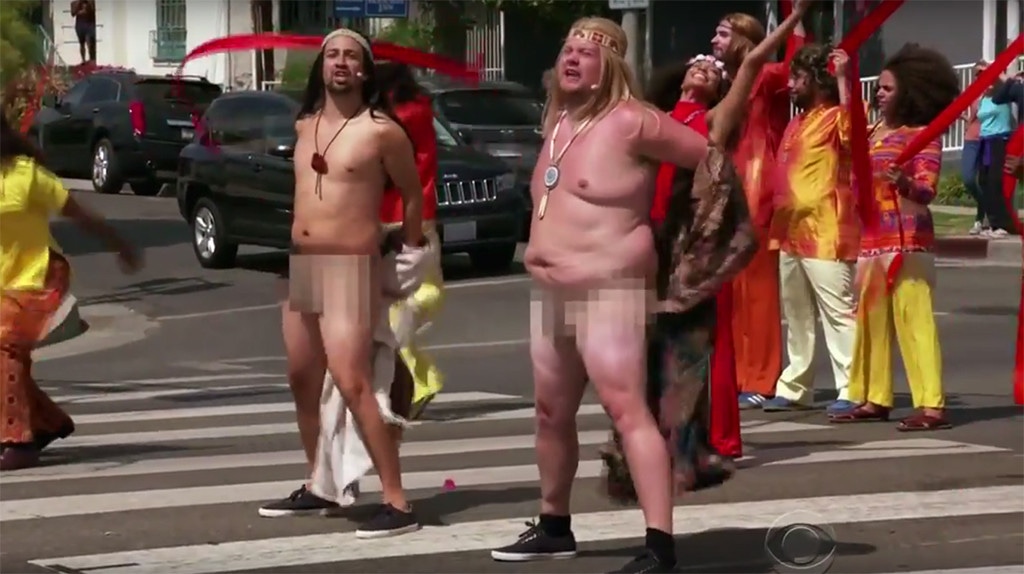 CBS
Hamilton creator Lin-Manuel Miranda and James Corden are letting the sunshine in...in places where the sun may not shine.
On Thursday's episode of Corden's Late Late Show, the two were shown taking part in a new installment of the recurring segment Crosswalk the Musical, whose theme this time was the '60s Free Love-themed rock show Hair.
Wearing shining, gleaming, streaming, flaxen, waxen wigs and not much else, the two stripped down and gave drivers stuck in traffic an eyeful as they passionately belted out "The Flesh Failures / Let the Sunshine in" on a crosswalk near the talk show's studios in Los Angeles, amid backup performers.
Miranda even proceeded to give one driver a private dance performance on the hood of their car.
"I've never felt so free!" the Tony winner later shouted. 
"In the original production of Hair, the entire cast got naked, but both CBS and the state of California have told us we can't be nude in a crosswalk," he explained. "Then again, people told me that Alexander Hamilton wasn't a Puerto Rican rapper with beautiful brown eyes."
The group also performed the title song from Hair and "Aquarius."
"In a lot of ways, I feel like everything I've ever done has been leading up to this point," Miranda said. "In the seven years I was writing Hamilton all I could think was, 'This is big enough. I might get on the Crosswalk. And now it's happened."
Miranda was in town for the opening night of the Hamilton National Tour's residency at Los Angeles' Pantages Theatre Wednesday. He made a surprise appearance onstage during the curtain call and finally met up with superfan Sarah Michelle Gellar, who was among scores of celebs who flocked to the venue for the big night.