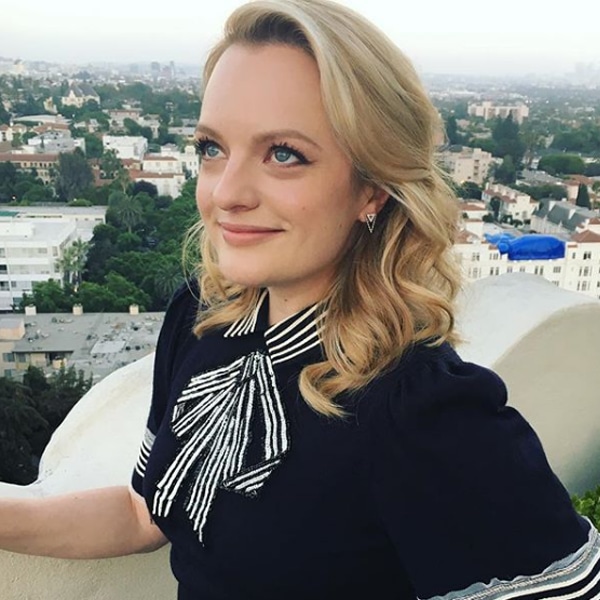 Instagram
Elisabeth Moss rarely speaks out about her involvement with the Church of Scientology, which is why many of her fans and followers were surprised to see her defending her religion on Instagram earlier this week.
The Handmaid's Tale actress shared a photo of herself at the final event for the show before the 2017 Emmys coming up next month.
She wrote, "Last Handmaids Tale season 1 event until the Emmys! Thank you for coming out everyone last night, your love and support of the show means more to us than I'll ever be able to express in words. Truly. And now we get to go work on bringing you season 2!!! Which by the way is going to blow your minds..."
Of course, the photo and caption sparked quite the commentary on Instagram, encouraging one fan to question the similarities between Gilead—a totalitarian society ruled by a fictional fundamentalist regime—and Scientology.
"Love this adaptation so much," Instagram user moelybanks wrote. "Question though, does it make you think twice about Scientology? Both Gilead and Scientology both believe that all outside sources (aka news) are wrong or evil… it's just very interesting."
Moss responded, "That's actually not true at all about Scientology. Religious freedom and tolerance and understanding the truth and equal rights for every race, religion and creed are extremely important to me. The most important things to me probably. And so Gilead and THT hit me on a very personal level. Thanks for the interesting question!"
The Instagram user appeared to accept her response, writing back, "Thank you for taking the time to try and explain a little. Either way, you do you and imma do me and if that makes us happy i supposed that's all that matters."
Meanwhile, Moss first opened up about being involved with the Church of Scientology in 2012. Though she's remained quiet about it over the years, Leah Remini put the spotlight back onto her involvement earlier this month while discussing their current relationship.
"Elisabeth Moss believes that she can't talk to me," Remini told The Hollywood Reporter last week. "She believes that I'm an antisocial personality—because I've spoken out against Scientology. So she isn't allowed to talk to me. And me knowing that, I wouldn't put her in the awkward position."
Still, Remini noted, "I don't hold anything against Elisabeth Moss other than she's continuing to support a group that is abusive and destroying families. That's for her to learn—just as I needed to learn it."
The Church of Scientology responded to Remini's allegations by encouraging readers to learn more about the religion by visiting its website.
"Leah Remini's false attacks on the Church of Scientology, in an effort to drum up publicity for her equally false 'docuseries,' is truly despicable. Leah Remini's 'reality' show Aftermath is really Leah Remini: After Money. It is nothing more than a scripted, rehearsed, acted and dramatized work of fiction," a spokesperson on behalf of the church said in a statement. "Like the other anti-Scientologists in her program, she was expelled from the Church years ago for unethical conduct."
The statement continued, "Sadly, Remini continues to spread her false allegations in an effort to garner publicity for an equally false program. Remini has continuously harassed and maligned her former religion, which she herself admits provided her help and support for most of her life."