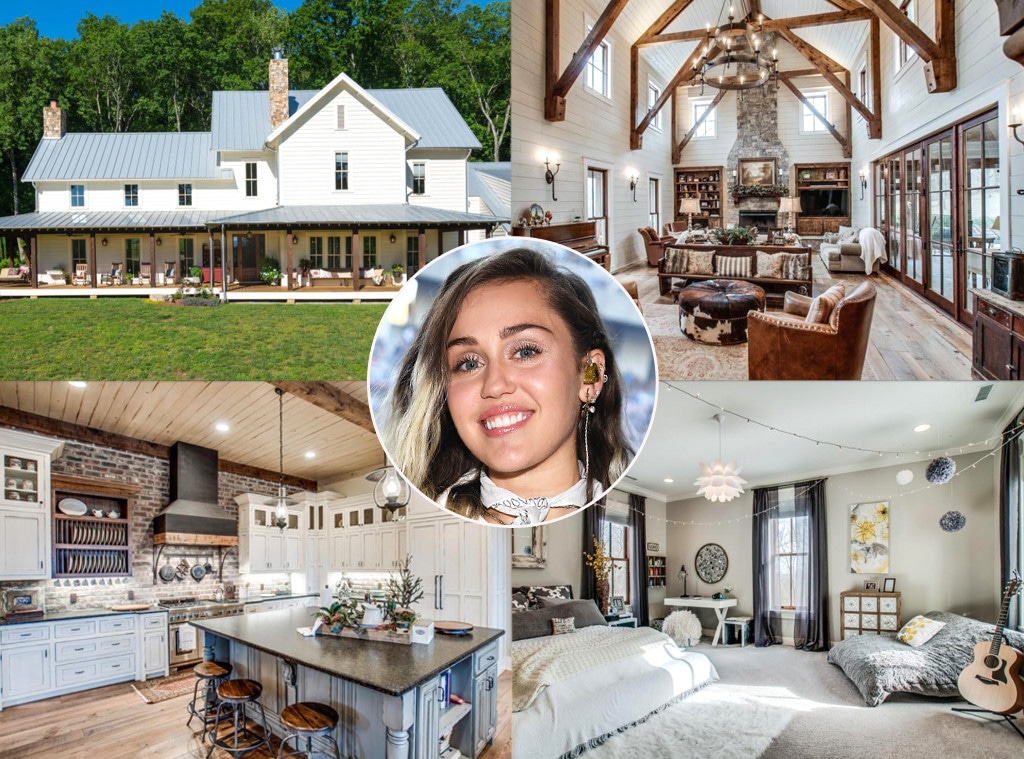 Trulia, Dave Kotinsky/Getty Images for iHeart Media
You can take the girl out of the south, but you can't take the south out of the girl!
Miley Cyrus is now the proud owner of 33.5-acre property in her hometown of Franklin, Tenn., E! News can confirm. The $5.8 million farmhouse is right outside Nashville, and comes with all the amenities anyone seeking woodsy tranquility in a rural environment would love. 
Bult in 2014, the 6,869-square-foot home boasts five bedrooms, four bathrooms, a three-car garage, pool and miniature putting green. Miley's new abode includes a shabby chic decor with plenty of shiplap and rustic detailing. Quite a departure from her eclectic and extremely modern Malibu oasis!
The 24-year-old pop star was born and raised in Franklin on a 500-acre farm before moving to Hollywood at 11-years-old for Hannah Montana. The rest, as they say, was history! 
Just last year, Cyrus plunked down $2.5 million for her scenic ranch retreat in Southern California, where she's since lived with fiancé Liam Hemsworth and recorded her latest hit single "Malibu." 
In 2015, she parted  ways with her Toluca Lake family home for a hefty $6 million before purchasing another equestrian estate in Hidden Hills for north of $4 million. 
She's long expressed interest in heading back to Tennessee, especially after filming Hannah Montana: The Movie. "I wish I had more time [in Tennessee,]" she told reporters in 2009. "That was the longest I had been back since I left. I am really hoping to move back there at some point. Filming really made me miss home."
Cyrus is now only days away from the release of Younger Now, her sixth album out Sept. 29. E! News recently sat down with Miley's mom Trish and sister Brandi to learn what's different about the singer these days. 
"Something I really respect about Miley is that she really does truly know what's important and what matters. And that doesn't mean overworking herself and being on tour all year anymore," Brandi told us. "That means her family and her life at home and her animals and making the music she really loves and I think that's something that comes with age when you start to realize that and she's there and that's why I think she's so happy."
Tish added, "I think Miley is so real and every stage you see her in is truly the stage of her life that she's in. She's in such a great place, so happy, and I think the music really reflects that."