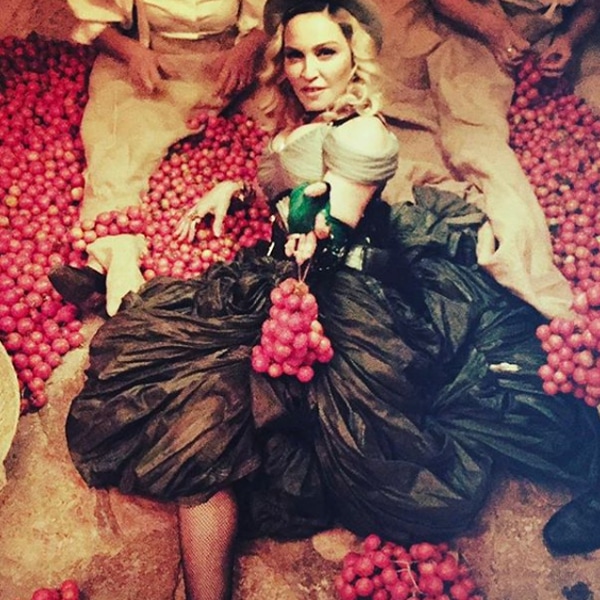 Instagram
Madonna rang in her 59th birthday yesterday and decided to go big for the celebration.
Not only did she throw an outdoor bash in Puglia, Italy, on Tuesday—to which she arrived on top of a white horse—she also threw herself a gypsy-themed party last night.
The Queen of Pop took to social media to share several photos from the celebration, wearing a silky green skirt with a cleavage-baring top, fishnets and one green, silk glove. She accessorized the look with lots of layered necklaces, a diamond between her two front teeth and a top hat.
"Giving Thanks for another Year filled with many Surprises and many Blessings!" she captioned one of the photos that showed her praying before an altar.
However, when she woke up this morning to continue sharing a few photos, she had a different confession to make...
"I stand before this altar. with a small confession! ............. i have a tiny hangover," she wrote. "I'll have to Bend the knee!" LOL!
Not only did the celebration come complete with creative decor and lots of friends (who also dressed for the occasion), her 4-year-old twins Stella and Esther also joined the fun. They looked adorable in matching green floral ensembles, and one of them even rocked a fake mustache!
The party also included dancing, singing and performances, as Madonna shared the video above, writing, "Last Night was EPIC! A Stallion-a woman - the dirt. Love is like this."
Needless to say, Madge is kicking off her 59th year in a big way....Now we can only help but wonder what 60 will bring!