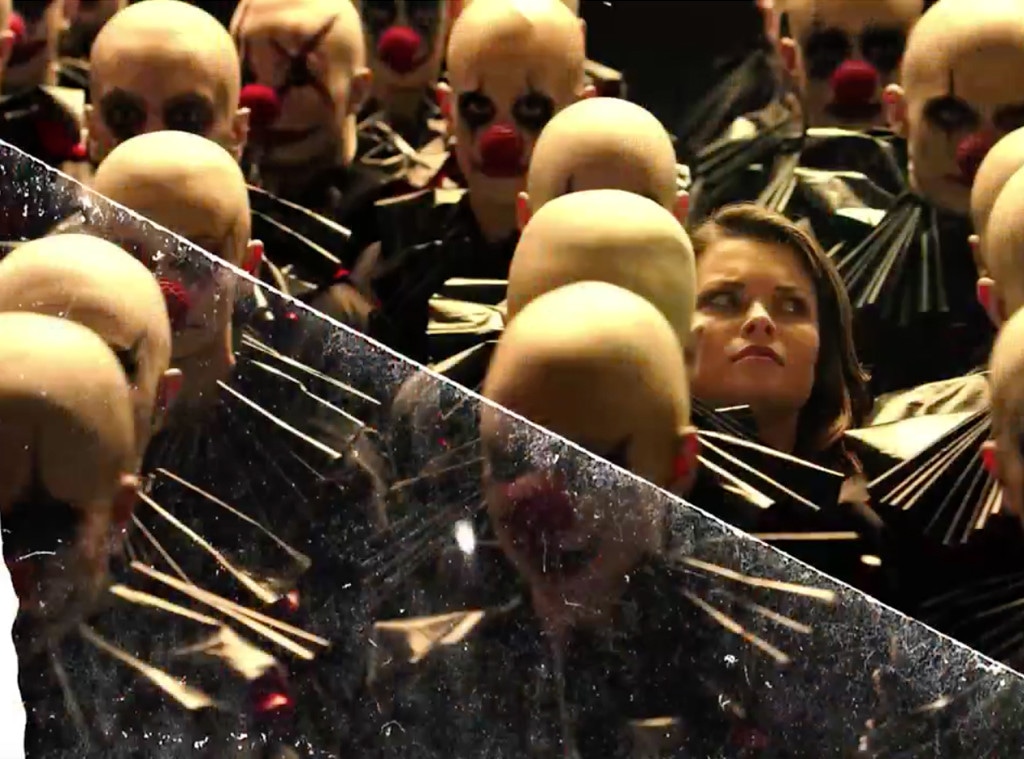 FX
American Horror Story has scared the bejesus out of viewers for six, going on seven seasons now, with everything from asylums to reality shows. Season seven, American Horror Story: Cult, takes things to a new level with, yes a cult, but also clowns and bees. Yep, clowns and bees.
Details on the new season are of course being kept under wraps, but we know a thing or two about that's going on. For starters, the cast includes Sarah Paulson, Evan Peters, Billie Lourd, Billy Eichner, Colton Haynes, Cheyenne Jackson, Adina Porter, Alison Pill, Leslie Grossman, and Lena Dunham, Frances Conroy, Mare Winningham and Emma Roberts will make appearances. The other fact we have about American Horror Story: Cult? The promos are upsettingly creepy. Yet, some hit it out of the creep park more than others.
We ranked 'em, from least to most scary.
The Kaleidoscope
It's not really frightening at all. The music is the worst part.
Toxic
Getting Stranger Things vibes from this one, some cool mystery smoke always does the trick.
The Bus
This one, like almost all of them, uses jump cuts to really amp up the creep factor. It's fine, except the guy coming down from the ceiling. But also he's not that scary?
The Face
It's the music here. And swaying. Swaying is creepy.
Whistling
This is just every nightmare you have when you're walking home late at night.
Balloon
I hate this clown's nose. I hate this balloon full of bees. I hate the hands forming the AHS.
Ritual Scream
Why? Why is that girl there? What are they doing to her? How long did they practice this to look up at the same time?
Ritual Queen
What did Katy Perry's "California Gurls" wig do to deserve this?
Ritual
A combo of the other two ritual ones, so it's creepier!
Floating
So subtle. So wet.
Walls
The honeycomb and hands are not cool!
Bubbles
Ugh. Where why are the bubbles in its mouth? Is this just a mask? No.
Afraid
This is the first teaser released and a combo of all the other ones and it's menacing and full of clowns and pointing and hands and creepy things.
Now get the scoop on everything we know.
American Horror Story: Cult premieres Tuesday, Sept. 5 at 10 p.m. on FX.