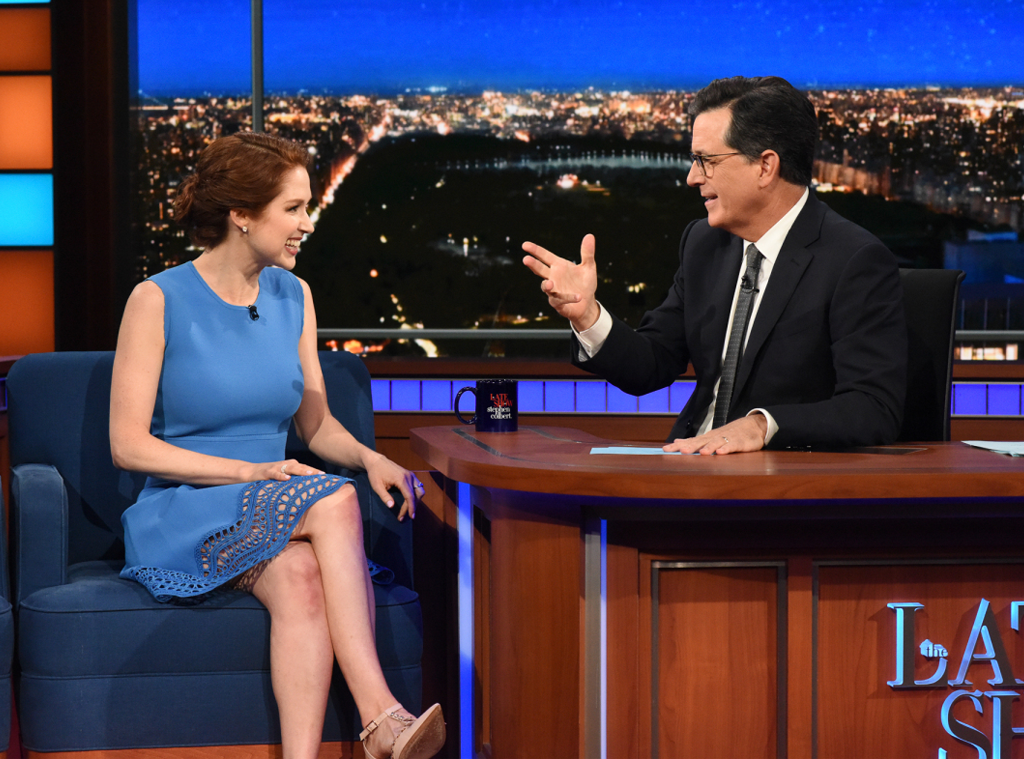 The Late Show
Ellie Kemper and Michael Koman had a big decision to make when it came to raising their 1-year-old son, James.
You see, Kemper was raised Catholic, while Koman was raised Jewish, and therefore, they had to meet on common grounds when it came to their first child together.
Well, the Unbreakable Kimmy Schmidt star joined The Late Show Wednesday night and dished to Stephen Colbert that they decided to go the Catholic route...though she's not sure if she received a sign from the "higher ups" that perhaps she made the wrong choice.
Here's what happened...
"He got baptized sort of late, like in May, he was 10 months old," Kemper began. "I was actually very nervous when the priest was holding him because I'm not sure priests are known for their, like, grit."
She continued, "[At 10-months-old] they're strong, and they're emotional, and they have opinions...He screamed."
Colbert jokingly explained that means the priest "got rid of the devil" inside little James, but Kemper isn't convinced.
"An hour after the baptism," Kemper recalled, "I found James with a shard of glass in his hand! It was in my parents' house…He was miraculously unhurt. I don't know if he was testing God. I don't know what the point was, but I mean, he turned out OK. I don't know if it was a sign."
Putting this incident aside Kemper said motherhood with James has been great...except for the fact that she think she's regressing from adulthood.
"Ever since becoming a mother, I thought that I would become more mature with this greater responsibility," she explained. "But I go to bed at 7:30, and usually I've eaten dinner by 5."
And the worst part? She gets weird children's tunes stuck in her head all day.
Watch the video above to see how she's started hilariously remixing them to make them sound more "adult-like."