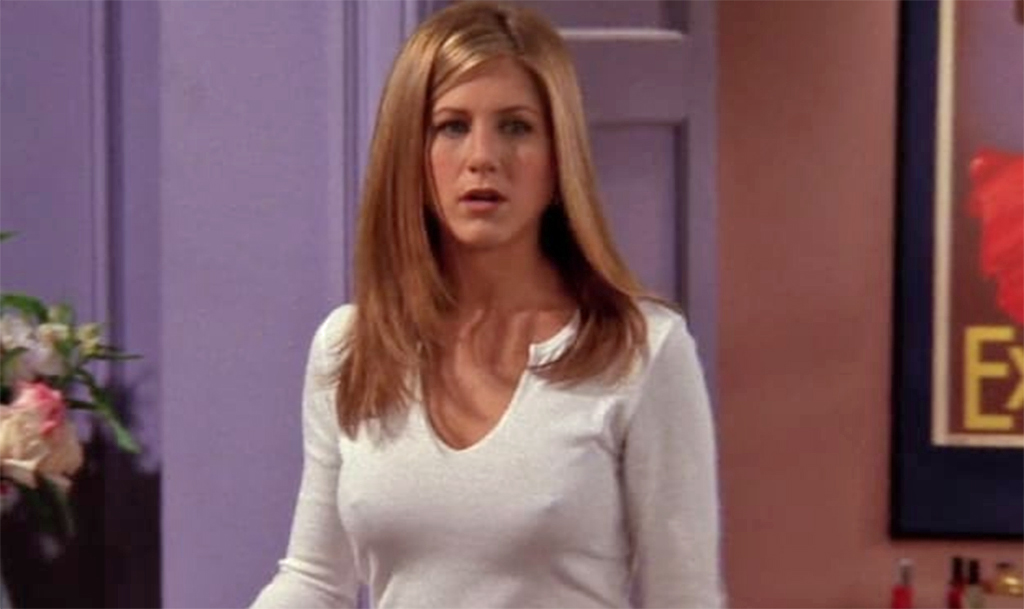 Warner Bros. Home Video
So no one told you they were going to make a page...
Jennifer Aniston's Friends character probably wasn't a fan of padded bras. Rachel Green showed her nipples through her tight shirts on many episodes of the '90s sitcom and fans certainly noticed. Years later, as social media became more popular, some of them would go on to create Tumblr blogs dedicated to them, such as The One With Rachel's Nipples and Jennifer Aniston's Nipples in Friends.
In an interview with Vogue, posted this week, Aniston was asked how she felt being called "the OG of #FreeTheNipple because of how often Rachel's nipples showed through her outfits."
"Yeah, I don't know what to say about that!" she replied. "It's just one of those things, I guess. I wear a bra, I don't know what to tell ya!"
"And I don't know why we're supposed to be ashamed of them—it's just the way my breasts are!" she continued. "But hey, OG, I'm not going to complain!"
Aniston also talked to the magazine about body-shaming.
"I think the problem is the tabloids and the gossip columns taking the human body and putting it in a category. They're either fat-shaming, or body-shaming, or childless-shaming. It's a weird obsession that people have and I don't understand exactly why they need to take people who are out there to entertain you, and rip them apart and bully them? Why are we teaching young women this?" she said. "It's incredibly damaging. I was finally like, This has just got to stop!"
"If you're going to walk out and have your nipples showing, or your belly is a little bloated, or you're not at the weight you want to be—you are perfect no matter what you are and no matter where you are and who cares!" she said. "You have to tune out the noise, which is fine by me, because I just know that I'm happy and healthy and doing everything I can to be good in the world and to the people I work with."