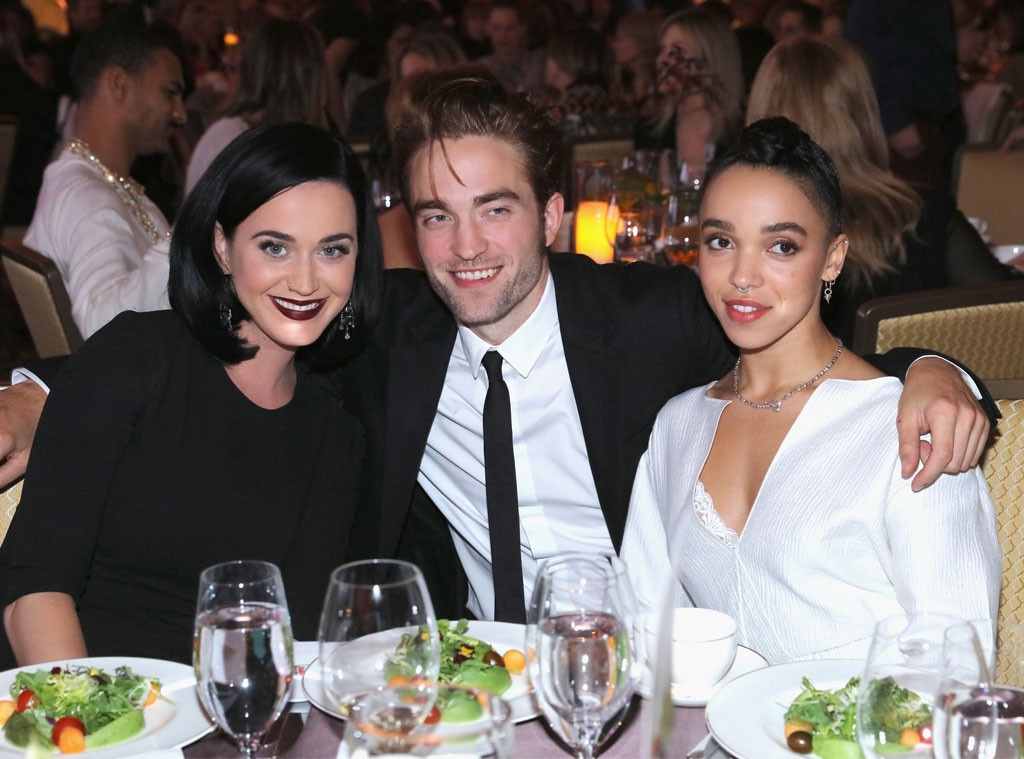 Mark Davis/Getty Images
Robert Pattinson is raising some questions in the romance department.
The actor, 31, made headlines late last month after he said he's only "kind of" engaged to FKA twigs during an interview with Howard Stern. Fast forward to this weekend when he was spotted getting cozy with good pal Katy Perry during a dinner outing Saturday night, causing lots of fans to question what's really going on.
Well, E! News has learned things might be heating up between Pattinson and Perry as he's already allegedly cooled off from FKA twigs, who he started dating in 2014 and proposed to the following year.
"He is technically still with FKA twigs, but it doesn't seem like it will last," one source told us. "They were serious at one point, but not anymore. The whole thing with Rob saying they are 'kind of engaged' speaks for itself. The relationship has been fizzling out."
The insider added, "Katy is very good friends with Rob, but you never know what will happen in the future."
Meanwhile, another source confirmed things are basically over between Pattinson and FKA twigs. In fact, she shared an Instagram photo without her engagement ring last week.
"Rob already feels single. He and FKA have had major distance and tension between them for months now," the source explained. "They really tried to make it work, and it's not long until the split will be public. They have just been trying to figure out how to sort everything."
The insider continued, noting, "No one really understood what he saw in FKA, but they always supported him. As far as Katy goes, they have been good friends for a while. They have many mutual friends and have always kept in touch. They aren't serious as of now, but Rob has always had an interest in Katy."
Meanwhile, Pattinson was spotted at the Sunset Tower hotel in Hollywood eating dinner with Perry and a group of friends on Saturday.
We're told the pair sat next to each other and were "flirting" and "laughing" together the whole time.
An on-looker said, "Katy and Robert were extremely affectionate the entire time at Sunset Tower. She was resting her head on his shoulder, and Robert had his arm around her at the dinner table. Katy kept glaring at Robert while smiling and laughing. They looked like they were dating."
At one point, we're told the actor and singer took a smoke break together on the balcony.
"He held Katy close to his side as they walked out and they stayed out there for about 20 minutes. They were cozying up and lounging together while outside," the source explained. "He definitely wasn't acting engaged, and there was no mention of FKA twigs the entire dinner. Everyone assumed Katy and Robert were together."
Still, an insider close to Perry promises the two are just "good friends," and there's nothing romantic between them. "Robert is still engaged, and Katy is not at all about to get involved with someone that's tied down," the source said. "Not her character."
For more about Pattinson's love life, stay tuned on E! News tonight at 7 and 11 p.m.