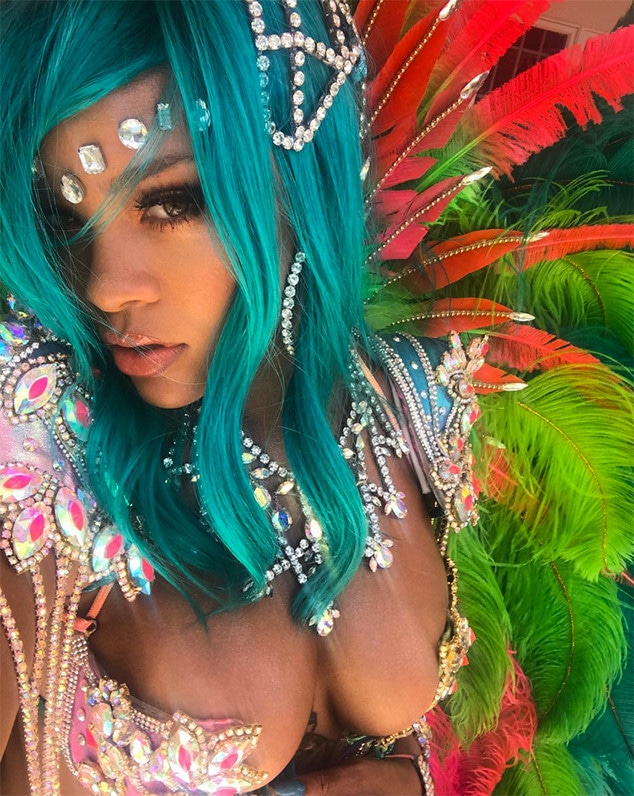 Instagram
It's time for Rihanna's favorite event of year: Crop Over Festival!
After debuting turquoise hair over the weekend, the 29-year-old "Loyalty" singer jetted to her native Barbados to participate in the Kadooment parade. Getting into the spirit, the pop star modeled a bejeweled bra and thong set and added some fabulous flair with feathered "wings." In an Instagram Story Monday, she wrote, "who ready 4 de road?," quoting a Bunji Garlin song.
Crop Over Festival, Barbados' largest annual event, is a season that begins in May and ends on the first Monday of August (known as Kadooment Day). The celebration ends with a parade along Spring Garden Highway in the nation's capital of Bridgetown, all set to a soca soundtrack.
Ornamented bikinis are standard attire for carnival masqueraders—and Rihanna has only brought added attention to the party in recent years, whether it's through flirting or twerking.
From 2011 to 2014, Rihanna was a tourism ambassador for her native country. "Barbados is a place like no other and one of the reasons for this is the spirit and national pride of our people," she said. "I want each and every visitor to this beautiful island to experience what makes this destination different from all others and that is the spirit and warmth of my fellow Barbadians."
Rihanna, who recently wrapped an international press tour for Luc Besson's Valerian and the City of a Thousand Planets, went live on Instagram Stories just after 2:15 p.m. ET. She shared a video of herself and a friend dancing on a float, telling her 40,000 viewers, "This is f--king legit!"