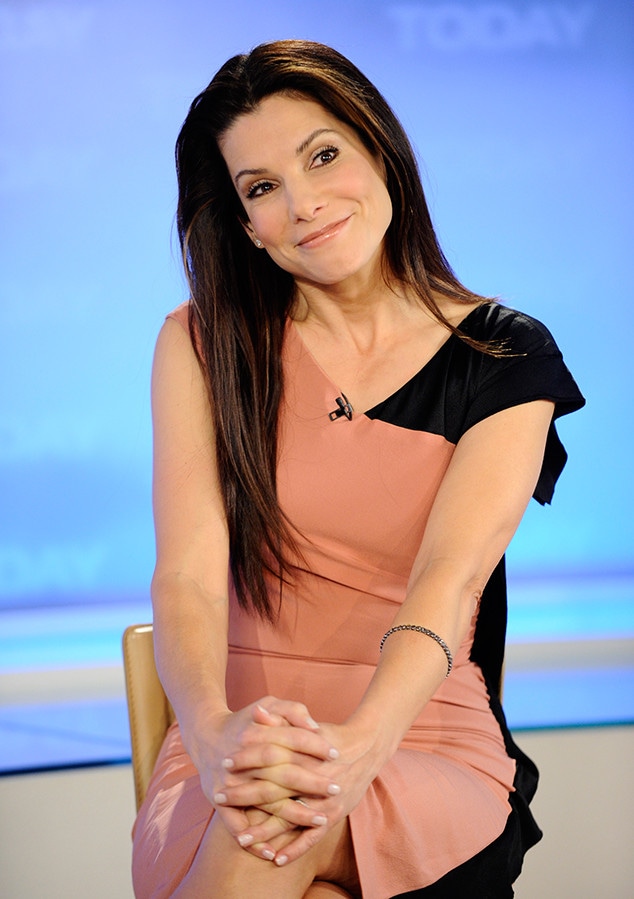 Peter Kramer/NBC
Sandra Bullock once famously said that she'd be the first person to recommend not dating her, "because I'll probably make you miserable."
Big surprise, no one took that seriously for a second.
The Oscar winner, once divorced and now happily ensconced in a live-in relationship with photographer Bryan Randall, has been a huge star for almost 25 years—meaning, she's been fielding questions about her personal life for just about that long.
By now she's sat through interviews at every stage of the romance game, through the ups and the downs, when it was real and when it was just a passing rumor, during the honeymoon phase and then in the thick of the postmortem after it all went wrong.
But through the majority of it, Bullock was refreshingly candid and often endearingly self-deprecating (see above quote) about dating and breakups (though she wouldn't usually say much while a relationship was ongoing). Better yet, she's almost never met a trumped-up report that she didn't relish poking fun at, making it easier to keep the reality and the rumors straight.
In 1999, asked by Entertainment Tonight if she felt there was that one person out there for her her, she smiled and shook her head, feigning emotional distress and squealing, "I don't know!"
Admitting that at one point she was "deathly afraid of marriage," she said she'd learned a lot about love and what it meant to love someone. The Hope Floats star mused, "Maybe people spend too much time looking. I think we spend too much time looking for things that are more things that society wants us to look for and that we get from a magazine rather than that are really worth it...Who care how much somebody makes for a living? In the end we're all going to be old and wrinkled. You'd like to know that that person can, a, make you laugh, and think, you know can really stimulate you and excite you when they're gone and you think about them. Somebody you can admire and be proud of and sit back and go, 'this is my man.'
And whether or not he's a millionaire, or he's a painter, a musician, or somebody who just, you know, shucks clams, it's that respect level that we forget to look for."
There haven't been any clam shuckers in the mix (not professional ones, anyway), but when Bullock was just kinda doing her her thing in the dating department and making her way in Hollywood, she was a wellspring of information.
She revealed to Detour in 1996 that her first-ever boyfriend's initials were G.D., though she withheld his name from the record. "Red hair. Irish. I have a thing for red haired Irish boys as we know," she quipped. (Yeah, Tate Donovan was kinda gingery back in the day...)
Over the years, she has candidly admitted to having once sent herself flowers to jog a guy's interest in her (it worked), to a pattern of not attracting guys with the best intentions, to her tendency to put the guy first and herself second, and to her belief in the adage that the best way to get over someone is to meet someone else. 
"I'm not saying go out and sleep with them," she clarified to Detour. "I'm just saying go out and have a conversation and know that they find you attractive and go, 'Okay, I'm not the piece of trash that I thought I was two days ago.' Allow yourself a week or two to eat bonbons and be depressed but then make your friends take you out. The worst parts of being dumped or breaking up is the night time, going to sleep and wanting to fall asleep and wondering where they are every second of the time."
That being said, Bullock didn't believe that rebounding was going to solve all her problems. Or she eventually arrived at that conclusion.
Mark Davis/WireImage for Spike TV
She told Cinema.com in 2000, "I don't need a man to be happy. But it takes some time to realize that. I don't need to find a man to progress as a human being. I'd do it with him. And if I happen to outgrow him, or he outgrows me, that's what happens. I've never been in a place that I couldn't get out of. Yes, sometimes you stay in a place for a while because you're trying to figure out. You wonder whether you're going through a phase, or whether something is really not working, or if it's just another hill."
Bullock has also dated a few of her co-stars, admitting to Cosmopolitan in 2003 that movie sets are "breeding grounds for that kind of stuff, so you just have to have a good set of rules going into it." (No. 1: stay away from the co-stars who are in relationships.)
"It's the greatest dating service on the planet," she said. "You take two people who normally can't leave the house, who don't know if people are with them for the right reasons, and they get paired up because they have chemistry, and they happen to fall in love."
Not exactly excluding actors from the picture, she also told the mag, "I love people who are artistic, confident, and even cocky but with an underlying modesty that is humbling. They also have to have a wicked sense of humor, and I have to feel challenged. If somebody does not swat it right back to me, I'll get bored."
But in 2010, when she nearly simultaneously got divorced and became a mom, there was a definite shift in how Bullock approached talking about herself and how much she was willing to share about her personal life. Because after son Louis arrived, he was the man in her life, and mother and child's privacy was paramount. (Though, praise be, she still loves laughing at rumors.)
So here's a walk down relationship-memory lane, with Sandra herself as our guide:
And whose happiness in Hollywood should we be happier for than Sandra Bullock's?
Watch Daily Pop weekdays at 12:30 p.m., only on E!