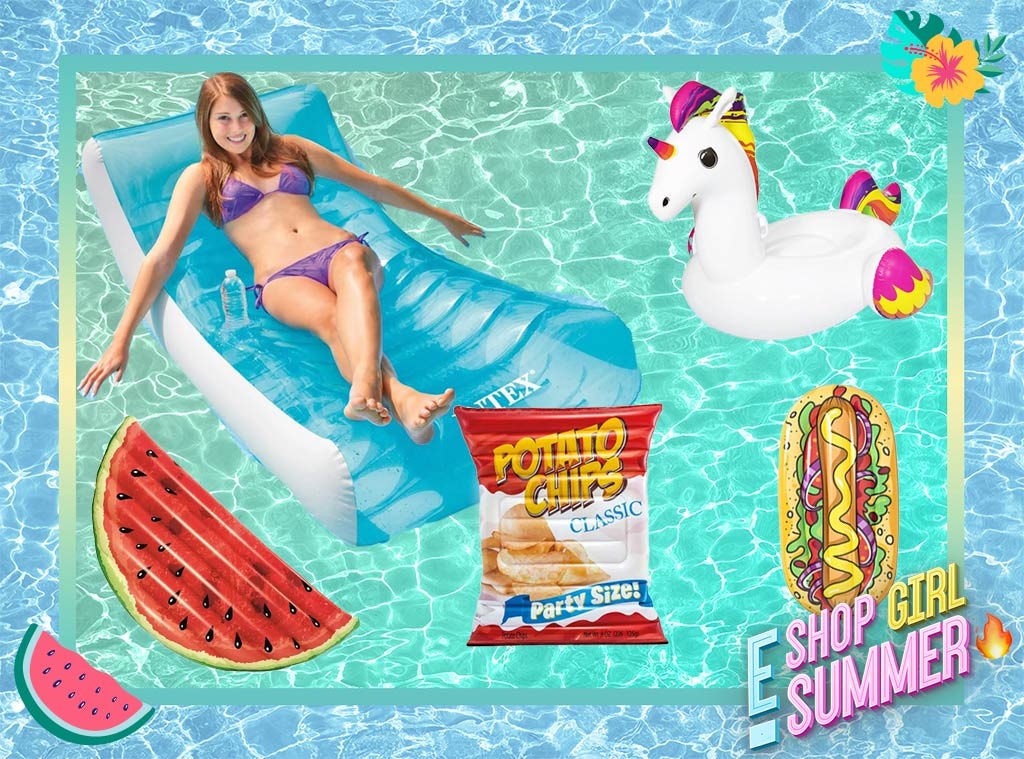 E! makes a commission on purchases. The brands featured are partners of NBCUniversal Checkout. Prices are accurate as of publish time.
You're probably already spending your summer poolside, but you know what would make it even better? An Instagram-worthy pool float to set the mood.
You know the ones: blow-up watermelons, french fries, cloud-like floats, the list goes on. Your Instagram feed is full of them, and anyone hanging at your pool or joining you for a beach day will get a kick out of floating on an inflatable hot dog, condiments and all. Yes, it may seem a tad frivolous to spend your hard-earned money on a blow-up unicorn, but just think of the possibilities (i.e. you lounging in that cute new swimsuit, posing for the perfect 'gram).
Scroll below to decorate your pool, making it even more fun and Insta-worthy for summer. Happy floating!
Bestway Dreamsicle Popsicle Pool Lounge
When we think of summer, delicious, refreshing popsicles always come to mind. This rainbow popsicle pool lounge will add a pop of color to your pool. This float even comes with a repair kit, so you can spend your summer lounging as you should: stress-free.
Swimle Swimle SunChaser Padded Luxury Lounge
With full padding, a strong-molded frame and armrests, and cupholders, this luxury lounge float will provide the most comfort while you float. Its strong design will last you for many summers to come.
EP flatable Pool Volleyball Set
No pool party is complete without some water games. Get active and have a ton of fun with your friends or kids with this inflatable pool volleyball set. 
Bestway Hot Dog Pool Lounge
You'll look smoking hot as your float on this hot dog all summer long. Please excuse our bad joke, and add this float to your pool. Your guests will get a kick out of floating on their favorite summer meal. 
Bestway Watermelon Pool Lounge
Another summer staple, we see you floating on this watermelon float in your pool while snacking on some watermelon. Refreshing and adorable! This float measures 68" x 35" and includes a repair kit.
Bestway Ride-On Unicorn Float
You'll have so much fun riding on this trending unicorn pool float. From the popular brand Bestway, this float Measures 61" x 47" and includes a repair kit.
Intex Sand & Summer - Potato Chips Pool Float
This float looks like an actual potato chip bag, but it measures 70" x 55" so you'll have plenty of room to float on your favorite crunchy snack.
Aqua Cloud
Say hello to comfort, even in the pool with this plush aqua cloud float that the brand says feels like a bean bag.
Cloud Floatg Mattress
This float features heavy duty mesh outer material with a closed-cell styrofoam bead fill for ultimate comfort and material that dries quickly. You'll never want to get out of the pool when you're relaxing on this float.
Swimle Giant Swan
Kids will love floating on this giant swan, and so will your best friends for a weekend getaway or a sun-filled bachelorette weekend. 
Intex Sand & Summer - French Fries Pool Float
Look like a snack while you float on another yummy snack.
Sprg Float Sun Seat
Get your tan on while staying cool with this sun seat.
Intex Recreation Unicorn Inflatable Ride On Pool Float
No it-girl's pool is complete without a trendy unicorn floaty. 
Intex Sand & Summer - Inflatable Hawaiian Pineapple Mat
You'll want to live on this adorable inflatable pineapple all summer long. We're getting it to make us feel like we're on a tropical vacation.
Intex Rockin' Inflatable Pool Lounge
This float features a contoured design to provide extra comfort and a cupholder for any refreshments. 
Intex Rockin' Inflatable Pool Lounge
We're picturing you looking fabulous with your cocktail or mocktail on this float this summer. 
International Leisure Prod Pool Ride On Shark Float Inflatable Toy
Kids and adults alike will love riding around on this inflatable shark. 
—Originally published Aug. 3, 2017 at 11:52 a.m. PT