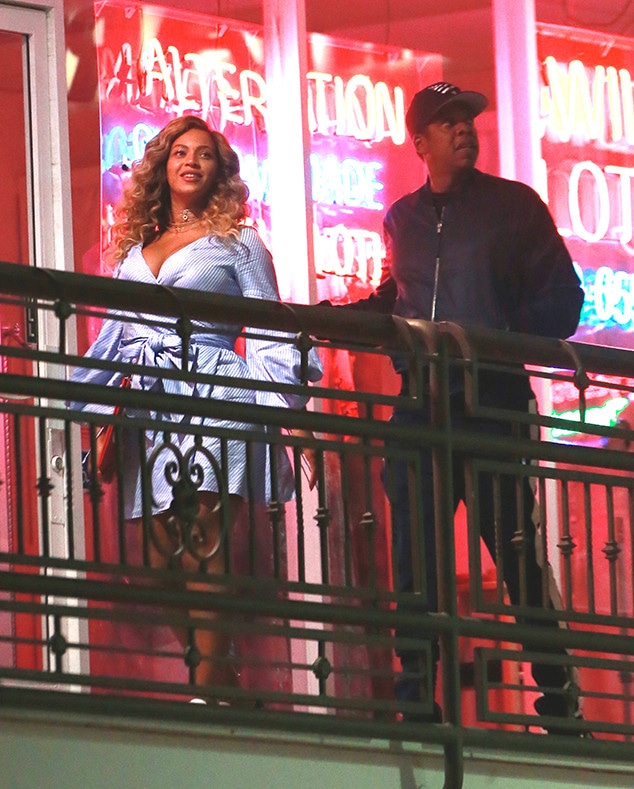 Bello / TwisT / Splash News
Beyoncé and Jay-Z are still making time for their relationship, despite the craziness of parenthood.
The couple—who welcomed twins Rumi and Sir Carter in June—were spotted out on a low-key Sushi date last night in Hollywood.
An on-looker tells us they arrived at Sushi Park restaurant sometime aroung 9 p.m. and stayed for about an hour. Bey looked beautiful in a blue summer dress, while Jay dressed casual in a bomber jacket and a hat, keeping his arm around his wife the whole time.
We're told they sat in the back of the restaurant and were "very friendly" to the staff and others eating there. Upon leaving, Jay thanked the staff and caressed Bey's back on the way out.
"They appeared to be very happy and full of smiles," the source dished. "They were both in a great mood."
Another insider told us the couple have been "making it a point" to go out on more dates together. 
"They've been on a few dates since the babies were born," the source explained. "They have reliable people helping out at home with the babies and Blue [Ivy] while they go out for a few."
The restaurant is located in a strip mall off Sunset Boulevard—something our source said the pair have no problem with.
"They have a few favorite restaurants they love and some are fancier then others, but all they care about is good food," the insider dished. "They are both foodies."
As far as their date went, our source said they weren't over-the-top with PDA, but simply conversed and enjoyed their meal.
"Beyoncé was not eating sushi or raw fish really when she was pregnant, and they both love Japanese food," the source said.
When they left, Jay continued to keep Bey close to his side.
"Jay always has his arm around Beyoncé," the insider said. "He is very protective of her."
In fact, he hopes his wife will join him as he heads on tour for his 4:44 album later this year.
"Beyoncé will be with Jay on a bunch of his concert dates but not all," another insider explained. "He wants her there as much as possible. He wants the whole family together. Blue and Jay are so close, it's really sweet! She will be at a few of his concerts, too."
As for the twins, the source added, "The babies are healthy and doing wonderful...Jay and Beyoncé are loving being parents, and they get closer everyday."
Meanwhile, E! News recently learned that Bey has been slowly but surely back into working out since giving birth to the twins over a month ago.
An insider told us earlier this week that while Bey "loves" cycling, she's "easing into" her typically intense workout and diet regimen while "still recovering."
Additionally, our source said she's eating healthy by "drinking many green juices and trying to watch what she puts in her body."
The couple has been spotted recently taking classes at SoulCycle in Santa Monica, Calif., together. 
"She was totally into the music and bopping her head and grooving along," an on-looker dished. "She was able to last through the class and [use] the weights without a problem."
Another eyewitness said Bey looked "great," adding that "she's definitely inspired and motivated, and Jay-Z seems very supportive."
Two words: Power. Couple.