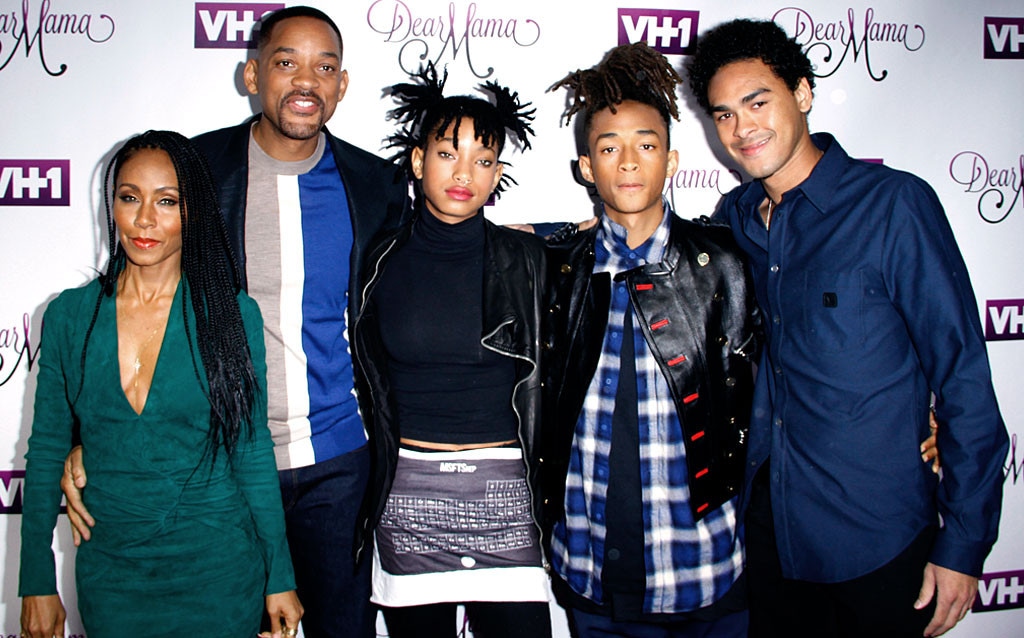 Donna Ward/Getty Images
Pray everyone had the self-confidence of a Smith.
When it comes to famous couples, no one seems to be having more fun doing their own thing and not caring what you think than Will Smith and Jada Pinkett Smith. The duo will celebrate their 20th wedding anniversary on Dec. 31, and they still look like they're having the best time together.
And their kids, Jaden and Willow Smith—would you expect anything less than two fierce, fearless individuals who aren't afraid to express themselves through song, fashion, tweets and prosaic tangents that make zero sense to the uninitiated who don't speak Smithkiddish?
Chips off the ol' block, those two. 
But the most notable thing about this family, which also includes Will's son Trey Smith, from his first marriage, is that they aren't just all talk and wordy social media posts. They're practicing what they're preaching—and in so doing have created a belief system all their own.
Where did this uniqueness come from, though? Isn't Will Smith "just" a neon-rocking rapper turned sitcom star turned movie super-star who's reportedly worth $260 million? And isn't Jada "just" an outspoken film and TV star known for her ridiculously fit bod and whichever project is her latest (and a none-too-shabby reported net worth of $20 million)?
Maybe, if you're going by what's written on a very thin sheet of paper. Together, they've become a Hollywood force to be reckoned with. It's almost as if they've been feeding off of any negative vibes thrown their way over the years, from naysayers expecting them to break up to general haters wanting their kids to pipe down, and growing stronger and haler with every slam.
Asked last month by a caller on Watch What Happens Live what was the craziest rumor she'd ever heard about her and Will, Jada had to think for a second. Then she went with the "constant" chatter that she and Will are swingers.
"And I'm like, 'yo, I wish,'" she smiled. "I wish!" Queen Latifah, sitting next to her, chided her for that joke, saying she based every relationship she'd ever had on the ideal that seems to be the Smiths.
Andy Cohen asked how they kept it hot after 23 years together. "Well...maybe...I don't know," Jada decided. "I mean, I'm baffled, really! But I really think that Will and I just have amazing chemistry on a lot of different levels. We love to laugh together, we love to learn together, and we just love each other. We just have a good time together. Um yeah, I guess that's the secret...We just really like each other."
Moviestore Collection/Rex/REX USA
That connection has been fairly evidence since they first got together in 1996, almost six years after Jada auditioned for a role as one of Will's girlfriends on The Fresh Prince of Bel-Air but at 5-feet-tall was supposedly deemed too short. (Nia Long, who played Will's most serious girlfriend on the show, Lisa, is only 5'2, so...who knows.)
Jada, however, left an impression. In 1992 Will married and had son Trey with Sheree Zampani, and he was still married (not happily anymore, he later recalled, describing the decline as "Chinese water torture") when he and Jada reunited and lightning struck at a group dinner in 1996. They insist it didn't turn romantic for six months, till Will had his divorce papers in hand. Otherwise, they hit the ground running, tying the knot in 1997 on New Year's Eve in the bride's native Baltimore. 
Just as Fresh Prince was ending in 1996, so was beginning the next leg of Will Smith's soon to be unstoppable career with the release of Independence Day, for which he was paid a reported $5 million (the lower end among his mega-paychecks). It all could have gone wrong for him and Jada back then as he transitioned from lovable sitcom guy to blockbuster top-liner. Instead, Jada confidently rode the wave with him, knowing early on that there might be only room for one huge star in the family.
"When I came to Hollywood, I planned on being the biggest star," she told Rolling Stone in 1998, "but when I got with Will, I said, 'I'm going to have to compromise, because he's not going to. That's not even a discussion.' So I had to ask myself, 'Is career more important than having a good man who loves you and will provide a happy family?' I choose Will. So now my work gets 40 percent. I can still have a career. I just won't have the one I planned on. That will not happen. I put my family first."
And it turned out that having a good woman in his life kept Will grounded when the air started to get a little heady. 
"We have this African sculpture someone gave us that's the signature of our relationship," Jada added. "It's the head of a man—big, out there, dominant—and sitting regally on top of his head, in a chair, is this little woman. It's OK that the man is in the forefront, because we know who's really on top of the show."
The couple, along with then 5-year-old Trey (Will shared custody with Zampino) almost immediately set up house in the San Fernando Valley, more than an hour (or two, if there's traffic) north of Hollywood. Good schools, more space, less B.S. Their family also expanded quickly, with Jaden arriving in 1998. (Jaden was also apparently a star right out of the gate, with the Rolling Stone writer also noting in 1998 that "if a 3-month-old can summon a come-hither look, this is it.")
Growing up with two tough sisters and an even tougher mom (his parents divorced when he was 13, and he and his father grew closer as he grew up), Will Smith learned to appreciate strong women.
"Once you grow up with that, you can't function without it. Jada and my mom are very similar in that respect: in their strength," he told RS. "My mom is the Rock of Gibraltar—I'm used to that."
And even more importantly, Will and Jada just get each other and are accepting of what the other has to offer.
Will admitted, for instance, that he's the kind of guy who needs a lot of attention, and Jada knew that too going in. 
"And you're so much stronger when your partner is strong," Will said. "I honestly believe that there is no other woman for me but Jada. Of all the women I've met—and there've been a few – no one can handle me the way Jada does. And once you feel someone locked in on you like that, somebody being down for you, there's no competition. And knowing that I'm not going anywhere gives Jada the strength to be what I need. As fine as other woman can be, as tempting sexually, I'm not going anywhere. This is it. I can't imagine what anybody else could offer."
Those words are made all the better by the fact that, 19 years later, Jada's telling Andy Cohen that she and Will still have the best time together.
Calling their bond "ghetto love," Will predicted that they'd be able to face anything together and thrive.
"Whatever the world has to offer, whatever comes down, we're going to stand together and laugh in the face of the storm," he told RS. "There's a strength that women of oppression possess that once you remove the insecurities of that oppression, there's an individual who can take you anywhere, support you in anything, carry you. You know what it's like to have a woman who can carry you? Not just walk beside you when you fall but grab the scruff of your neck and throw you over her shoulder? That strength is really sexy to me. It draws at the deepest pit of my being. I can't imagine it being any better."
"He's a lot to take on," Jada acknowledged.
Phillip Faraone/Getty Images for Environmental Media Association
Life has certainly gotten in the way of all that 100-percent, he/she's-the-only-one-for-me certainty here and there. They've had plenty of arguments and felt plenty of anger, and in addition to the split rumors that have shadowed them for going on two decades, now their kids (and subsequently their parenting skills) have acquired their own critics. 
But by agreeing that they still had things to learn about each other (Will once said he read Men Are From Mars, Women Are From Venus four times, and he candidly admitted last year that he'd "done a lot of marriage counseling"), they've held it together. Not incidentally, they also run the Will and Jada Smith Family Foundation, benefiting youth education and various other causes, a reflection of their shared values, and they've passed their philanthropic ways onto their kids, who are both youth ambassadors for Project Zambi.
And if Jaden and Willow sometimes seem as if they dropped out of the sky from another planet—they did. Planet Smith Family.
"I mean, time for me, I can make it go slow or fast, however I please, and that's how I know it doesn't exist," Willow, who celebrated her 10th birthday by dropping her first single, the annoyingly hypnotic "Whip My Hair," told The New York Times in 2014. To which Jaden added, "On the level of being here on Earth, if you are aware in a moment, one second can last a year." (No wonder Jaden thought the time-bending romance The Age of Adaline was the greatest movie ever.)
Their kooky-sounding comments raised all sorts of eyebrows, but that may have just been the home-schooling kicking in. (Trey went to a private high school near the family's home, where he played football with the sons of Joe Montana and Wayne Gretzky.)
For all of the empowering life lessons imparted by Jada, if you look more closely at Will Smith's interviews, particularly ones from earlier in his career, he's quite the armchair philosophizer and enthusiastic amateur psychologist—and he's never been shy about reaching for the stars.
"In the sense of physics, power is the ability to move things—physically, emotionally," he told RS in 1998. "The more things you move, the more power you have. Then comes the dexterity to use that power effectively. For instance, the best record I've ever written is 'Just the Two of Us'...There's not a second of that record that misses."
Asked if he thought he had a destiny, he said, "I don't believe in predetermined destiny. I strive to be like the greatest people who ever existed. Like Jesus. When I'm angry or hurt, I ask myself, 'What would Buddha do? Gandhi?' I try to find strength within myself to achieve—through love—that greatness. I do believe that love is the ultimate power."
So why wouldn't Jaden tweet things like, "People use to ask me what do you wanna be when you get older and I would say what a stupid question the real question is what I am right now." Or, "You Think You Get It. YOU DON'T YOU DON'T YOU DON'T!!!!!!"
Now 19, Jaden has acted, modeled, made music, launched his own clothing and lifestyle brand, and last year was honored at the Environmental Media Awards for his green-minded ways. He seems to have relinquished his goal "to be just the most craziest person of all time" (what a difference growing up a bit makes), but he obviously inherited his parents' ambition as well as their verbosity.
Willow, meanwhile, is now 16, but it sounds as though she's been a free spirit since the womb. In 2012 she made headlines first by dying her hair green, then yellow and then, a few months later, by buzzing it all off.
"I made a promise to endow my little girl with the power to always know that her body, spirit and her mind are HER domain," Jada wrote on Facebook when she was bombarded with "concern" over her daughter's bold move. "Willow cut her hair because her beauty, her value, her worth is not measured by the length of her hair. It's also a statement that claims that even little girls have the RIGHT to own themselves and should not be a slave to even their mother's deepest insecurities, hopes and desires."
She concluded, "Even little girls should not be a slave to the preconceived ideas of what a culture believes a little girl should be. More to come. Another day." (Jada may also have been inspired, because she sported a similar look in 2013.)
Will let Jada take the lead on that one, but he recalled in a 2015 interview with Act Two Magazine, "I was wondering if [Willow] would get flack for cutting off all her hair.
"But it was also so obvious to me that you have a young woman here. How can you teach her that she's in control of her body if I tell her that I'm in charge of what she can do with her hair? Someday, she will replace me with some other man when she goes out in the world. She has to have command of her body."
Will said that he was preparing both of his kids for the real world, saying, "The most difficult part for me is the emotional management. Jada and I talk about whether you pull back during the teenage years." But ultimately, "I lump the responsibility on them. I give them as much weight as they can hold without breaking. I'll keep doing this until they can hold the weight of their lives."
As for his son, Will told the BBC last year, "Jaden is 100 percent fearless, he will do anything. So as a parent it's scary, it's really terrifying—but he is completely willing to live and die by his own artistic decisions and he just doesn't concern himself with what people think."
The nest may have emptied a little earlier than Will expected, however. Trey lives close by but the teenagers are often off traveling for work. At the end of the day, though, the kids are still kids.
"I don't even have time to miss them!" Jada laughed with Haute Living. "Willow loves to call me every day, and even Jaden, when he's away on set, still needs to see Will and I when he gets homesick."
Despite the requirements of the job that can keep all the members of the family apart at any given time, there is an intense closeness among them too—one perhaps bred by having to repeatedly insist that the House of Smith isn't about to fall down. Even the kids, including Trey, have tweeted denials to the rampant divorce rumors.
"Will and Jada getting a DIVORCE ..NOT TRUE AT ALL !!" Trey, then 18, tweeted in 2011. Pinkett Smith's rep, referring to a rumor at the time that Jada had cheated on Will with her Hawthorne co-star Marc Anthony (who had just separated from Jennifer Lopez at the time), said in a statement: "All the rumors regarding Marc Anthony and Jada are false. Completely untrue. As for [the reports of a split between] Will and Jada, I'm not commenting on their personal life."
Enter Smith's rep to shut it down with another statement: "Although we are reluctant to respond to these types of press reports, the rumors circulating about our relationship are completely false. We are still together, and our marriage is intact."
The mill churned hard enough again in 2015 to prompt Willow, who was only 14, to tweet, "The media thinks my parents are getting divorced like every second hahaha!" (That actually has to really suck for a kid, right?)
"Under normal circumstances, I don't usually respond to foolishness. (Because it's contagious) But, so many people have extended me their 'deepest condolences' that I figured—'What the hell... I can be foolish, too!'" Will took up the matter on Facebook.
"So, in the interest of redundant, repetitious, over & over-again-ness... Jada and I are...NOT GETTING A DIVORCE!!!!!!!!!!!!! : -) I promise you all - if I ever decide to divorce my Queen - I SWEAR I'll tell you myself!"
Jada chimed in on Twitter, "My king has spoken."
That was but a few short years ago, but these days people actually seem less inclined to predict their imminent demise and far more interested in pressing the pair for the secret to their long and—for all intents and purposes—happy marriage. What with the political climate being what it is, and with some of the most enduring celebrity couples having gone their separate ways recently, no one needs to see the collapse of another hallowed institution.
After all, as Andy Cohen pointed out, in Hollywood years, 20 is like 60! They've surpassed all predicted expiration dates; raised three self-sufficient children who, quirks aside, have avoided the more serious issues that have plagued not only famous kids, but kids of the famous (and they're both); and both of their careers are thriving. Pinkett Smith was a fan favorite on Gotham, and her latest movie, Girls Trip, is a hit. Smith, well...he's Will Smith. Despite his last couple of films being critical duds (Suicide Squad made bank anyway), he's still commanding his eight-figure paydays and is sure to steal the show when he plays the Genie in Disney's upcoming live-action remake of Aladdin.
Jada just revealed on The Tonight Show, in fact, that she told Will, "'You know what, this is perfect for you because you're always creating magic.'"
And we'll bet she really said that to him, too.