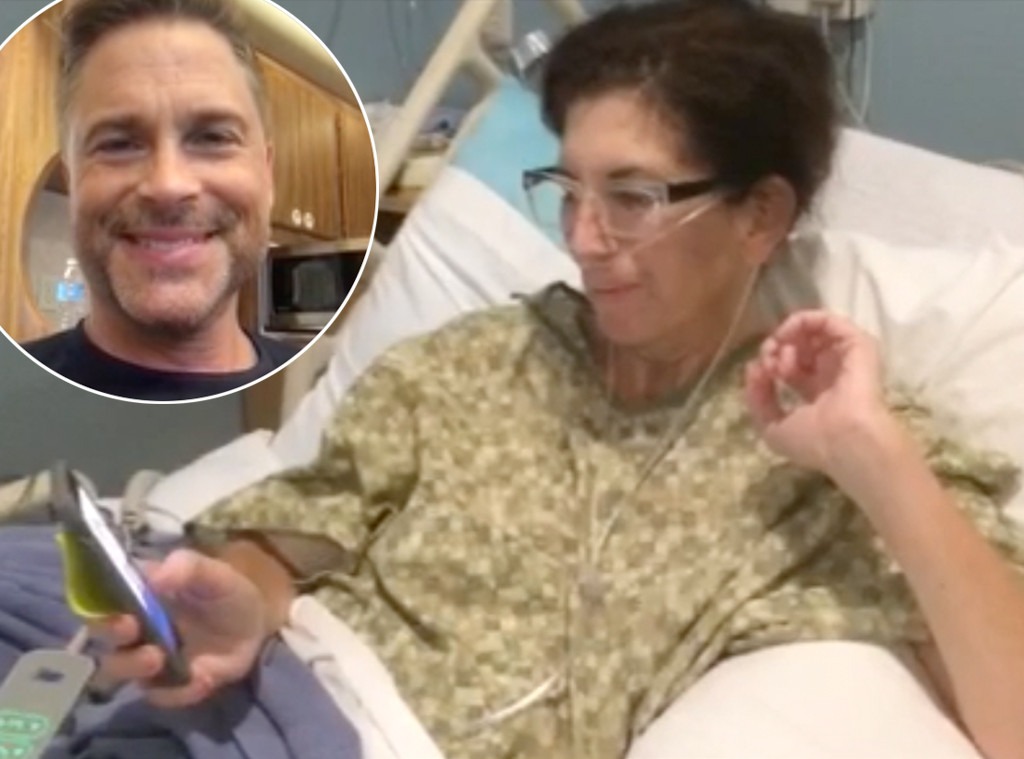 Rob Lowe has us reaching for the tissues today.
The 53-year-old actor learned that one of his lifelong fans, Alex Charpentier, 48, is currently in a hospice as she continues battling stage four lung cancer, which she was diagnosed with over a year ago.
She's a single mother with two children who ran marathons and has never been afraid to admit she's one of Lowe's biggest fans. In fact, one of her "bucket list" goals was to meet the actor in order to express her support for him and all he stands for.
Well, that dream came true thanks to one of her best friends, Chris Carter, who helped set the whole thing up, according to People.
In a video message for Charpentier, Rob smiled as he spoke. 
"Yup! It's me. It's Rob," he said laughing. "How're you, Alex? Word has gotten back to me that you've been a longtime supporter of mine, and I can't tell you what that means to me. That people like what I do and pay attention to what I do is just tremendous, and particularly people who are as enthusiastic as you have been...Thank you!"
He added, "I also want to say God bless. I'm sending prayers for you and thinking about you. I know you're in a really tough fight, and you know what, you're a fighter! I want to pat you on the back for that and hopefully give you some inspiration."
After encouraging her to continue her battle as he has "more stuff" that she needs to be around to see, he concluded with his love. "I'm thinking about you!"
Charpentier couldn't hold back her tears (and neither could we) as she responded in her own video.
"Well, Rob, I can't tell you what it means to me, the impact that you've made on my life, albeit short," Charpentier said in a video from her hospital bed. "I went from drooling over you as an adolescent teen to respecting you as an actor and as a parent and as a human being. Fighting against your own illness, fighting for your own marriage."
She continued, "To know you took the time to call me… when my friends showed the video to my kids, they cried because they know how much this means to me. You are authentic, and I'm authentic."
After growing emotional, she concluded, "I'm laying in my bed, and I have difficulty speaking and breathing, but I want you to know from my heart how much this means to me, and how this will stay in my family. Thank you so much, Rob. Peace."