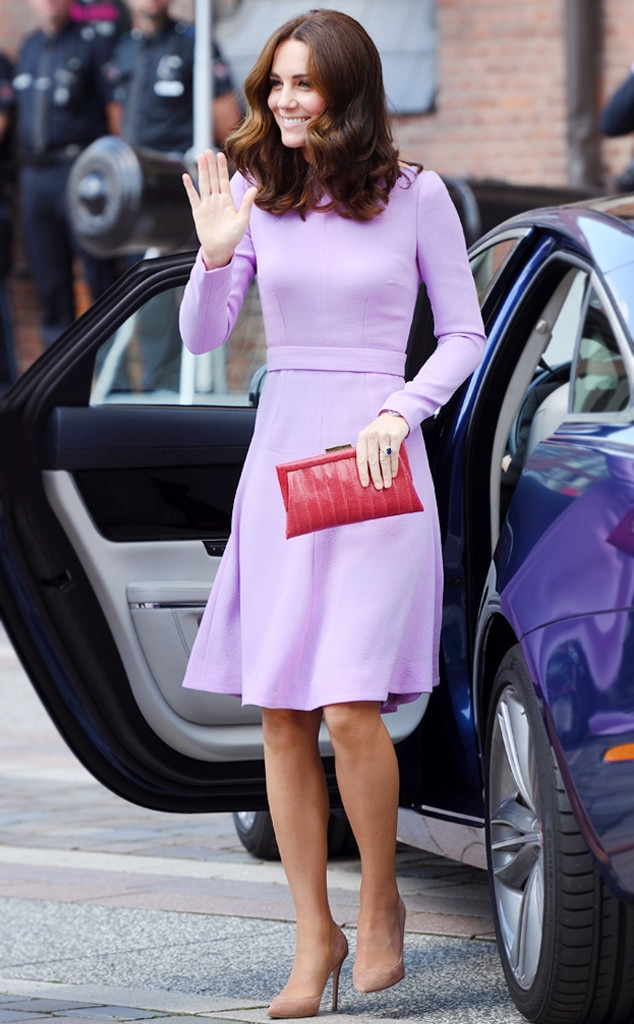 Karwai Tang/WireImage
From modest Catherine Walker coat dresses buttoned all the way up to Gucci minis, off-the-shoulder Alexander McQueen gowns and open-toed Prada heels.
If you haven't noticed, Kate Middleton's been taking some serious style risks lately (you know, for a Duchess). Assuming the Royal Family has somewhat of a strict dress code when it comes to appearing in public, Kate's recent, most unexpected wardrobe choices have really caught our attention. Here's what we mean.
From around the time they met, in 2001, to their 2010 engagement, Kate was a pretty conservative dresser. Whether that was in attempts to prove she was Royal material or her personal style just tilted that way, she was rarely caught in any skin-baring or even remotely trendy outfits.
After their engagement, the style star was almost always seen in an A-line, long-sleeved dress never without stockings and by the time they were married in 2011, proper coat dresses, decorative hats and fascinators and closed-toe shoes were almost her uniform.
It really wasn't until this year, 2017, that the Duchess of Cambridge started taking major fashion risks with her ensembles. In May, she stepped out in Luxembourg wearing a gorgeous, powder blue coat dress unlike others we'd seen in the past—this one's neckline dived a little lower than all the rest. And then July is when we really saw her personal style flourish.
On July 20 in Berlin, Kate donned a stunning navy and green, sleeveless (yes, sleeveless) patterned dress and open-toed sandals, but the real pièce de résistance was the day before when she wore somewhat of a sultry and uber-trendy garden outfit. She wore a scarlet, off-the-shoulder Alexander McQueen maxi with ribbon details and a ruffled trim! You really can't get more relatable than that, but it's definitely something we've never seen from a member of the Royal Family.
If this last red number is a taste of what we have to look forward to in the months (and years) to come, needless to say, we're excited to see the Duchess' personal style unfold.
Take a scroll through the years of Kate's best style moments to get a real feeling for just how much her wardrobe has evolved.
Who else is loving the new Kate?
We can't wait to see what she wears next.