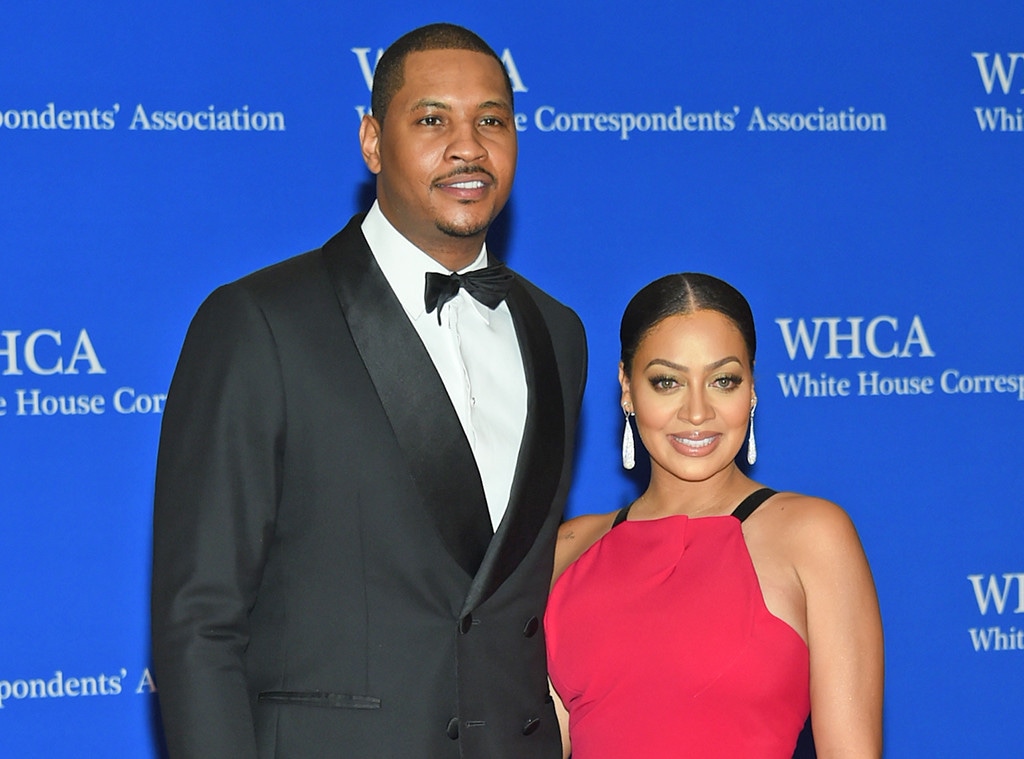 Evan Agostini/Invision/AP
Who knows what the future will hold for La La Anthony and Carmelo Anthony?

The couple split earlier this spring amid reports that the basketball player had been unfaithful. When the Power actress appeared on Power 105.1 FM's The Breakfast Club Wednesday, she spoke candidly about the events surrounding their breakup—and where they both stand today.
The conversation was first focused on the most recent episode of Power, in which La La took part in a racy sex scene. "I want to address this once and for all. The problem is people don't know how to separate Lala from LaKeisha—that's my character on Power. My character is currently in a relationship with Tommy, and when you're in a relationship, you have sex and you take your top off. You don't have sex fully clothed. If I am a true actor, then that's what I'm going to do," she said. "And I will say this, to be on Power, we got sat down from the first episode on Season 1 to sign a nudity clause. At some point…it's going to come for everybody."
How did she prepare for the big moment? "Well, I know how to have sex..." she joked.
La La also laughed when the hosts asked if Carmelo liked the episode. "Well, let's start with the sex scene. That was done eight months ago. So, when it was going on, you sit down, have a discussion with the person you're with and say, 'Hey, this is what's coming up in the script. I want to make sure you're comfortable with it. I want it to be done as tastefully as I can,'" La La said. And since the episode aired, she hasn't talked to her ex about it: "I try not to bring it up."
Speaking of her ex...
Amid reports that Carmelo is unhappy with the New York Knicks and requested he be traded to the Houston Rockets, the hosts asked if La La is willing to relocate to Texas. "I'm not moving anywhere," she laughed. "I am New York, born and bred, and I will be staying here." Asked whether the whole family will stay in the Big Apple, La La replied, "I don't know about that. I don't know about those trick questions you're trying to ask me, but I am staying in New York."
What if Carmelo does in fact move? "We haven't got...We're not at that place yet," she said.
Besides, the couple is "not divorced," she added. In spite of their breakup, she insisted, "He's my best friend. When you're with someone for 13 years since they were 19 years old, and you have a 10 year-old child, you'd hope that you guys would be cool. We are the best of friends." When someone took pity on Carmelo, La La joked, "Don't feel sorry for him! Feel sorry for me!"
Does she think a man needs to nearly lose a woman to appreciate her, like Jay-Z and Beyoncé? "I do think that—but that's humans in general. We always appreciate what we have when we don't have it—girls and guys. We always take things for granted in life when we have them. That's human nature. You can't wait until somebody's one foot out the door and they realize," she argued. "That's a lesson to a lot of men and women out there: Appreciate what you have."
When a host asked if she and Carmelo are seeing a marriage counselor, La La didn't give a direct answer. Instead, she calmly replied, "Listen, we're good. We're figuring it out. Right now, Melo is figuring out the Knicks and basketball and where the next couple months of his life is going to be, and I want to support him through that. I want him to be happy and New York has not panned out to what he wanted it to be." So, for the time being, La La said she will be focusing on herself and her son. "My status right now is putting myself first. As women we forget to do that a lot. And whatever's meant to happen will happen," she said. "I'm learning I don't have to have it all figured out. Life has to happen and things will sometimes just figure themselves out."
Looking back at her breakup, the actress admitted, "I feel like I've been tested and I'm making it through. I've been dealt a crazy hand recently, but I'm making it through. Life goes on. Things happen. It's not what happens to you—it's how you react to it. You got to keep pushing on."
Ironically, La La didn't fully understand her own strength until after the split. "I've had a couple moments where I've been close to a breaking point. But I have my son to live for; I can't be a great mom if I'm in the corner breaking down. I have to move forward," she said. "I'm not the first and I definitely won't be the last to go through relationship issues and marriage problems."