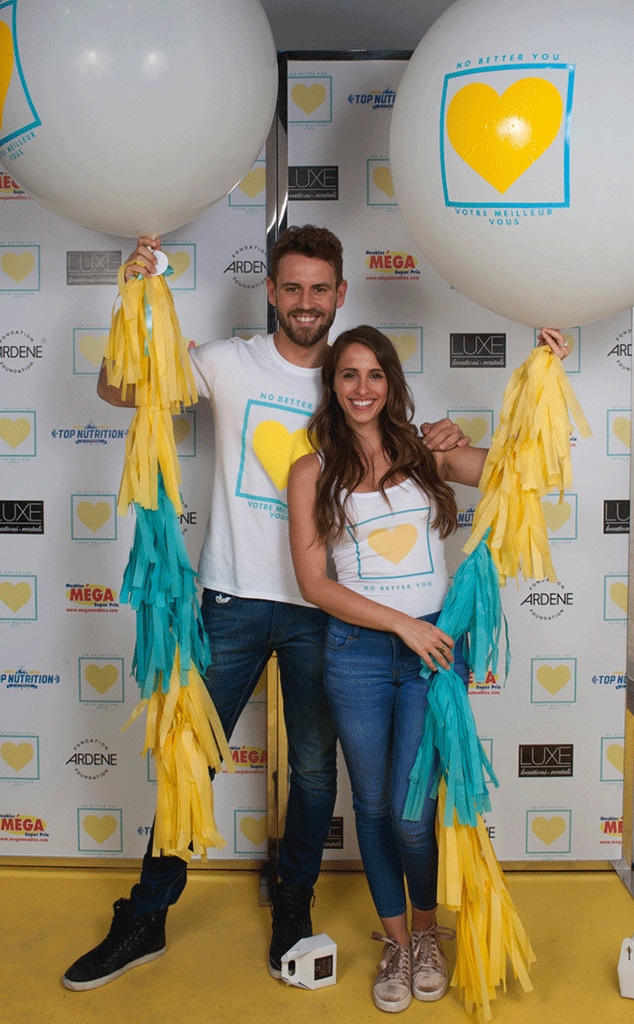 Franca Sorrenti
Nick Viall is one proud fiancé!
The former Bachelor star was all smiles while supporting Vanessa Grimaldi at her first-ever fitness fundraiser Sunday for her charity No Better You, which aims to advance special education by providing tools and programs for exceptional learners.
Grimaldi spoke to E! News following the event, saying, "Today's fundraiser was an incredible success! We had such great support, from the volunteers, to the fans, the vendors, to all the sponsors. I am beyond thankful for everyone's donation! We raised over $30,000, which will go towards opening a sensory room in two to three schools in the Montreal area."
Nick took to Instagram to show his support for his fiancée and express his pride.
"Couldn't be more proud of my girl @vanessagrimaldi30 for raising over 30k in her first fundraising event for @nobetteryou," he wrote. "Congrats babe!! #happy #proud #charity."
Vanessa also shared an Instagram post with her man, expressing her gratitude for everyone who helped her make the fundraiser a success.
"Thank you to everyone that came, those who donated online, to all my volunteers and to @ardene for believing and supporting the cause!" she wrote alongside the hashtags, "#grateful #wedidit."
The cost for sensory rooms range anywhere from $30,000 to $100,000, which not all schools have funding for. However, Grimaldi said they're very important in special education, telling Canada's Global News, the rooms provide "a therapeutic space for students" that "can help stimulate or calm students down."
Nick also spoke to the publication, gushing, "She's put a lot of work into it so it's nice to see it come to fruition, but I'm not surprised at all. I knew she'd do a great job even though she was a little worried."