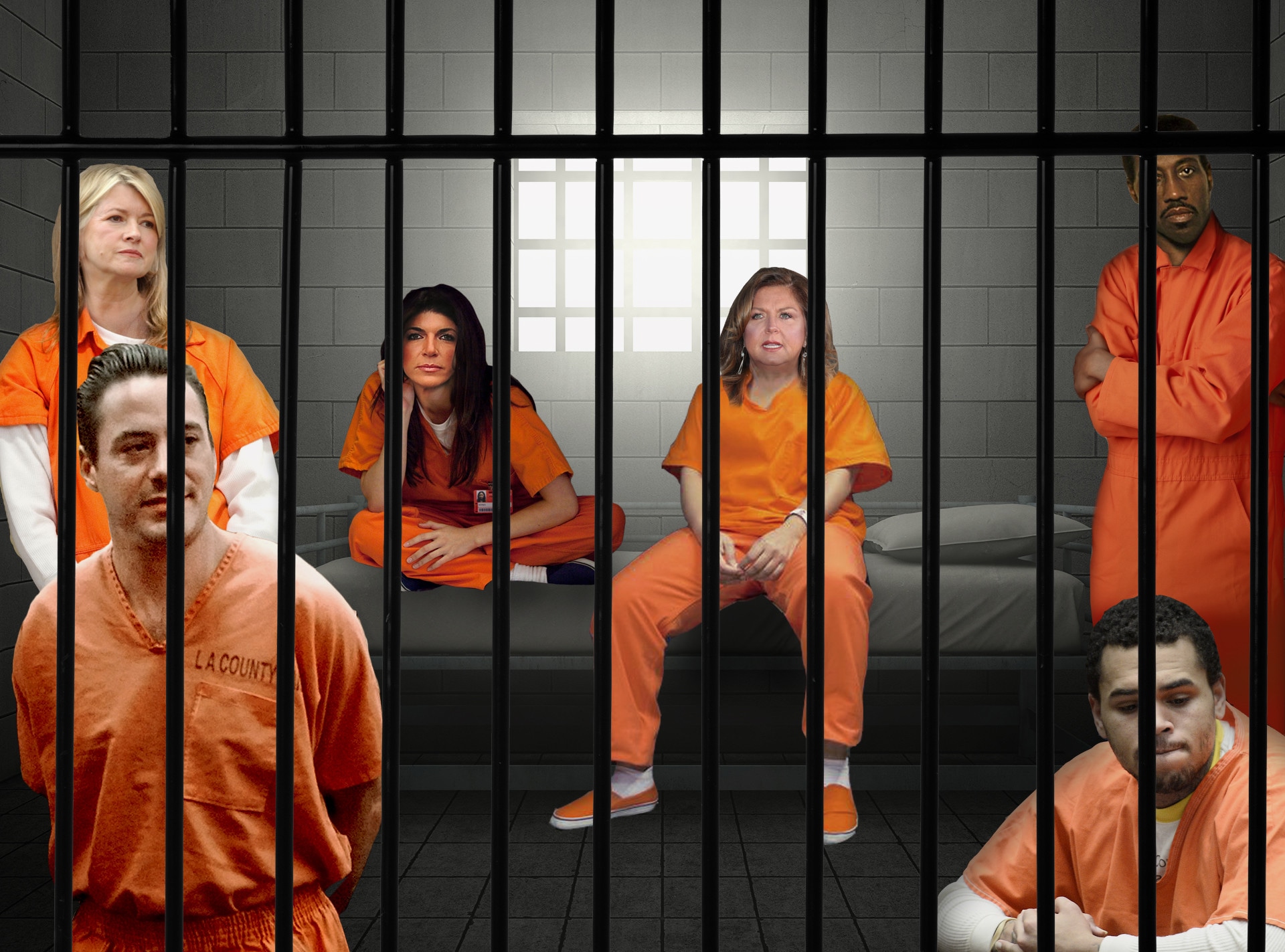 Melissa Hebeler/E! Illustration
A lot of prison inmates get visitors.
Rarely from Vanity Fair, though.
So despite the otherwise intentionally low-key existence Robert Downey Jr. was leading during the year he spent as Inmate P50522 at the California Substance Abuse Treatment Facility and State Prison, Corcoran, the visits from journalists and people like Sean Penn were a reminder that, at the end of every day, he was still Oscar nominee Robert Downey Jr. (Which wasn't the same as how he ends every day now, as jewel of the Marvel Universe Robert Downey Jr., but he was still perhaps the biggest actor to have then spent that much time behind bars.)
But while he was doing his time for skipping mandatory drug tests, his second probation violation (three years after infamously wandering into the wrong house and falling asleep during his days of heavy drug abuse that now seem like another lifetime ago), RDJ kept his head down and did what he was told, outside celebrity status notwithstanding.
Downey told Vanity Fair that, when he arrived at the state prison facility, the assistant warden told him, "'If we have any discipline problems with you, we're going to come down on you like a ton of s--t.'" The actor also at one point said, gesturing to their surroundings, "Is this the most surreal thing you've ever seen?"
SATF at Corcoran II, as the facility is called so as not to be confused with the ominous Corcoran State Prison next door, isn't Camp Cupcake, or the "country clubs" that people reference on TV when talking about not-so-bad places to be punished for white collar crime.
Downey—already a veteran of county jail, lockdown rehab, 24/7 residential treatment programs and outpatient rehab as the justice system kept hoping he'd get his act together—was housed in a high minimum-to-moderate wing at Corcoran II. 
He did kitchen or dishwashing duty five days a week for 8 cents an hour, smoked Marlboro Mediums and told VF he had acquired the nickname Mo' Downey. He had been undergoing treatment at Men's Central Jail in downtown L.A. while awaiting sentencing in August 1999 (he memorably appeared in court in his prison jumpsuit and shower sandals), so he entered prison sober; among the resources offered at Corcoran II are Alcoholics Anonymous, Narcotics Anonymous and a drug treatment/diversion program. 
He was allotted an hour of phone time a night. Nowadays at least, visitors are allowed on Saturdays and Sunday, as well as on Thanksgiving, Christmas, New Year's Day and the Fourth of July—all holidays which Downey spent there between August 1999 and August 2000. Deborah Falconer, whom he was still married to but separated from, brought their then 6-year-old son Indio to visit on several occasions.
While Iron Man's younger fans might be shocked to learn just how rocky rock bottom was for their hero, it's not hard to picture Downey entertaining his fellow inmates with his self-deprecating wit and even leading the inmate Christmas caroling.
He shared cell No. 17 in the F1 building with four other guys, sleeping on the top bunk. Per VF, he taped photos and magazine pages next to his bed and got about 100 letters a week, mainly from women, some of which he answered. He reportedly drew pictures with markers and crayons on scrap paper and celebs including Johnny Depp, Mark McGrath and Gavin Rossdale bought them from a pal of Downey's who was serving as his de facto art dealer.
Originally sentenced to three years in prison, minus credit for 201 days of time served, for violating probation from his 1996 no contest plea to felony cocaine possession and misdemeanor concealed weapon possession and DUI, he was released after one year. An appeals court agreed that the judge's original sentence didn't clearly state if he was supposed to be serving multiple sentences concurrently (at the same time) or consecutively (one after the other). In California, if a lower court judge doesn't clarify what he meant within 60 days, the sentences automatically become concurrent.
Bryan Bedder/Getty Images for FIJI Water
So Downey posted $5,000 bail in August 2000 and went free. His attorney told the court that his client was continuing with his treatment, including daily counseling.
Three and a half months later, a few days after Thanksgiving, Downey was arrested at a Palm Springs hotel on drug possession charges. He remained free on bail and in April 2001 he was arrested again in L.A. when officers saw him wandering around in an alley. Prosecutors chose to treat that bust as a parole violation, rather than charge him anew (though he was promptly fired from Ally McBeal), and in July 2001 he pleaded down to a misdemeanor for the November 2000 bust and was sentenced to three years of probation and more rehab.
Finally, sobriety stuck.
"I'm such a work in progress at the moment, it's crazy, and life wants me on edge, I swear to you," Downey told Rolling Stone in 2008, his star re-rocketing skyward by then after going so wildly off course. "But as long as I don't forget the past, I'm cool. One must always be mindful, just like you might forget that old girlfriend who tried to slit your throat, but she's really still hot. If you remember the stitches more than you remember the p---sy, you're going to be just fine."
Coincidentally, while granting that interview, Downey ran into the writer of the 2000 Vanity Fair article about his time in prison. "I want to say I'm happy to see you," the actor reportedly told the guy. It was clear to the RS writer that the actor never wanted to see the VF writer again.
But though Downey's troubles are legendary, they're also the stuff that Hollywood miracles are made of, considering the heights he later achieved—and his many fans and admirers remained inspired.
From the files of "it's a small world," Downey's U.S. Marshals co-star Wesley Snipes was sentenced to three years in prison for tax evasion. He spent more than two behind bars and the rest under home confinement. The Blade star appealed on the grounds that his sentence didn't fit the crime—he was convicted of three misdemeanor counts of failing to file tax returns (at trial he blamed faulty financial management on his advisors' part)—but the U.S. Supreme Court refused to hear the case in 2011.
Snipes' temporary home was the minimum-security wing of FCI McKean in Lewis Run, Pa., home to a few hundred khaki-wearing inmates convicted of white-collar crimes who had been relegated to kitchen duty, yard work or other daily jobs. The married father of five was allowed to host up to three adult and three child visitors at a time during designated hours on Saturdays, Sundays, Mondays and federal holidays. 
He was released in April 2013 from , and the following year headed to work on The Expendables 3—but he let it be known he still thought he'd been unduly punished, despite having served his time at a facility deemed "Camp Fed."
"I don't think I'm alone in that," Snipes told London's Telegraph in August 2014. "I think there are people out there who feel it was overkill, overzealous, overreaching. But again, that was then, this is now. And they ain't seen nothing yet. I'm just getting started."
Coincidentally Snipes knew Downey well and had made two movies with him in the late 1990s, back when the future Iron Man was still struggling with substance abuse. In fact, Downey made U.S. Marshals while on furlough from a 180-day jail sentence for violating his probation by skipping drug tests.
"He was walking through the fire," Snipes recalled. "He was walkin' on coals." Giving props to Downey's near-inconceivable comeback, he said, "One is that it's the American way. Maybe even in the world in general, there's the appreciation for the person who can come through the fire, make a resurgence, make a return, a rebirth, and do well. We look for the comeback.
"And the second thing is that cream always rises to the top. And Robert is a monster of a performer and an artist. He's an extremely multitalented actor that I respect."
Downey, who had once sought advice about playing a comic book hero from Snipes, was now serving as an inspiration for his fellow actor.
Snipes said that his friend's story is "an inspiration not just to me but to others, that you can go through hell and high water, and you can have ups and downs, but there's always a brighter day. This too shall pass. And if you keep your skills together, you open and you create opportunities for yourself."
Frederick M. Brown/Getty Images
But whether a celebrity spent time in state prison, like Downey; or federal prison like Snipes, Martha Stewart and, as of last week, Dance Moms star Abby Lee Miller; or county jail like Paris Hilton and Chris Brown, one common denominator is that each of them started out just hoping to blend in.
The other, of course, being that they couldn't wait to get out.
"I just want to be normal when I walk down the halls," Hilton explained to E! News from Lynwood, Calif.'s Century Regional Detention Facility in 2007, where she was serving what ultimately amounted to 23 days for violating probation on a reckless driving charge. "There are classrooms here because a lot of the inmates didn't have the opportunity to go to school, so they'll all be in there and all wave and blow kisses."
"I was really scared to come here at first, but all of the inmates have been really nice and supportive. I don't know…it's different than I thought it would be. It's not like what everyone thinks about jail."
Hilton did say, that while she was newly grateful for things like food and pillows and the fact that she had a place to live outside of jail, the food was "awful" and she couldn't wait to have something tastier upon her release. Her parents, Kathy and Rick Hilton, visited, but the bulletproof glass in the visiting area prevented normal interaction, like a hug for her dad on Father's Day. Like Downey, she received a bunch of fan mail (she was allowed 10 letters at a time), some of which she answered from a cell equipped with one bunk bed, a desk and a toilet.
"Well, you know, it's the most difficult thing I've ever had to experience in my life and, I don't know, it's just so surreal," Paris, theretofore one of Hollywood's premiere party girls, admitted. "It's so crazy. I never thought in my wildest dreams that I would've ended up in…At first, I went through so many emotions. You know—anger, upset that all of this happened...It's a learning experience I'm going to grow from. Just being away from everything…you know, the craziness, the paparazzi. I've had a lot of alone time to think and read and write."
They call it doing time for a reason.
"A guard wakes you up, you eat. You stay in your cell most of the time, basically 24 hours a day," Chris Brown reflected on his 108 days in solitary confinement at Men's Central Jail in Los Angeles, where he was locked up in 2014 for violating probation stemming from his 2009 assault conviction. "Maybe on Mondays you go to the roof inside of a cage and have a phone call. It's isolation. You have time to focus on what matters, on what to do and what not to do."
He didn't work on music, telling Billboard he put his creativity "on hold" while he was in jail, where there was "a regimen and a structure"; rather, he "was drawing and sketching most of the time."
Reminiscent of what Hilton said seven years prior, Brown said, "My maturity level has risen as far as my realizing what's important. Realizing that I'm human like everyone else. At the end of the day, it's just a humbling experience. You're more appreciative of everything else that's on the outside. A burger tastes 1,000 times better when you're out."
Paris Hilton also notably said that she was moved by stories from her fellow inmates, some of whom she said were not guilty of the crimes they were accused of, and that was part of why she couldn't wait to get out of jail. Martha Stewart—sentenced to five months in late 2004 for lying to federal investigators about a stock sale—didn't sound particularly changed by her experience, but she was fully aware by the end how much it stinks to be locked up.
"Everybody tells you, 'Oh, whatever happens to you, it will make you stronger.' F--k them," the lifestyle guru said spiritedly in a Q&A session with Giuliana Rancic at the Quickbooks Connect conference in 2014. "It's so mean, that is the stupidest thing. It doesn't make you better at all. It could ruin you."
It obviously didn't ruin Stewart, though the general narrative that she was cooling her heels at "Camp Cupcake"—aka the minimum security Federal Prison Camp in Alderson, W. Va., where yoga, aerobics, cosmetology courses, and cottage-style housing are on the menu—still rubbed her the wrong way. Nevertheless, she acknowledged she had it better than at least 99 percent of prison inmates.
"Well, I wasn't dying," she said, noting how she was lucky to be healthy throughout. "So, I couldn't have fancy food for a while. That was fine. I was sent far away, but my friends came to visit me regularly and it was just a peculiar moment in time. It cannot define you. You cannot let something like that define a good person's life. I am a good person and I am a creative person."
Federal Bureau of Prisons vis Getty Images
Stewart didn't just take yoga—she taught it—and she taught ceramics and crafted an entire nativity scene (which she later took home and continued to use) in time for Christmas. She also made jam out of the crab apples she was able to pick from trees on the prison grounds.
"As you would expect, the loss of freedom and the lack of privacy are extremely difficult," read a message posted to Stewart's website around Thanksgiving in 2004. "Visits from my friends, family and colleagues—together with your goodwill and best wishes—will get me through this chapter in my life."
She continued, "I am safe, fit and healthy, and I am pleased to report that, contrary to rumors you might have heard, my daily interactions with the staff and fellow inmates here at Alderson are marked by fair treatment and mutual respect."
Stewart and fellow inmates were served a turkey dinner for Thanksgiving. She was released in March 2005.
Teresa Giudice was out just in time for Christmas but she too spent a Thanksgiving behind bars while serving close to a year in federal prison for bankruptcy fraud, after which she completed the entire 15-month sentence under home confinement.
Helping the Real Housewives of New Jersey star through her time at FCI Danbury in Connecticut were regular visits from her prison-bound husband Joe Giudice (he's currently serving time at FCI Fort Dix in New Jersey) and their four daughters. They even took a family portrait in July 2015, with Teresa in her prison-regulation olive-drab pants and shirt.
Courtesy of Teresa Giudice
"As far as prison goes, she's maintaining. She's adjusted well, she has a routine and she just takes it one day at a time," her attorney James L. Leonard told E! News that summer. "She's spending more time outside. There is a track so she's been walking and running on the track a lot."
Leonard also had some advice for Abby Lee Miller, who reported last week to FCI Victorville to serve a year, also for bankruptcy fraud. "Keep your head up, stay strong for your children, and reemerge a better version of yourself," the lawyer said, via TheDirty.com.
"It is surreal," Miller told E! News last month after being sentenced. "How does a nice Catholic girl end up going to prison for a year? It's crazy."
She said she'd heard from multiple people that, perhaps, if she hadn't been on a TV show, she would've gotten a slap on the wrist instead. Miller is hardly the first famous person to feel that way, but the end result is what it is.
Though she'll be doing her time on the opposite side of the country, the Dance Mom star's accommodations at the low-security female wing of the California prison sound similar to what Teresa's were in Connecticut: Khakis, exercise classes, arts and crafts, visiting days and, come November, Thanksgiving dinner with fellow inmates.
"They always have something different going on in there," Joe Giudice also told us while his wife was away. "New people coming in, people leaving. So you're always meeting people. Just because they're in there doesn't mean they're bad people." 
Teresa had made a nice little group of friends and, yes, she had learned a little "jail talk" while she was there while figuring out the ins and outs of prison etiquette, such as the art of trading items purchased at the commissary. "There's no money exchanged in there," Joe said, laughing, "but let's say somebody does your toenails, or colors your hair, you give 'em something in exchange. That's how things work in there, I guess."
He wasn't paying too much attention, he admitted, adding, "I don't care, I guess I'll figure it out when I get there."
Asked what scared him the most about his looming 41-month sentence, Joe shrugged. "Nothing to be scared of. You just go in, do your time and get out, like everybody else does."