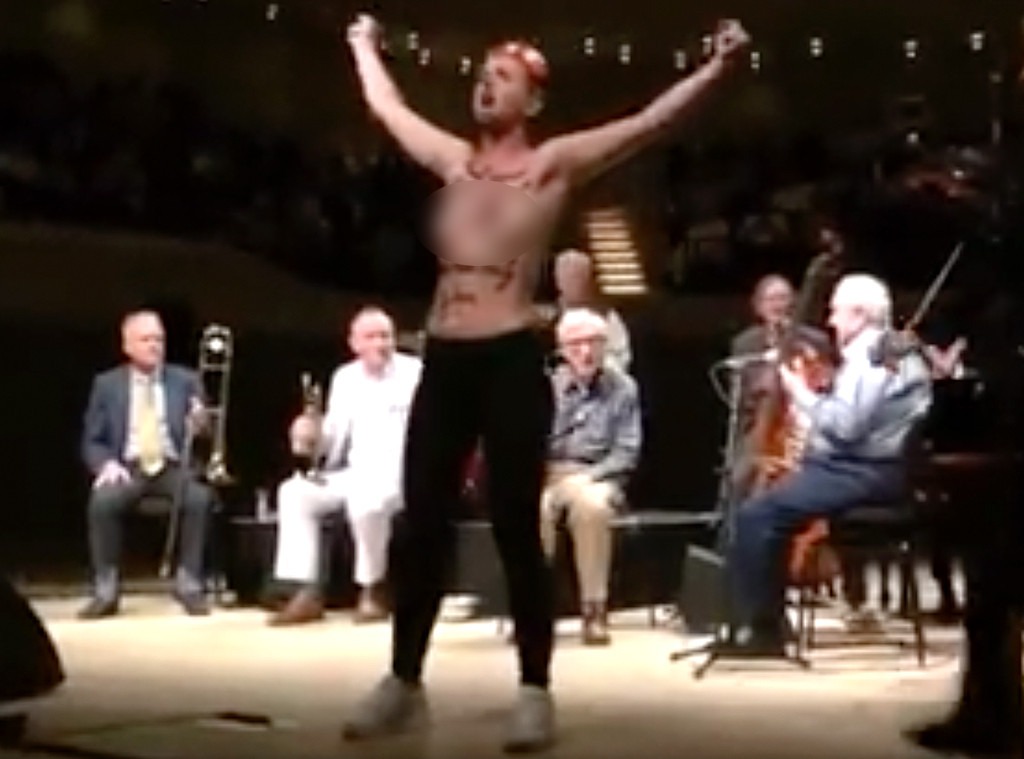 Woody Allen had some unexpected onstage guests at his New Orleans Jazz Band's concert at the Elbphilharmonie in Hamburg, Germany Tuesday.
Two topless women, members of the women's rights activist group FEMEN, stormed the stage. On their chests and torsos were scrawled quotes from the 2014 open letter of Dylan Fallow, Woody and ex Mia Farrow's adopted daughter, in which she accused the famed director of sexually abused her when she was a child. Woody had denied her claims.
"SEXUAL ABUSE IS A CRIME! STOP THE #SILENCE!" read a post on Femen's Facebook page, alongside a (NSFW) video of the two-woman protest, which drew boos from the crowd and lasted about two minutes, according to local broadcast NDR.
Theater workers then escorted the women off the stage.
The group said the protest's goal was "to remind the world and the Jazzfans sitting in the audience that [Woody] is not just the neurotic and charming director, musician and actor but also seems to like sticking his fingers into his daughters."
"Violence against women is not to be ignored, is not tolerable and not excusable, even if the accused is called Woody Allen," the group said. "FEMEN does not want to be a part of this society, which protects and cheers the perpetrators. FEMEN disapproves of the fact that the Elbphilharmonie offers a pedophile a stage. No condemnation is no proof of innocence."
Woody, 82, has not commented on the protest or their comments. He was given a standing ovation at the end of the show.