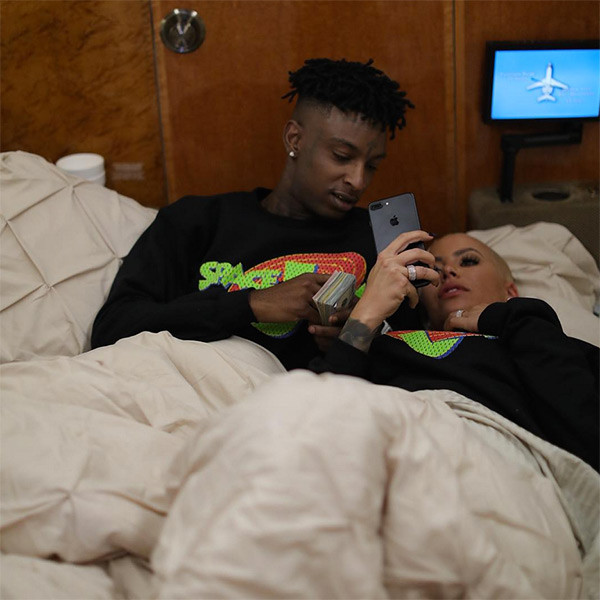 Instagram
Amber Rose may have found The One.
Overnight, the 33-year-old talk show host shared an Instagram photo of herself snuggling in bed with 21 Savage (wearing matching Space Jam jerseys) and confessed she's fallen head over heels for him. "It's pretty amazing waking up every morning feeling love like this," Rose told her 15.6 million fans. "I've cried endlessly and been hurt a lot in my life, I've been abused, talked to like I wasn't s--t, been gaslighted and slut shamed by men that I once loved and cared about."
Rose, who has a 4-year-old son with her rapper ex-husband Wiz Khalifa, continued, "I'm so thankful that God brought this amazing person in my life who genuinely has my back and is ready to 'pull up' to defend my honor by any means. Maybe he's just as broken as me and that's why we're perfect for each other but either way he's not going anywhere and neither am I."
Prior to sharing the note, Rose and her boyfriend shared a few kisses in an Instagram video. "When he loves spoiling you but you got ur own money so you spoil him instead," she wrote.
Over the weekend, Rose shared a clip from 21 Savage's radio interview with The Real After Party on Real 92.3. "She's beautiful, right? We've just been kicking it, man. She's a real cool woman. She treats me like a king, so it is what it is. And no disrespect will be tolerated, at all," he explained. "Keep your mouth closed, no hos, no bitches, no nothing, 'cause I'm pulling up."
Asked about their nine-year age difference, the 24-year-old rapper—who was promoting his debut album, Issa Album—argued that while he may be younger "in age," he is "not mentally."
Khalifa, who's dating model Izabela Guedes, is happy that his ex found love again with 21 Savage. "He's a good guy," he told TMZ. "He's a good kid—everything that I know about him."
Before 21 Savage, Rose was in a five-month relationship with Dancing with the Stars pro Val Chmerkovskiy. She was later linked to French Montana, but as she said on Loveline last month, "He's like a brother to me...I have a bunch of male friends. It's unfortunate that anytime I hang out with a male friend, it's like, 'She's f--king him! She's dating him!' I have a loving personality."