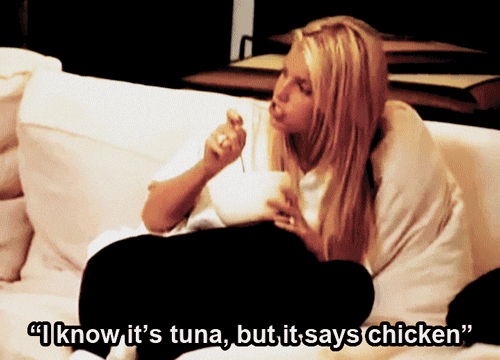 MTV
Jessica Simpson has no problem poking fun at herself, 14 years later.
The 36-year-old fashion mogul shared on Instagram Sunday a screenshot from an article from Time magazine from last week titled "Whole Foods Discovered Its Chicken Salad Actually Had Tuna." The U.S. Department of Agriculture announced on July 1 that a poultry farm has recalled about 440 pounds of mislabeled buffalo chicken salad products that really contained tuna, an allergen, and that were shopped to Whole Foods stores in New York, New Jersey and Connecticut.
"It happens to the best of us @wholefoods," Simpson wrote.
In 2003, on her and then-husband Nick Lachey's MTV reality show Newlyweds: Nick & Jessica, Simpson ate tuna and uttered a line that went viral and made her more famous: "Is this chicken, what I have, or is this fish? I know it's tuna but it says, 'Chicken By the Sea.' Is that stupid?"