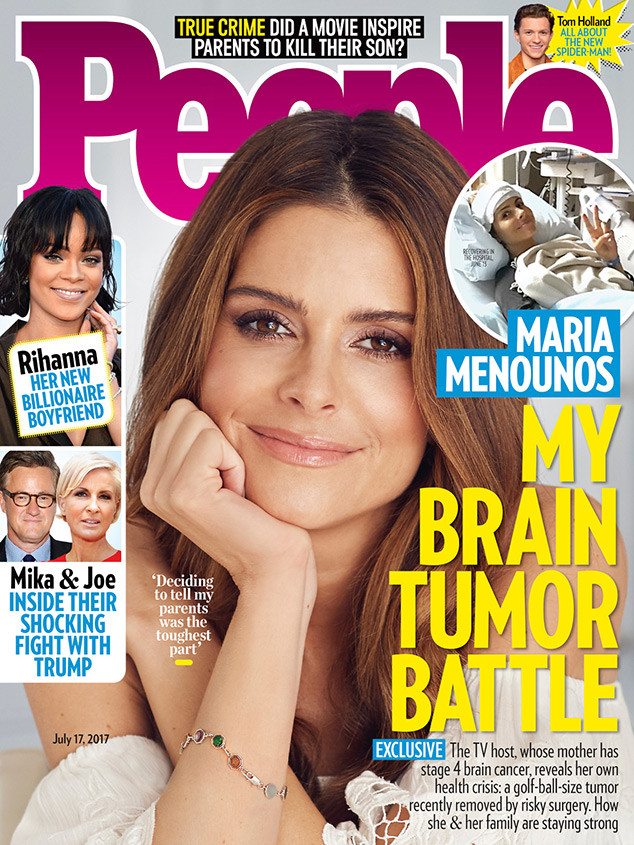 Courtesy of People
Maria Menounos is on the mend.
The E! News anchor underwent a seven-hour surgery to remove a brain tumor the size of a golf ball. The tumor, a benign meningioma, was successfully removed but could return; her mother, Litsa Menounos, is currently fighting stage 4 brain cancer. "This February I thought I had an ear infection so I went to a doctor, and he said, 'Your ears are the cleanest things I've ever seen. What else are you feeling?' I'd been getting light-headed on-set and having headaches. My speech had gotten slurred, and I was having difficulty reading the teleprompter. I said, 'I know you're going to think I'm crazy, but I think I have a brain tumor like my mom.' He said, 'I don't think you're crazy. Let's just get an MRI,'" she tells People (on newsstands this week). "The next week I started feeling better, so I was like, 'I'm clearly paranoid.' So I kept pushing the MRI."
In April, Maria had the scan and later learned she had a brain tumor called a meningioma. "I didn't cry. I actually laughed," she tells the magazine. "At that point, it was like, 'This is a joke." Maria told her parents about her diagnosis days before undergoing surgery. "Both of them just welled up," she recalls. "They were just in shock, but we kept reassuring them it would be fine."