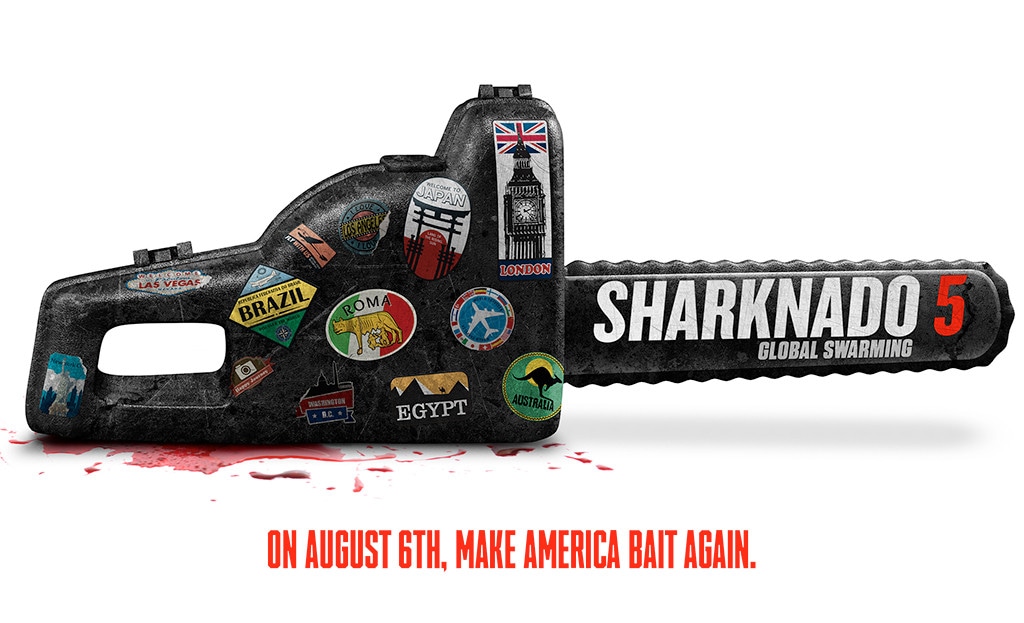 Syfy
Who's ready to go fin-ternational?!
As the world impatiently awaits the latest installment of Syfy's deliciously bonkers film franchise, we here at E! News have a little something to help hold you over. We've got your exclusive first look at the new key art for Sharknado 5: Global Swarming!
Once again, Ian Ziering's Fin is back and ready to battle those pesty tornadoes full of sharks, but this time on a global scale. Along for the ride? His shark-fighting superhero robot wife April (Tara Reid), rocking some killer pink, purple and orange highlights in her hair. Who says cyborgs can't enjoy a good pop of color? Also making her return in the new art is Cassie Scerbo's Nova, who apparently only appears in the odd-numbered Sharknado movies, after sitting out both Sharknado 2: The Second One and Sharknado: The Fourth Awakens.
In Sharknado 5: Global Swarming (tagline: Make America Bait Again!), Fin and April follow a sharknado around the globe (London, Rio, Tokyo, Rome, Amsterdam, and more!) after their son (who once believed his mother was a shark, lest you've forgotten) gets swept up in it. In their journey, they enlist help from a highly-skilled squad of royals, scholars and Olympians, enlisting famous faces from news, entertainment, and sports...which leads us to some truly epic cameos.
Here's the full list of celebrity cameos coming your way:
Charo as the Queen of England
Fabio as the Pope
Saturday Night Live vet Chris Kattan as the Prime Minister of England
Olivia Newton-John and her daughter Chloe Lattanzi as two brilliant scientists who will help defend Australia from the sharks
Tony Hawk, pro skateboarder, as a masterful weapons operative strategist
Former American Idol star Clay Aiken as Llewelyn, a cutting edge tech genius
Musician Bre Michaels as a visiting artist who gets trapped in the storm
Comedian Margaret Cho as a fussy bride whose honeymoon is ruined by the sharks
Gilbert Gottfried as Ron McDonald, storm chaser
Today hosts Al Roker, Kathie Lee Gifford and Hoda Kotb as themselves
Olympians Greg Louganis and Tom Daley as a high-end art thief and himself, respectively
Olympic freeskiing medalist Gus Kenworthy and NBC News investigative correspondent Jeff Rossen as themselves
Real Housewives of Atlanta star Porsha Williams as Andromeda, an archeologist and member of the elite "Sharknado Sisterhood"
Tiffany "New York" Pollard as a Brazilian black market artifacts dealer
Cat Greenleaf and Dan Fogler as themselves
Ross Mullan, Game of Thrones' White Walker, as Dr. Wobbegon, a scientist who has made breakthroughs in meteorological studies to track Sharknado storms
Sharknado 5: Global Swarming premieres Sunday, Aug. 6 at 8 p.m. on Syfy.