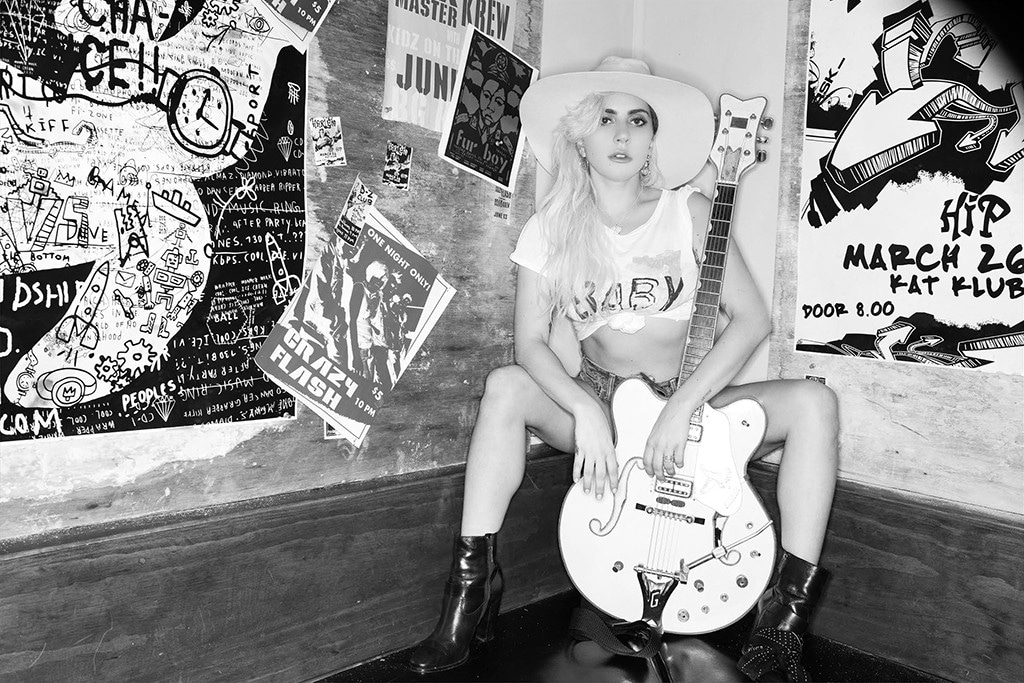 Lady Gaga is just getting started. 
The 31-year-old may have charged into 2017 with her fifth studio album on the charts and her first Super Bowl halftime show in the record books, but if you've payed any attention to her decade-long career, the star always has a new goal up her sleeve. As she told E! News, "You know me—I like to switch it up."
After releasing her first album in two years, Joanne, the Grammy winner focused on bringing her music to the masses, first by way of Houston's NRG Stadium, then with the announcement of the Joanne World Tour to begin in late August and finally, by replacing Beyoncé as one of Coachella's 2017 headliners. 
"There's so many people that have stopped me on the street and everywhere I go to say, 'Oh my gosh—this album has been so healing for me.' 'This song has changed my life.' 'I listen to this on repeat when I need to feel better,'" she told E! News of Joanne's reception. "When I hear things like that, I know that my music has gone where it's supposed to go—straight to the heart."
For fans who couldn't get their hands on a coveted ticket to a show on the sold-out tour or a ride to Indio, you're in luck. E! News can confirm Mother Monster is once again joining Bud Light's Dive Bar Tour 2.0 as a headliner—only this time, she won't be alone. Two more mystery performers will be joining the tour this year and, while their identities are under lock and key right now, Gaga assured E! News they are "very different from me. It's really going to diversify the tour."
Dimitrios Kambouris/Getty Images for Bud Light
As she did in the fall of last year, Gaga will play an intimate set for her fans in—as the tour's title suggests—a dive bar. "I just really love to play in bars and I miss it all the time, which is why we've created this amazing tour that I'm so happy other artists will be doing now," she told E! News. Plus, unlike her world tour, "you'll get some Bud Light," Gaga noted.
The tour consists of three show dates with Gaga kicking it off in Las Vegas on July 13 and her surprise friends joining in to lead the two additional shows on July 26 in Los Angeles and August 30 in New Orleans. Plus, if you're out of vacation days, the shows will also stream live on Bud Light's Facebook page. 
While she's no stranger to the stage, the songstress does admit that smaller stages, like the ones on the dive bar tour, come with a level of intimidation.
"There is something that is very hard in a way about sitting up so close to everyone and singing, but that's sort of the joy of it—that's really why we're doing it, because it's taking it back and it's not so separated and it's not so 'cellphones.' It's just people close together, some beer and some music."
W Blanco / Premiere / BACKGRID
While Gaga assured us the fans will get a mix of her discography for the dive bar tour, we wondered if she'd surprise her little monsters with some new tracks altogether. "You just might get some more music. I love making music. I don't know exactly when. I'm sort of feeling like I'm making songs and doing all sorts of things with music, but I don't know exactly when or how I will release them," the musician teased. "I'm working on that."
In the midst of all this music, the star has also been extending her talents to the silver screen with her first feature film, a modern rendition of A Star Is Born, helmed by Bradley Cooper. "Otherworldly" is how the Golden Globe winner describes her co-star, the Jackson to her Ally. 
While she's had a four-time Oscar nominee showing her the ropes, Gaga does not take the legacy of her role lightly. In earlier versions of the film, the female protagonist has been played by Hollywood greats Janet Gaynor, Judy Garland and, most recently, Barbra Streisand. Gaynor and Garland were both nominated for acting Oscars and Streisand won the golden statue for "Best Original Song." 
"I was intimidated by the legacy of the film probably every single day," Gaga told E! candidly. "I was always checking myself and going, 'Remember who did this movie. You gotta bring it.' But what I would say is...you gotta grab your balls and go or you're not going to have a steady hand, so I did a bit of both…I had a nice balance of insecurity and confidence."
Neilson Barnard/Getty Images for Coachella
In addition to the film's daunting history, this also marks the first time Gaga will grace the big screen, which, as the star put it, "is a challenge in itself, period." "I guess I was excited about that," she continued of tackling her first film role. "The harder it got, the more excited I got."
Of course, Ally's trajectory from aspiring star to actual one hits home for Stefani Germanotta. "I was very healed in this character. There was so much about her in me that is similar and there's some things that are very different," she explained. "In the movie, A Star Is Born, she's not a star when the movie starts and it took me back to a previous time in my life that I miss very much and I was able to connect with that and relive my career through her in a different way."
In many ways, life is both imitating art and coming full circle for the triple threat, who said she always wanted to be an actress. 
"Making this film [was] one of–if not the most—creative experiences of my life," she said. So, will there be more movie sets in her future? "I would be honored."