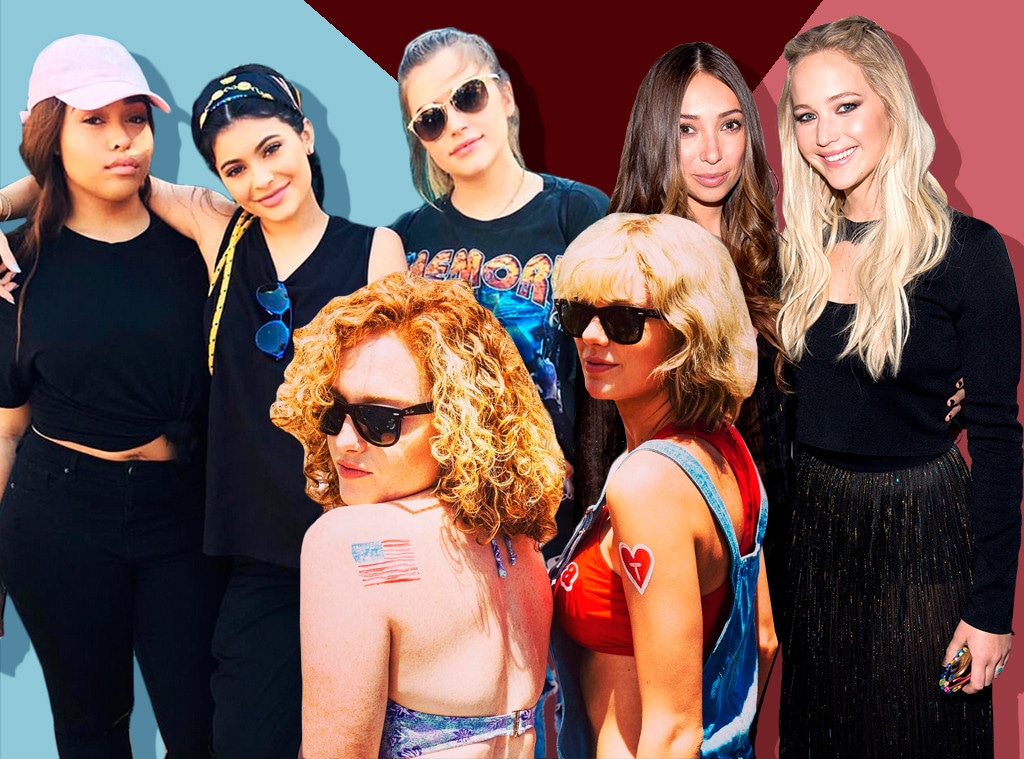 Instagram; Melissa Hebeler/E! Illustration
It's good to be a celebrity, but it's even better to be a celebrity's best friend. 
Being a star comes with a whole lot of perks—like money, luxurious travel and never having to wait in line at Starbucks (presumably). But for every fabulous opportunity is a major downside—like a complete lack of privacy, getting photographed after taking a redeye and never being able to go into a Starbucks at your leisure. Becoming a best friend to an A-lister ensures access to the best part and the option to peace out once the downsides start to rear their ugly heads. 
The best best friend gigs are often found in Young Hollywood. Celebrities often find themselves forging even stronger connections with the people they grew up with—or people they meet on their journey to fame—as a way to keep out the noise and distractions of the industry. Having a non-famous best friend is the perfect way to bring you back to reality, especially if that friend is as outspoken as the members of Amy Schumer's posse (who, it should be noted, never fail to call her out when they think she's gotten a little too Hollywood). In exchange, the BFFs get to experience a taste (or many tastes) of the good life; you'll find that their lives are just as envy-inducing as their famous counterparts. 
Instagram; Melissa Hebeler/E! Illustration
BFF: Brit Smith
They Go Back: To Instagram, of all places. They met because Smith and her sister, Kara, own a clothing brand named Elkin that's popular with the young social media set. Roberts happened to post a photo of an item of clothing from their line and the sisters caught wind of it—they ended up getting in touch and the threesome hit it off, especially Brit and Emma. 
Friendtivities: Travel, travel, travel. Roberts and Smith are practically insuperable, spending time in New York, New Orleans (where Roberts is often found filming various projects), and Palm Springs for now-yearly pilgrimages to Coachella, on top of trips to exotic locales like London and Paris. The friends also hang in their native Los Angeles on the regular, where they love to Instagram themselves hitting up Pilates class (and drinking the occasional glass of wine). 
Fringe Benefits: Did we mention all the travel? Being Emma Roberts' best friend is also very good for one's career. Brit and her sister now serve as Emma's stylist, dressing her for premieres and parties (like the Met Gala) and even working on some of her ad campaigns (like her infamous un-retouched shoot for Aerie). Plus, Roberts is still a major fan of their clothing label, which no doubt brings in customers better than any traditional advertising—she models for the brand, is photographed wearing pieces from the line and isn't shy about throwing up a 'Gram every so often. 
Instagram; Melissa Hebeler/E! Illustration
BFF(s): The Long Island Crew
They Go Back: To high school in Rockville Centre, New York and, in the case of her sister-slash-best-friend, to birth. Despite all of Schumer's newfound famous besties (cough...Jennifer Lawrence...cough) her true crew will always be the women she grew up with. 
Friendtivities: Would it be wrong to say that drinking is their collective favorite pastime? (If so, we don't want to be right.) It's pretty simple math that to be friends with Amy Schumer you have to also be friends with at least one type of booze, and it's clearly something her O.G. squad bonds over. They also do tons of adorable best friend group activities, like getting their pictures taken and screen-printed onto throw pillows together. Cue the aww. 
Fringe Benefits: The byproduct of being Amy Schumer's best friend runs the gamut of awesomeness. For her non-related hometown girlfriends that means travel. They go on some pretty amazing trips, whether they're boating in the Hamptons or lounging in the Caribbean. They also sneak in some pretty good celebrity sightings because she brings them along to movie premieres and other swanky Hollywood events. Oh, and there was that time Jennifer Lawrence joined for a day of jet-skiing. For her sister's part, she's had gigs on Inside Amy Schumer, worked as her tour road manager and now they even write screenplays together. 
Instagram; Melissa Hebeler / E! Illustration
BFF(s): Jordyn Woods and Anastasia "Stassi" Karanikolaou
They Go Back: To childhood. The exact moment of their meeting is at this point still a mystery, but both have been friends and roommates of Kylie's for years. Stassi was a frequent visitor to the Kardashian-Jenner house before Kylie got her own place and Jordyn's family is close friends with the Pinkett-Smith family, so it's safe to assume their Los Angeles connections introduced them.
Friendtivities: Snapchat, Snapchat, Snapchat. To spend time with Kylie Jenner is to appear on her social media constantly and Stassi and Jordyn have starring roles. They do everything that normal teenagers do together: Drive around town, stay up late, hang out in sweatpants, and cook totally absurd foods that no one over the age of 20 would eat. Except they're doing it in a multi-million dollar mansion. And the friends, especially Jordyn, are also a huge part of Kylie's cosmetic line. She helps model the different shades for Kylie's many followers and even has her own kits named after her.
Fringe Benefits: Does a person need anything else? They also get to live the good life, Kardashian-style, soaking it up in expensive cars and expensive houses and going on fancy vacations. Rumor has it Jordyn was a guest at the Kimye wedding, and she was also in attendance at that infamously luxe Turks and Caicos birthday trip. Jordyn is parlaying her Keeping Up exposure into a full time career, with a hefty social media following and a modeling contract with Wilhelmina Curve. She's sat front row at New York Fashion Week, appeared on the Today show and been shot for magazines aplenty.
NBC; Melissa Hebeler/E! Illustration
BFF: Laura Simpson
They Go Back: To over a decade ago. The two met at an industry event in which they didn't know anybody else and instantly flocked to each other. They've been self-admittedly inseparable ever since.
Friendtivities: Watching all Bravo all the time. Lawrence is a professed addict of the Housewives and all their spinoff franchises and has no problem spending all of her time camped out in front of the TV watching the drama go down. Laura is just as into it. They also claim to eat a lot of pizza together. It's safe to assume they also hit up SUR and PUMP every once in awhile just for kicks. In other words, it's exactly what we imagined it would be like to be BFFs with JLaw.
Fringe Benefits: Laura doesn't seem to have any aspirations of fame herself, considering they've been friends for over 10 years with nary a foray into the onscreen world. But that doesn't mean she doesn't enjoy getting a little taste of Hollywood now and again. Perhaps the biggest perk was getting to attend the 2014 Oscars with Lawrence. She got done up with professional hair, makeup and styling and was able to come face-to-face with stars like Jessica Biel, she caught her dress on Jennifer Garner and offered Slim Jims out of her purse to Kerry Washington. Oh, and she was the person who caught JLaw during that famous red carpet fall. Laura has also appeared on What What Happens Live as the guest bartender during her BFF's turn in the guest hot seat so the friendship has pretty much paid for itself.
Instagram; Melissa Hebeler/E! Illustration
BFF: Abigail Anderson
They Go Back: To high school in Nashville. Throughout the entirety of Taylor's career, and the addition of many a squad member, Abigail has stayed Taylor's number one.
Friendtivities: Um...everything? These two are practically inseparable—schedules allowing, of course. They bake cookies. They hang out everywhere from LA to NYC. They go on hikes. They cuddle (or attempt to cuddle) with Taylor's cats. They celebrate everything, from birthdays to national holidays. And did we mention the baking?
Fringe Benefits: Abigail has no interest in turning her friendship with Taylor into a career booster (she works in veteran affairs in Nashville), but she does enjoy her fair share of the good life. It all started when she has a song written about her ("Fifteen") and since then she's gone to the Grammys and the VMAs, hung out with all of Taylor's famous friends and received countless invitations to Taymerica parties on the Fourth of July. She also gets some pretty sweet gifts, like the time that Taylor hired her favorite band, Dashboard Confessional, to perform at her birthday.