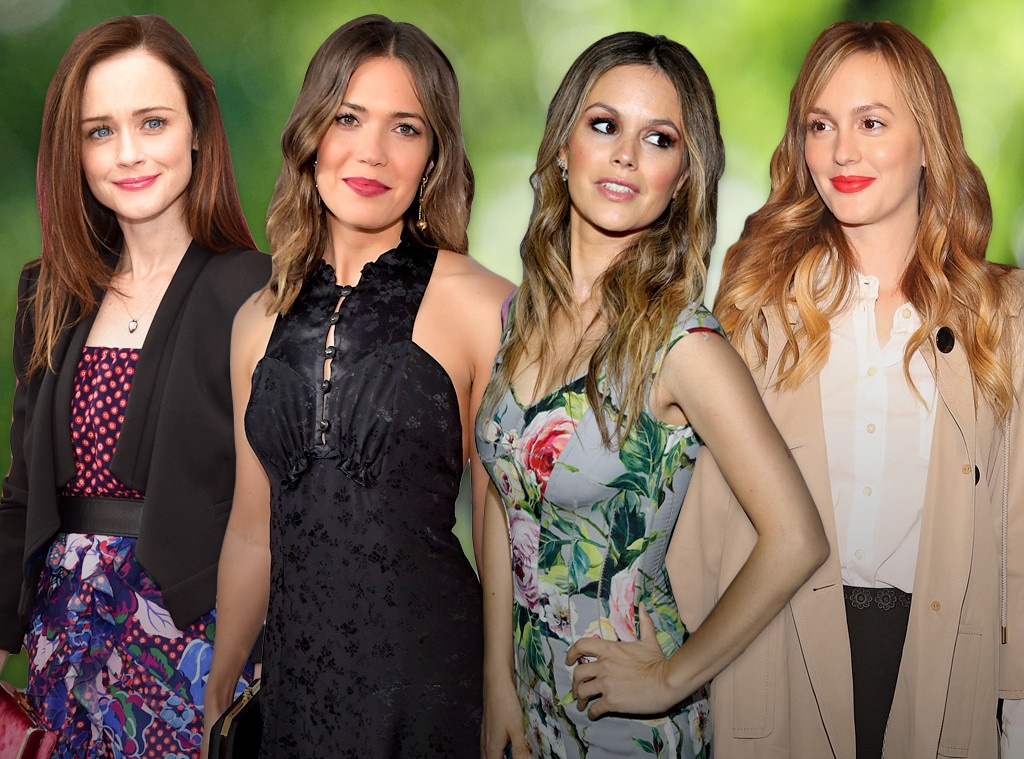 Getty Images/ E! Illustration
If television audiences were to turn on CMT right about...now, they would see a very familiar face on Nashville. Rachel Bilson has officially joined the cast of the country crooner show in her first role since Hart of Dixie wrapped. She'll be playing the chief strategy officer of the show's Highway 65 Records, a character that she described to E! News as a "strong, business-savvy woman." The actress has a five-episode arc planned for the drama, but industry observers and fans alike can't help but feel like it's the start of something big: A return to the screen, if you will, and an opportunity to come full-circle in the decade since she officially retired The O.C.'s Summer Roberts. 
And when those same audiences start channel surfing (during commercial breaks, of course) they'll realize that Bilson is part of a movement. That all of the most popular (and fan-favorite) lady stars of the 2000s (if they were a band or a sports team they might call themselves the Aughts A-Listers) are in the middle of what can only be described as a heyday.
There's Bilson and her country revival, of course. Alexis Bledel brought back her beloved Gilmore Girls and is also catching critic and general public attention of the chilling Handmaid's Tale. And Leighton Meester has her first series regular gig since Blair Waldorf simultaneously charmed and terrified the world on Gossip Girl. The woman behind the most famous eye roll in history has been largely off the airwaves since 2012, so her turn on Fox's Making History is something to be celebrated. 
What binds these three actresses together is more than just the fact that they happen to have been on-air at the same time during a certain part of the decade. Rather, they were integral members of the zeitgeist of the mid-aughts. To millennial women they were our role models, our obsessions, our constant sources of quoted material. You can't make people love you, but you can make them fear you. Nothing excites me before 11 a.m. And who could forget, Ew. These were the TV shows that we stayed up late binge-ing, that we turned to after a breakup or a failed test or a bad fight. The shows that guided us through countless hangovers and heartaches, and that kept us company as we snacked on literally everything possible. 
The O.C. introduced a world of wealth and privilege and totally absurd individuals to young people all over America. Gossip Girl did the same, but with beachfront mansions swapped for historic townhouses. Gilmore Girls showed the charms of small-town America. The O.C. brought us the enduring appeal of the bad boy. Gossip Girl fought for the sexy mystery behind a lonely boy. The O.C. and Gossip Girl brought cautionary tales of partying and rule-breaking, while the Gilmores peddled more in warnings against over-consumption of Chinese food delivery and diner coffee.
They made us realize how lucky we were not to have parents like Julie Cooper or Eleanor Waldorf. They made us realize how much we were dying to have parents like Lorelai Gilmore and Sandy Cohen. They gave us theme songs that will be stuck in our heads for the next decades, and the next and the next. The words California here we come or If you lead I will follow or You know you love me will forever bring us directly back to that exact moment in front of the TV. That and any mention of Chrismakkah. 
But all that came to an end: The O.C. shut its beachside doors a decade ago, Gilmore Girls said its last breathless words (though not the last four words) that same year, and Gossip Girl finally revealed itself in 2012. Since that era, there has barely been a single show that has represented the zeitgeist so well, let alone an entire group of shows. And with the downtime for the viewers came some downtime for the stars themselves. After spending a significant portion of their youth in front of the cameras, Bilson and her teen drama counterparts Meester and Bledel took a step back from the spotlight. 
As Bilson told E! News, starring in an hour-long drama can take its toll as much as it can launch you into fame and fortune. "To do an hour-long drama and be one of the leads, that's your whole life," she said. "I really respect that and I'm grateful to have had that, but it's your life and the hours are no joke. Things have just changed [for me] now." 
Following The O.C., Bilson took on a few roles here and there, appearing in the futuristic film Jumper (where she just so happened to meet her fiancé and the father of her daughter Briar) and in a few episodes of How I Met Your Mother. Then of course came Hart of Dixie, which was a cult favorite in and of itself, among Summer's biggest fans and those who had never seen The O.C. alike. But most importantly she took time off to build her family. She has been with the aforementioned Hayden Christiansen for a decade (with a few on-and-off periods), and in November, 2014 she welcomed her baby girl. They have been living what they describe as a quiet, family-oriented life since then, spending time in the country and cooking—just check her Instagram for proof. 
Meester and Bledel seemingly followed in her footsteps—although, technically, it's hard to nail down who exactly led the way. In an adorably full-circle twist of fate, Leighton ended up falling in love with none other than the real-life Seth Cohen (that would be Adam Brody of course), getting married in 2014 and having a daughter in September, 2015. Alexis fell for Mad Men star Vincent Kartheiser after she appeared in a few episodes of the show, marrying in June, 2014 and welcoming a son in the fall of the following year. 
As far as acting goes, Meester has been largely absent from her place in front of the cameras. (She did star in the 2014 rom-com Life Partners, where she met her husband). Bledel starred in the two installments of Sisterhood of the Traveling Pants shortly after bidding adieu to Stars Hollow, but did mostly bit arts save for her Mad Men arc. Until now, of course. 
In case anyone needs it written out plainly, let's just review: All three actresses starred in outrageously popular teen dramas, all three met their actor-husbands during roles following those shows, and all three took time off from acting to take care of their now-toddlers. Uncanny? Yes. Fate? Definitely. 
But now the heyday is back in full force. It's really never been a better time to have starred in a mid-2000's network television teen drama. Each actress did have their own path back to the big screen that's worth examining, however. Bledel's was perhaps the most obvious, with Gilmore Girls jumping onto the revival train early. There is no Stars Hollow without Rory Gilmore and the actresses obliged all of her adoring fans when she agreed to appear alongside the rest of the cast in the Netflix miniseries. 
"We're all just so happy we got to do these episodes," she told E! at a press event for the revival this winter. "it's wild and very surreal. And we're excited that it means so much to people." 
The actress is also in the midst of full-on critical acclaim for her turn as Ofglen in The Handmaid's Tale, a piece of work that truly couldn't be more different than anything we've seen her in before. It's easy to question what it is about a project that makes someone decide to go for such a drastic change and she cited an interest in streaming platforms at this year's Television Critics Association gather. 
"It's really new to me in a way because it's just this year I jumped into this realm," Bledel explained. "But I really do like telling a story from beginning to end, knowing what the whole story is going to be, and then revisiting it six months later."
For Bilson, the return to the screen was on account of finally finding a way to balance her career passions with her desire to devote herself to motherhood. She explained that having her daughter in her life has impacted who she chooses roles, and that how any potential job affects her being there for her daughter is a large part of the decision-making process. 
"I'm very lucky to have had some success [in my career] and I just look for good roles and things that I want to spend my time doing," she says. "If I'm away from my daughter it has to be worth it—all my decisions are based around her now." 
Meester has echoed those sentiments in many interviews, citing a bit of a burnout after her time on Gossip Girl. This spring she told Vulture that she had no interest in doing a show with 20-plus episodes a year, nor did she want to do an hour-long program, explaining "That's now how I want to spend my time working." 
The actress met with Fox and decided that it would be the perfect fit for her next network project and then the new series Making History came along at the exact right time. "I've been working when the work comes for things I've been excited by," she described as her new career outlook. "There's been a natural progression of roles that seem to fit how I feel at that moment."
We would be remiss to continue a discussion of the biggest stars of the early aughts—and their current comebacks—without a pause to reflect on an actress who is having a full-on career renaissance. We speak, obviously, of one Mandy Moore. She wasn't on a life-changing teen drama but she did start her acting career with a series of pivotal roles during that period. It all started with The Princess Diaries and A Walk to Remember (in 2001 and 2002 respectively) and she went on to appear in cult classics like 2004's Saved and rom-coms like Because I Said So and License to Wed, both in 2007. 
Things cooled down for the actress but with her star turn in the breakout hit This Is Us, she has become one of television's most sought-after actresses. Put bluntly, she's having the best year of her life. She's the star of the biggest cult-hit of 2017, she has several movies coming up, and she was nominated for a Golden Globe (her first major award nod). Moore herself is in a state of relative shock in regards to her recent resurgence, as she told E! at this year's TCAs. 
"I cannot believe I'm on a television show that's airing," she said. "It didn't get cancelled. I didn't film a pilot and have it not get picked up. Every other pilot I did I was like, yeah, this is going somewhere, and then it never does. But I'm a firm believer in everything happening for a reason." 
So what's next for all these women? That's up to them, but one imagines it involves equal parts reveling in the moment and looking forward to the next step. And they'll also continue to process what life is like a decade out from their breakthrough successes. Their time on the screen, both big and small, has had a large impact on each actress. It's hard to shake the typecasting that comes with being a teen icon—not that they're all trying to. 
For Mandy Moore it's all about having an appreciation for a time when everything was new (and scary). "I remember not knowing what I was doing on A Walk to Remember," she said at the TCAs. "I didn't know how to hit a mark or memorize lines or take stage direction. When I think back about that film I think about having to really step up and learn everything." 
For Alexis Bledel her time on Gilmore Girls (the original show) is something that she tries not to cling to. "I try to be present in the moment," she said of her acting past. "And just focus on whatever I'm supposed to be working on at that moment. That takes all my attention."
Bilson is seemingly as sentimental about The O.C. as her fans. "It's really nice that people loved the show so much and embraced it so much," she gushed. "I'm still so grateful to this day for the opportunity to be a part of something like that. It's influenced everything, when it comes down to it. It was the launching pad and the starting point and it's where it all began for me."
For most of the show's fans, they could say the same thing.