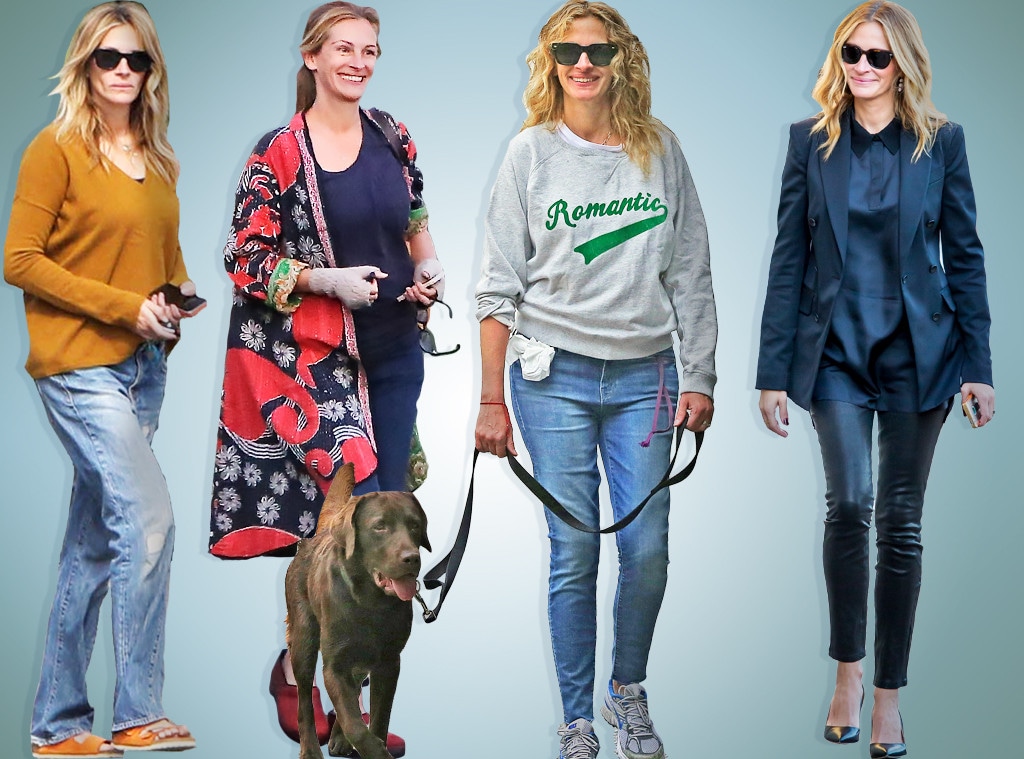 Backgrid; X17; Coleman-Raynor; Getty Images
Just this week the world celebrate a major cinematic milestone: The 20th anniversary of My Best Friend's Wedding. It was a landmark moment not just because it bookended two decades of fully understanding that Crème brûlée can never be Jell-O, but also for one Julia Roberts. That film, lauded as it was for its effect on the romantic comedy genre (and complicated female characters, and the portrayal of gay men in the media, and we could go on and on...), was just as important to the actresses' career. 
You see, the flick came at a time when she was at a professional crossroads. She had had a few big hits (Pretty Woman and Steel Magnolias, to name a few) followed by several years of relative disappointments—like 1996's Mary Reilly, which was supposed to be a groundbreaking riff on the classic Jekyll and Hyde story but ended up widely panned by critics, with low box office numbers to boot. My Best Friend's Wedding had the potential to erase those memories from the public and place her solidly in the A-list.
It's common knowledge what happened next, and 20 years later it's truly hilarious to even be discussing a time when Roberts' star power wasn't out of this world. She hasn't had to worry about her place on the A-list since, but she has also carved out quite a lucrative niche for herself. The actress is in a position to pick and choose from the best roles in Hollywood, with the luxury of saying "No" more often than not. At this point in her career Roberts seems to be whittling down her public-facing work, opting instead to focus on her family and all that comes with it. 
Gone are the flashbulbs of the red carpet and the exclusive parties and the lavish trips, replaced instead with a secluded, comfortable life in Malibu. She emerges from her sprawling beachside compound only for select projects and events, yet her life now is just as fascinating as the far glitzier glamour we see onscreen.
Any investigation into the world of Julia Roberts has to start with the cinematic. After a long and lucrative career, the actress has chosen to follow a path set by her peers—Cameron Diaz and Gwyneth Paltrow are esteemed members of the club—to take a step back from the camera's glare. Julia's departure hasn't been nearly as dramatic as some: She hasn't retired from Hollywood fully like Diaz or channeled all her energy into a new business like Paltrow, but her roles are few, far between and very carefully curated. 
In 2013 she took a starring role in August: Osage County, which was a darling of award season that year (Roberts was nominated for a Golden Globe and an Oscar) and also boasted Meryl Streep as a costar. Nobody, not even Julia Roberts, turns down the opportunity to spend time with Meryl Streep. Next came the HBO movie The Normal Heart, in which Roberts played one of the first doctors to recognize the AIDS epidemic—a project whose worthiness is self-evident. That was followed by Secrets in Their Eyes, a 2015 thriller about a murder investigation that boasted a heavy-hitting cast of Nicole Kidman and Chiwetel Ejiofor. 
In the past year Roberts chose to reunite with a few old friends, first with Mother's Day, written and directed by the late Garry Marshall—otherwise known as the man responsible for bringing Pretty Woman and Runaway Bride to the big screen. She appeared in his other ensemble flick, Valentine's Day, so it's only natural that she chose to sign on. It would turn out to be his last movie before passing away that same year, so it's beautifully fitting that she did. Next came a 2016 reunion with her old pal George Clooney for the thrilling Money Monster, a movie that one has to imagine she agreed to solely for the opportunity to joke around with a dear friend. 
Even with these roles, Roberts still does minimal press. You won't see her covering every magazine or making the morning talk show rounds or giving her films shoutouts on (gasp!) the social media platforms that she doesn't have. She leaves that to other stars, to those who are more prone to seek out the limelight, more comfortable sharing private details of their personal lives. That's because what Julia Roberts wants private, she keeps private. 
To start, she doesn't live in Beverly Hills or Bel-Air or the Hollywood Hills the way so many of her peers do. She keeps a very quiet, very low-key, and very unglamorous (we're speaking relatively here, of course) in Malibu. She keeps house (or mansion, rather) alongside her husband, director Danny Moder, and her three children. the family is considered to be staples of the beachside enclave's Hollywood community; made up of those who prefer a little peace in between their high-powered industry careers. It's not abnormal to see her attending a children's soccer game or hitting up the local farmer's market. She is rarely every caught by the paparazzi, but when she is there's a good chance she's 1) dressed down and 2) walking her dog. 
When Roberts opts for a night on the town, it's not West Hollywood hot spots with all their connotations of attention that she chooses, it's local Malibu haunts. The Country Mart, for example, which is an upscale outdoor shopping center that boasts more Lululemon than Louboutin. Her daily errands are less SoulCycle-and-the-nail-salon and more hiking-and-dropping-by-the-kids'-school. If she succumbs to the pull of the amenities at Los Angeles venues like the Soho House, she's sticking to the Malibu outpost. 
When Roberts does grant the occasional interview, it's all business all the time. Julia has been very hesitant to share any personal details about her family life or the dealings of her husband and children: Very little is known about the inner workings and dynamics of the tight-knit family and the actress has never once commented on the split rumors that seem to crop up on a semi-annual basis. Nor does she deal in the sort of flashy, open-book parenting that's preferred by some of her Hollywood peers. Chalk it up to the aforementioned lack of social media (it's hard to Instagram your children when you have no Instagram account), but you won't find her humble-bragging about their milestones. 
There are, however, a few things that are out of her control. There are a few things that can coax her out of her enviably pleasant Malibu life and thrust her into the spotlight for even the briefest moments—One of which is People's Most Beautiful issue. This spring she was honored with her record-breaking fifth cover, an award that she described as both flattering and embarrassing. As a result of the issue she spoke to the magazine about her beauty tips and also made a pit stop at the Ellen show. 
And this fall we can all hope for a few more sightings of the actress, as she's due to star in Wonder, an emotional drama also featuring Owen Wilson and the young star of the 2016 award season Jacob Tremblay. Her appearances will likely be measured and careful, but we can all agree that any amount of Julia Roberts is a good amount of Julia Roberts.