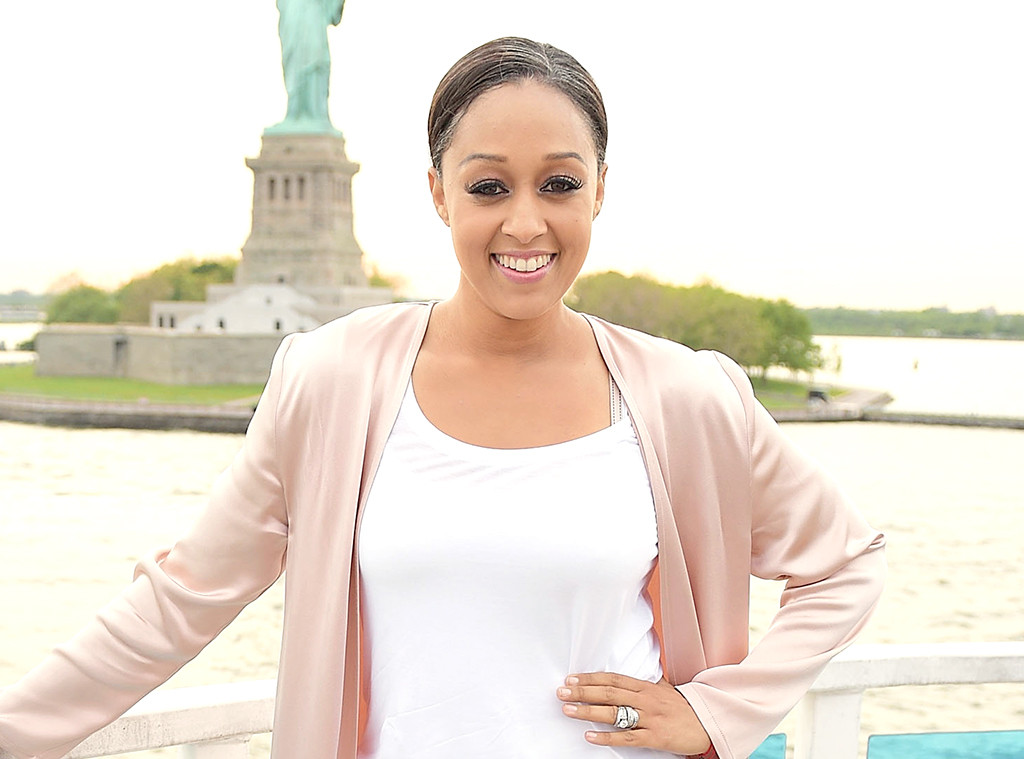 Jason Kempin/Getty Images
Tia Mowry is showing off her trim figure, thanks to her healthier-than-ever new diet.
Earlier today, the TV twin (and real life one, too) posted a revealing pic of herself on Instagram, wearing a baggy top and leggings. In the image, the 38-year-old showed off her weight loss by pulling up her shirt and highlighting her tight tum.
Along with the photo, the actress/Cooking Channel star wrote,  "I've lost 20 pounds! Many asked how? Diet and cooking out of my cook book #wholenewyou."
Tia's cookbook, Whole New You: How Real Food Transforms Your Life, for a Healthier, More Gorgeous You, which came out earlier this year, is "a timely clean-eating cookbook that will change the way you think about what you eat and jump-start your journey to a healthier, more gorgeous you."
The cookbook boasts a "ten-day menu plan to begin your healthy life," "more than 100 delicious recipes," and "lighter versions of your favorite comfort food recipes, including 'Buttermilk' Fried Chicken and Crispy Collard Chips."
Additionally, we're definitely feeling this diet she's on, seeing as how the former sitcom star just posted a pic chowing down on some ice cream. Delish!
It looks like things are going swimmingly for the former Sister, Sister star, both professionally and personally. Over the weekend, she gave her husband since 2008, Cory Hardric, a shout out for Father's Day, writing a sweet post featuring their son Cree as a baby.
This isn't the first time that the mother of one has addressed her weight on social media.
In 2015, Tia responded to a body shamers who commented on her "fuller" figure, speculating she may be pregnant. The actress debunked pregnancy rumors later saying she had gained 10 to 15 pounds because of her Cooking Channel show Tia Mowry at Home.
In 2016, she got into a social media tiff with a follower who wrote she was "getting fat" on her Instagram and instead of letting it go, the star called out the hater publicly.
"I don't normally do this, but I wanted to prove a point," she wrote Thursday, alongside a screenshot of Instagram comments. "I just posted a few days ago about embracing and uplifting others about body image. Here, @miekk_ felt the need to say I was getting fat. I took a look at your profile and I was sad to see that you WORK for YOUNG African American girls aiding in their studies. I hope this isn't what you would tell your girls? Does your BOSS know that this is how you degrade other WOMAN?"
Despite the negative comments, the actress has continue to champion having a positive body image, flaws and all.  Last year, Tia took to Instagram say she was going to post pics as is—no retouching.
"I'm taking the stand and will not be retouching my photos," she wrote. "I want all of us woman and men to embrace, love, and accept our REAL bodies at whatever stage we are in life. We all have different shapes and sizes. Let's encourage and uplift!"