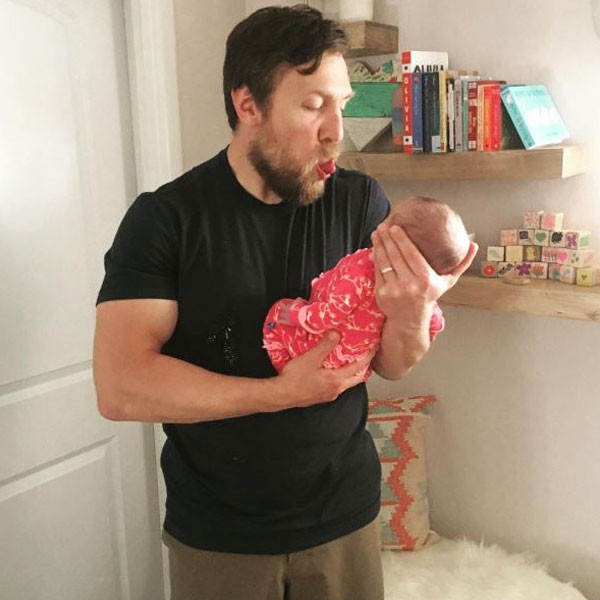 Instagram
Papa's going back to work!
SmackDown LIVE General Manager Daniel Bryan (real name Bryan Danielson) is gushing to E! News all about his two main ladies, Brie Bella and baby Birdie Joe Danielson, just before making his return to WWE tonight after eight weeks of paternity leave.
Unsurprisingly, the new dad is feeling excited to get back to business, but sad to leave his girls at home in Phoenix. "I've been around them like every day," he tells us. "So, that first night not being with my little baby is going to be a little bit tough I think." Aww!
Meanwhile, the Total Bellas and Total Divas star also shared how the couple's lives have changed since welcoming their first child on May 9.
Watch:
Nikki Bella Tells How New Mom Brie Is Doing
"It's been a real learning experience, but it's also been really good. I didn't know how to change a diaper until Birdie was born," the WWE Superstar explains. "It's really made me work on myself and it has helped Brie and I work on our relationship. It makes you a less selfish person."
The doting dad also reveals his absolute favorite activities to do with his daughter now that she's almost six weeks old. (Hint: It's super adorable!)
"My favorite thing ever is when she smiles and she grabs my finger," he says. "She's not even six weeks yet, so she doesn't do a whole lot. But we can kind of play and I can sing to her. That's my favorite thing. My least favorite thing is when she poops on me." LOL!
The 36-year-old former pro wrestler also opens up about celebrating his first Father's Day this past Sunday. Even though the family kept it low-key, Bryan admits it was still a magical experience.
"We're very fortunate," he confesses. "Most of our days are pretty awesome. We're very lucky in that sense. WWE's given me the last eight weeks off from work, so I've literally just been at home with Brie and the baby. When I'm tired, Brie can take over and I can take a nap. When I'm tired, I can take over and she can take a nap. But Brie gets a little bit less napping because she has to breastfeed. [Sunday] was a regular day, but a wonderful day. I've loved every moment of it."
But now that he's heading back to his role on SmackDown LIVE, Brie will have to assume almost all of the responsibilities while he's traveling—something Bryan admits she's not too worried about.
"I consider it a supermom role," he says. "She's not really concerned about it too much. I think the biggest concern is not just the baby, but our two needy little Frenchie dogs, so taking care of them as well. But I think she's going to be able to handle it. This whole process has really made me respect parents—like my own parents—a lot more. But also single parents because Brie and I are doing a lot of this together, so for those single moms or single dads, who are raising kids on their own, I just can't even imagine. So, my respect for them has grown infinitely."
But now that dad's going back to work, does that mean we'll also see mama Brie in the wrestling ring again soon? Well, your guess is as good as ours because her loyal husband refused to spill the beans.
"I think she's keeping most of her comeback plans to the ring her own secret," Bryan says. "She tells me obviously, but you'll have to get it from her."
However, he does add, "I would be very surprised if she never wrestled again."
Total Bellas returns this fall, only on E!