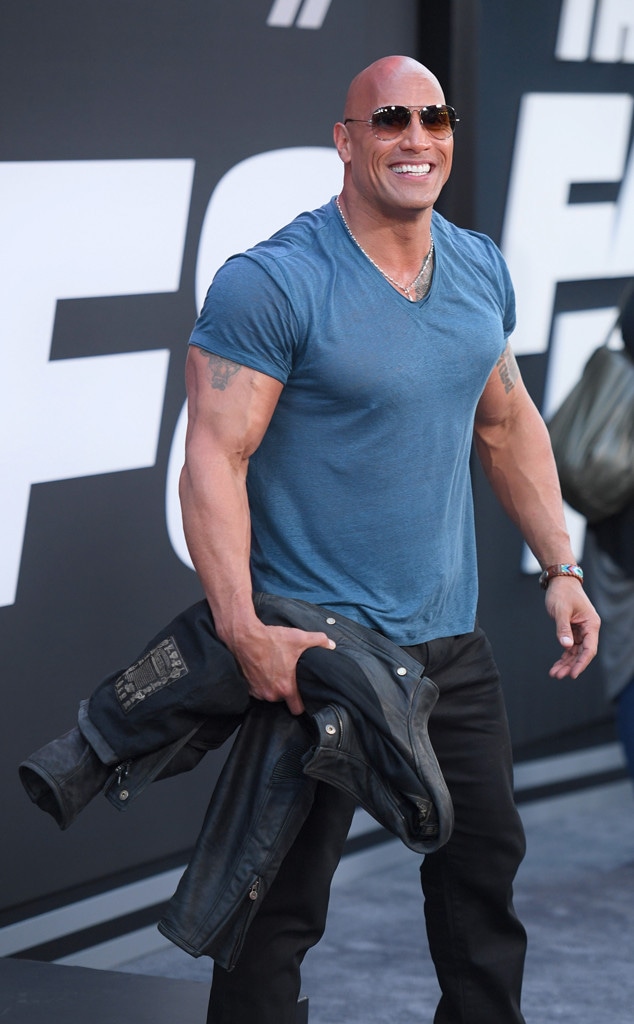 Dimitrios Kambouris/Getty Images
Hey celebs, make sure you make room in your homes because you may just be taking home a surfboard this summer!
In case you didn't get the hint, it's time for the 2017 Teen Choice Awards to announce their "first wave" of nominations. Trust us, there's more than a few familiar faces that deserve your vote at this year's sure-to-be action-packed show that celebrate the year's achievements in music, film, television, sports, fashion, comedy, and the Internet, and are voted on by viewers aged 13–19 through various social media sites.
This year, Dwayne "The Rock" Johnson dominated and is nominated for three different moves, Hailee Steinfeld is nominated in three genres including Choice Female Arist, Choice Song, and Choice Drama Movie Actress. Emma Watson was also nominated in two categories for two different movies Choice Fantasy Movie Actress  for Beauty & the Beast and Choice Drama Movie Actress in The Circle.
When talking about funny fellas, Johnson, Will Arnett, Zac Efron and Zach Galifianakis are some of the guys up for Choice Comedy Movie Actor.
Xavier Collin/IPA/Splash News
The ladies of Pretty Little Liars are going head to head with their nominations. Ashley Benson, Lucy Hale, Sasha Pieterse, Shay Mitchell and Troian Bellisario are all competing against each other for Choice Drama TV Actress. The only non PLL star in the running is Famous in Love star Bella Thorne.
This year's host and presenters have yet to be announced, and voting begins tonight at 5 for the star-studded event. Ultimately, the winners will be crowned live when the two-hour event airs from 5 p.m. to 7 p.m.  Sunday, Aug. 13, on FOX.
Without further ado, take a look at a few this year's nominees below. 
Choice Drama TV Actress (#ChoiceDramaTVActress)
Ashley Benson – Pretty Little Liars
Bella Thorne – Famous In Love
Lucy Hale – Pretty Little Liars
Sasha Pieterse – Pretty Little Liars
Shay Mitchell – Pretty Little Liars
Troian Bellisario – Pretty Little Liars
Choice Action TV Show (#ChoiceActionTVShow)
Arrow
Gotham
Lethal Weapon
Marvel's Agents of S.H.I.E.L.D.
Supergirl
The Flash
Choice Action TV Actor (#ChoiceActionTVActor)
Chris Wood – Supergirl
Clayne Crawford – Lethal Weapon
Gabriel Luna – Marvel's Agents of S.H.I.E.L.D.
Grant Gustin – The Flash
Stephen Amell – Arrow
Wentworth Miller – Prison Break
Choice Action TV Actress (#ChoiceActionTVActress)
Caity Lotz – Legends of Tomorrow
Candice Patton – The Flash
Danielle Panabaker – The Flash
Emily Bett Rickards – Arrow
Jordana Brewster – Lethal Weapon
Melissa Benoist – Supergirl
Choice Action Movie Actor (#ChoiceActionMovieActor)
Brenton Thwaites – Pirates of the Caribbean: Dead Men Tell No Tales
Chris Pine – Wonder Woman
Dwayne Johnson – The Fate of the Furious
Hugh Jackman – Logan
Johnny Depp – Pirates of the Caribbean: Dead Men Tell No Tales
Vin Diesel – The Fate of the Furious, xXx: Return of Xander Cage
Choice Fantasy Movie Actor (#ChoiceFantasyMovieActor)
Asa Butterfield – Miss Peregrine's Home for Peculiar Children
Benedict Cumberbatch – Doctor Strange
Dan Stevens – Beauty and the Beast
Dwayne Johnson – Moana
Eddie Redmayne – Fantastic Beasts and Where to Find Them
Choice Comedy Movie Actor (#ChoiceComedyMovieActor)
Dwayne Johnson – Baywatch
Owen Wilson – Cars 3
Ricky Garcia – Bigger Fatter Liar
Will Arnett – The LEGO Batman Movie
Zac Efron – Baywatch
Zach Galifianakis – Keeping Up with the Joneses
The full list of nominees will be revealed at a later date.
Votes for your favorites online and via Twitter. Starting tonight at 5 through Thursday, June 22, at 9:00 p.m. PT, fans are allowed 10 votes per category, per day, per platform user ID, for their favorite "Wave One" nominees. Vote via Twitter by tweeting a category hashtag with the nominee's name (either @nominee or if the nominee does not have a Twitter account use #nominee). Fans may only vote for one nominee per tweet.