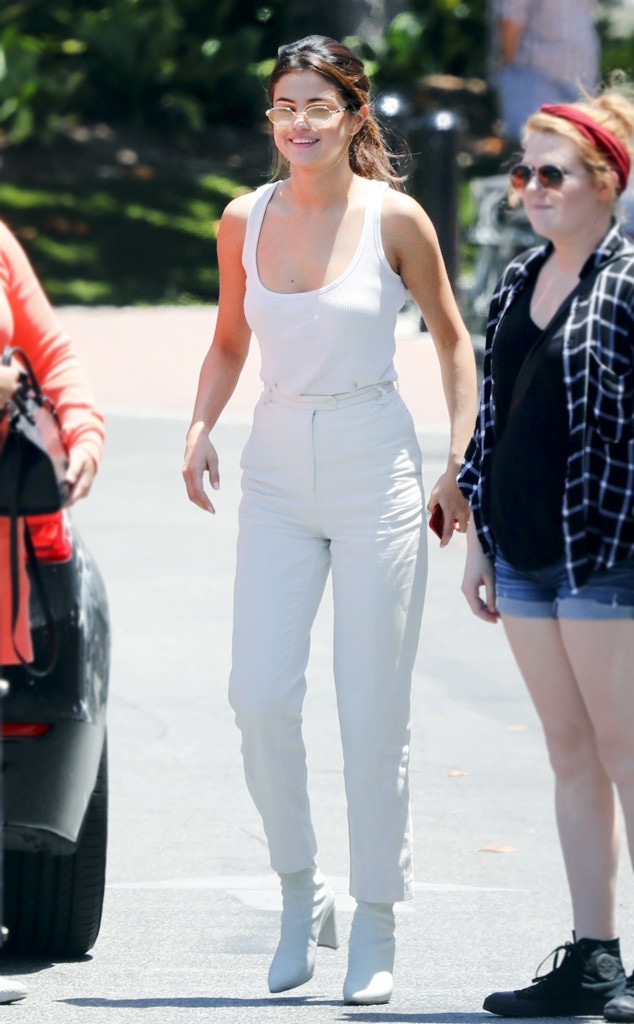 Selena Gomez visits SONY Studios on Tuesday. The brunette singer is wearing white pants and a white tank top paired with booties and micro shades.
Selena Gomez's ditching her go-to boots for a lighter shade this summer.
You saw Zendaya walk the red carpet in them at The Met, Gigi Hadid roams around NYC in them constantly, Kendall Jenner attends high-fashion functions and now the "Bad Liar" singer's joined the ranks (in Stuart Weitzman) to serve us some necessary closet inspiration for the months to come. Clearly, white boots are all the rage and it's time you bought yourself a pair. 
Not only is the style of footwear versatile (Bella Hadid loves to go full retro in them while Rihanna pairs hers with baggy jeans and menswear-inspired shirts for dinner dates—see below), but they're also a great alternative from your usual black booties because of the shade's ability to reflect light instead of absorbing it (a.k.a. say goodbye to sweaty summer feet). 
But don't just take our word for it! Check out the below wardrobe choices to get you inspired then shop the white boot selects we've rounded up for you.
These boots are made for walking...