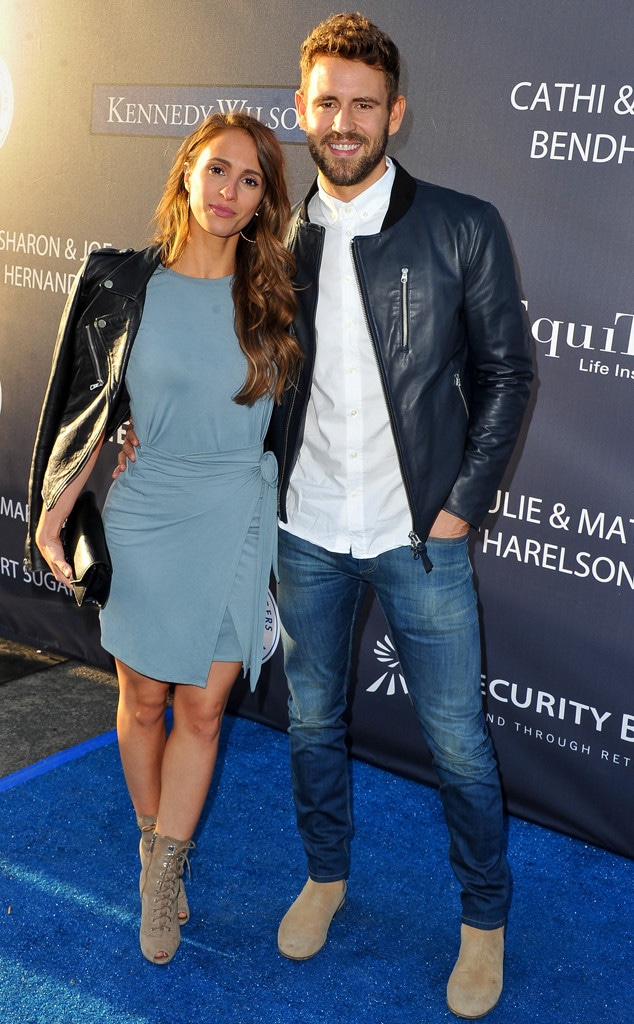 Allen Berezovsky/FilmMagic
Nick Viall and Vanessa Grimaldi are in it for the long haul.
E! News caught up with the Bachelor couple at the Los Angeles Dodgers Foundation's 3rd Annual Blue Diamond Gala at Dodger Stadium Thursday, where they opened up about getting to know each other after cameras stopped rolling. "We're just not really spending a lot of time apart," Viall explained. "She's spending a lot of time out here in L.A. and we'll keep doing that."
The couple recently visited Grimaldi's native Montréal for the first time since getting engaged. "It was ugly weather. He was like, 'Why does everyone in Montréal keep talking about the weather?'" she laughed. "It snows in Montréal six months out of the year, so when June comes around, you are really excited to see the sun. But, it was nice to be back home with the family."
Viall first visited her family in Montréal during the course of filming.
"I was there for a day for a day during hometowns, so I didn't really get to see it," Viall said. "It is a beautiful city. Great people. It was nice to just chill, relax, take in the city and get to spend some more time with her family and friends. It's great! We were there for almost two weeks."
Neither reality star is in any rush to set a wedding date, as they're both still getting to know each other. They're finding out every little thing, like just how much Grimaldi loves to sleep. "She's a sleeper. That's it, yep," Viall said teasingly. "We like to keep some things more private."
Both The Bachelor and The Bachelorette have a history of broken engagements, so it makes sense that the couple would want to take things slow. In fact, just last month, Lauren Bushnell and Ben Higgins called off their wedding. "Being a part of the Bachelor world and dating in the real world, it's… relationships are hard. And a lot of relationships unfortunately don't work out," Viall said. "Some relationships, if you're lucky, do. And that's the same outside of the Bachelor world and that's the same in the Bachelor world. Ben and Lauren, we had a chance to hang out with a little bit. They're great people, and I know they both gave it their all in that relationship."
"Sometimes it doesn't work out," the Polished Gent founder continued. "It's unfortunate but it's fine. They gave it a real shot and they both deserve to be happy, and I'm sure they will be."
As for Rachel Lindsay (this season's Bachelorette), Viall said, "Fortunately, we've been super busy with a lot of things, and unfortunately we just haven't had a chance to really check it out. I heard it's great!" Grimaldi also heard Lindsay has "really good guys" to choose from this season.
And what about Bachelor in Paradise, premiering Aug. 8 on ABC? "I'm really good friends with Danielle Maltby and I keep telling Nick, 'I hope she finds someone,'" Grimaldi told E! News of the neonatal nurse. "Hopefully she'll end up finding a sweetheart, because she's a sweetheart."
Either way, Viall predicted, "I am sure it won't disappoint with the drama."
—Reporting by Alli Rosenbloom