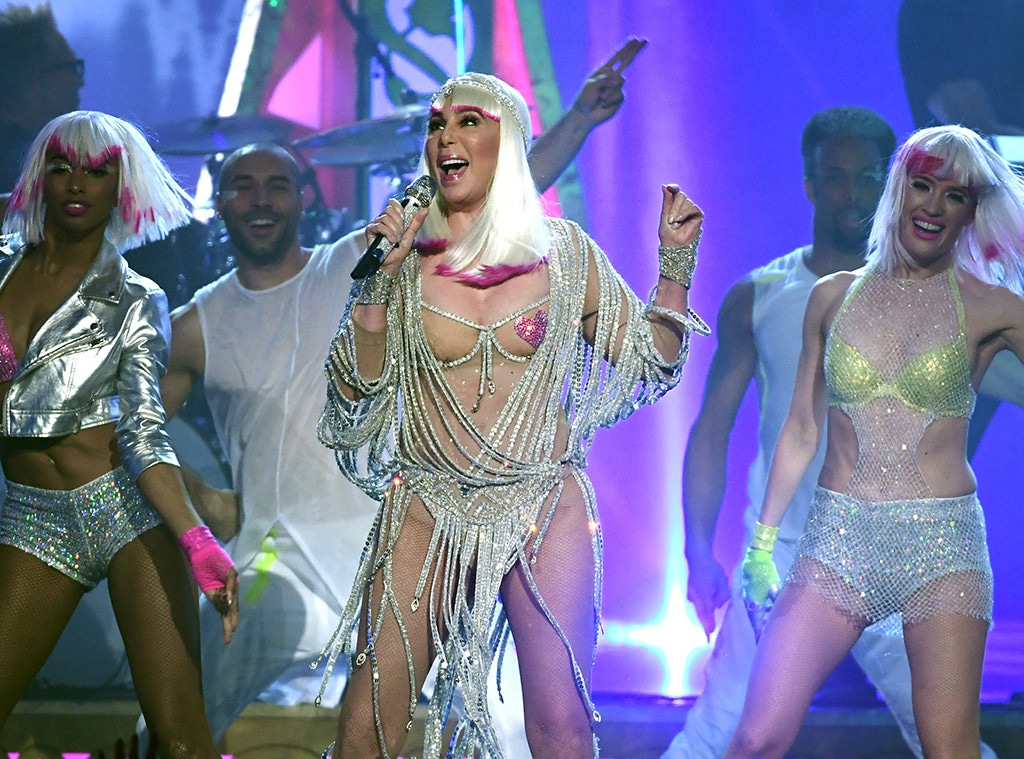 Ethan Miller/Getty Images
Is there a Broadway musical about Cher's life in the works? You better "Believe" it!
"Just got off phone [with] Writer & Director of musical," The Grammy award winner announced on Twitter. "There Will [be] performance in THEATRE WITH ACTORS, DANCERS, SINGERS!!"
Cher has put her story into the hands of director Jason Moore, who directed the Broadway hit Avenue Q before breaking into movies with Pitch Perfect and Sisters. Moore has also directed several episodes of TV's biggest shows, including Dawson's Creek, One Tree Hill and Everwood.
The show will be put on by Tony-award winning producer Jeffrey Seller, who has worked on Broadway hits like Hamilton, Rent, Avenue Q and In the Heights, as well as his producing partner and former VP of development at NBC, Flody Suarez. The two recently signed a deal to produce new projects for Universal Television, but there is no confirmation whether this project will be part of that agreement.
The 71-year-old singer has had a recent comeback stronger than ever starting with two legendary performances at the 2017 Billboard Music Awards back in May. The star who was receiving the Icon Award hit the award stage for the first time in over 15 years to serenade the crowd with her two iconic hits "Believe" and "If I Could Turn Back Time" (even donning some infamous costumes in the process!). The explosive numbers were so powerful, even the seven-time Grammy winner Céline Dion was dancing backstage to the performances.
Ethan Miller/Getty Images
Cher, who is one of the few artists to have an EGOT (Emmy, Grammy, Oscar and Tony) under her belt, has been in the spotlight for more than six decades, which gives way for a plethora of personal life stories and performance material to pull from for her new project.
The icon has had a total of 15 No. 1 hits over her career—and is the only artist to have a No. 1 hit in the past six decades. While there are no current signs of Cher coming out with new music in the remaining years of the 2010-2020 decade, it is quite possible her musical will be the hit everyone has been waiting for since dropping her latest album, Closer to Truth, in 2013.
Cher confirmed the biographical Broadway musical will debut in 2018.