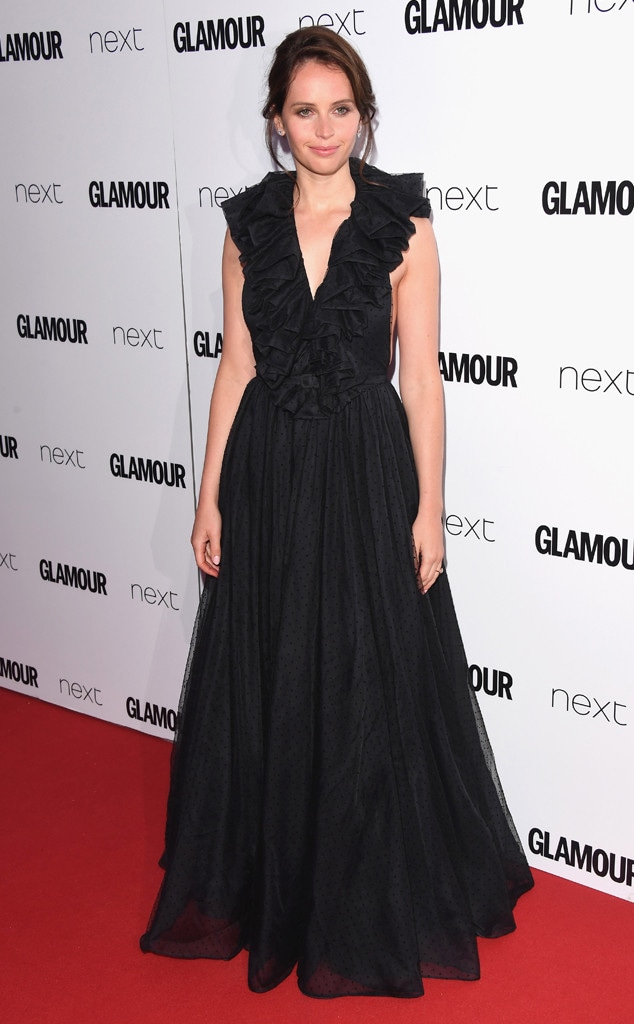 Stuart C. Wilson/Getty Images
All eyes were on Felicity Jones at the Glamour Women of the Year Awards Tuesday.
The star of Rogue One: A Star Wars Story showed up to Berkeley Square Gardens in London wearing a black gown from Christian Dior's Fall 2017 Ready to Wear collection. But it was the diamond ring on her left hand that really had people talking, as Us Weekly had reported three weeks ago that Charles Guard popped the question in early May. The event marked Jones' first public appearance since the rumored proposal; her rep ignored E! News' requests for comment.
Neither Jones nor Guard has commented on the status of their relationship.
SilverHub/REX/Shutterstock
Jones was on hand to give Maria Grazia Chiuri with the Designer award. James Corden (Man of the Year), Jourdan Dunn (Entrepreneur), Jennifer Hudson (Trailblazer), Nicole Kidman (Film Actress), Little Mix (Music Act) and Amy Poehler (Inspiration) were among the other recipients.
Jones will next reprise her role as Jyn Erso in the TV series Star Wars: Forces of Destiny. E! News' Erin Lim spoke to the actress as she was promoting the prequel in December, where she said Guard "loves" that she's a part of the movie franchise. "He can't wait." There are plenty of perks to dating Jones, but even he had to wait to see her in action until the premiere. "My family is coming out as well," Jones said at the time. "I can't wait to see what they think of it."
The actress has yet to announce her next film project after Rogue One.