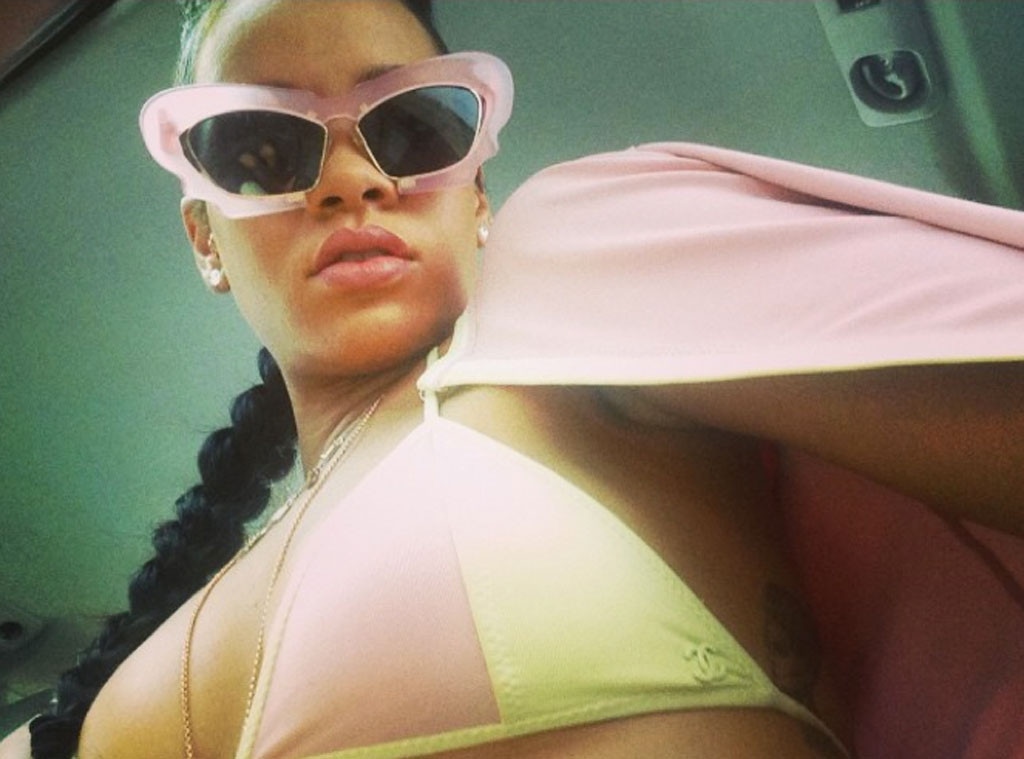 Instagram
Rihanna does not stand for the haters, nay-sayers or body shamers.
After some unflattering photos of the bad gal surfaced online, a few internet trolls started commenting that the 29-year-old had gained some weight. But nothing gets by RiRi, of course, who took it upon herself to perfectly respond to the body-shaming commentary.
She shared a photo of rapper Gucci Mane in 2007 (when he was a little heavier) side-by-side to a photo of him now that he's lost a lot of weight.
"If you can't handle me at my 2007 Gucci Mane, you don't deserve me at my 2017 Gucci Mane," the caption read.
She captioned the photo with a crying emoji, but we know the "Love on the Brain" singer is LOL'ing hard to herself right now. After all, she's the queen of Instagram clapbacks. 
Take a look at the way she's perfectly responded to situations in the past...
When She Responded to Instagram's Nudity Policy: Remember that time @badgalriri didn't exist because Rihanna decided to take a break from Instagram? That was in response to the social media platform's nudity policy, which banned several of her NSFW photos and magazine covers that featured her breasts or other body parts. Rih's response? This doctored meme of what she thought was the only pic Instagram would allow. LOL!
When She Put Matt Barnes on Blast: The singer wasn't about to let the basketball player get away with entertaining speculation that he might be dating her.
She posted this screenshot from TMZ and shut him down by writing, "#bishwhere #thedevilisaliar #shesnotthatintoyou #shesnotintoyouatall #shesneverevenmetyou #thisactuallyhurtmyfeelings #defamationofcharacter."
When She Seemingly Called Out Chris Brown After Their Split: Rihanna seemed to shade her ex after they split for good in 2013, sharing this Instagram quote. 
"I hate when ex's say..'I'm here if you need me,'" the quote read. "Where the f--k were you when we were togehter and I needed you?"
When She Split From Drake: Some people couldn't help themselves from commenting on Rihanna's love life after she called off her on-again, off-again romance with Drake in late 2016. Her response? This quote.
"None of my exs are married or in happy relationships so it's safe to say that I wasn't da problem lol." Zing!
Eric Charbonnuea/Invision for Twentieth Century Fox/AP Images
When Drake Started Dating Jennifer Lopez: Though Rih didn't necessarily post a clapback, she did throw some shade by unfollowing J.Lo after the 47-year-old started dating Champagne Papi and sharing photos with him (TBH, we'd do the same).
When She Shaded Azealia Banks: In case you forgot, Rih and Banks got into a social media feud after Banks criticized the bad gal for sharing her political opinions following President Donald Trump's executive order that in part banned citizens from seven countries. The 26-year-old elaborated on her feelings about border patrol and concluded the rant with something about killing chickens.
Well, Rih took this and ran, sharing a couple photos in response to Banks. 
First, she shared a photo of herself making a kissy-face and wrote, "the face you make when you a immigrant," adding hashtags in response to Banks, including, "#stayawayfromthechickens #iheartnuggets #saveourhens."
She shared a second photo of a person with a star-spangled bag over his head and added, "the face you make when you screaming in an empty room."
When Someone Claimed to Have the Same Bikini as Her: Never make that mistake. Just don't.
And Then There Was This: Enough said.
What's your favorite Rihanna clapback? Sound off in the comments below!