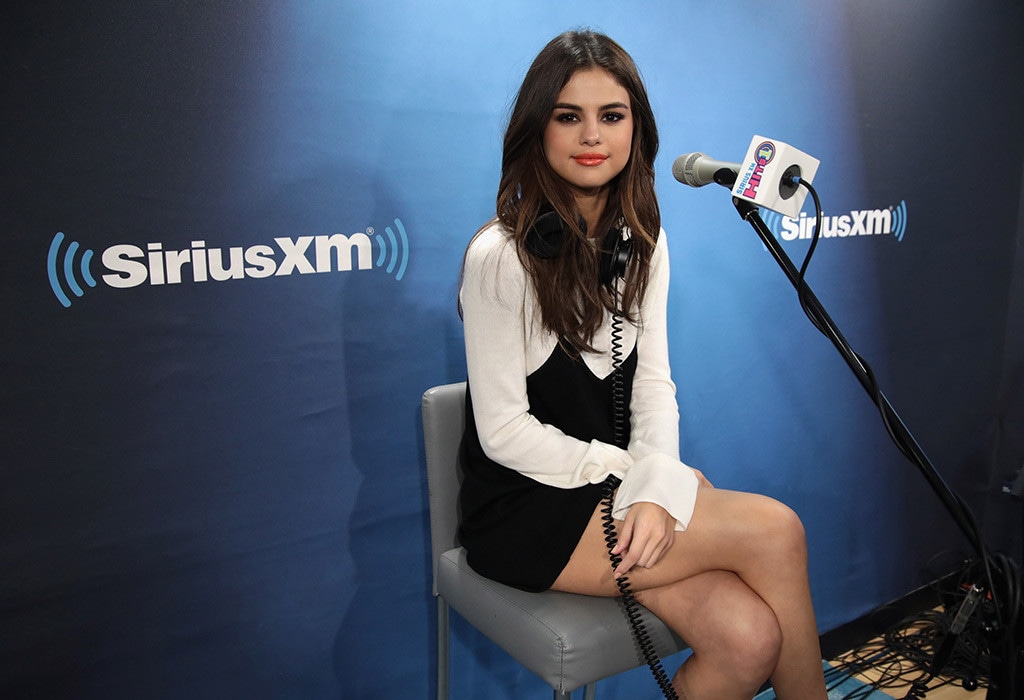 Cindy Ord
Selena Gomez doesn't have a bad thing to say about Joe Alwyn.
The "Bad Liar" singer was interviewed on SiriusXM's The Morning Mash Up Monday when host Nicole Ryan asked about her boyfriend, The Weeknd, and mentioned Taylor Swift's new flame, Alwyn. "Both of you have some new things going on in your lives. You have some new people in your lives," she began. "Have you gotten a chance to hang out together with your new people?"
Gomez laughed and replied, "I hang out with my new person a lot."
As for Alwyn, Gomez didn't reveal much. "Honestly, if my friends are happy, that makes me happy. That's all I care about," she explained. "So, I'm super stoked, too. It's been a good time." Swift certainly seems happy with Alwyn, so odds are Gomez has given him her seal of approval.
And what about her own romance?
Gomez has spent the past few months acting as The Weeknd's No. 1 groupie. "I love being supportive. I love just being there and having someone's back. It feels good," she admitted. "I haven't had that feeling in awhile." The best part of attending someone else's concert, as opposed to performing herself, is that she gets to put her "hair in a bun" and "dance all night."
At another point in the interview, Gomez complimented her ex-boyfriend Justin Bieber for his participation in Ariana Grande's benefit concert, One Love Manchester—reminding fans they're both doing OK post-split. "It was beautiful. I thought everyone did such a beautiful job. It was so gorgeous. I loved how she ended it. I thought Justin did great," Gomez said. "It was beautiful."
Gomez was making the radio rounds in New York City Monday, as she also stopped by Z100 for an interview with Elvis Duran. After her self-imposed hiatus in 2016, she confirmed she's back and better than ever. But, Gomez added, things will be different from now on. "I haven't really been all over the place lately and that's kind of intentional. I think it's important to balance out where I am. I've been doing this for a really long time and my sanity has meant everything to me, and a lot of that is my faith," she said. "I took 90 days off. I went away. I was very vocal about it, because to me, where I get my confidence is my vulnerability. I can't sit there and pretend that everything's good because I've done that for years. It doesn't really work for me."
Calling herself a "very empathetic" person, Gomez said traveling "can be overwhelming." The reason, she said, is that she will "take in everyone's energy," which is "beautiful" and sad. "I wish I could save everyone. I wish I could have everybody be happy and be on the same page."
Even when she was on a break, Gomez "never stopped" working. "I just wanted to make sure that everything lined up the way it needed to be," she said. "Now the momentum is picking up, but it's very gradual, and the content is very different from what I'm used to. So, I'm excited."
"I've always wanted to try and have my music be an evolution. Every time I do something I always feel like I'm just starting—it's not me doing a continuation of something. I think 'Bad Liar' is completely separate from the things I did with Revival and then very different from what I did with Kygo, now going into this, the second single, is even more surprising than 'Bad Liar,'" the 24-year-old singer added. "It's so fun though because it's in that place...It's really exciting."