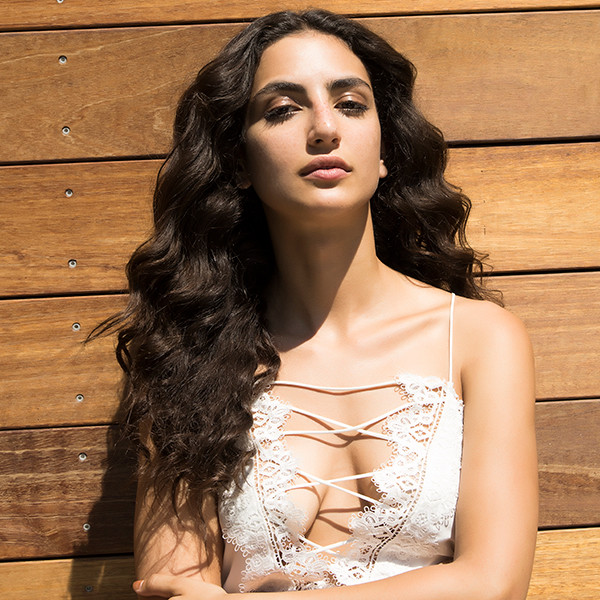 What do you get when you mix Shakespeare and Shonda Rhimes?
Obviously the answer is Still Star-Crossed, the latest addition to the ShondaLand canon, an Elizabethan-period drama that picks up where Romeo and Juliet left off. Alas, as it turns out, the death of the doomed lovers did not bring about peace in fair Verona...
Medalion Rahimi is already being singled out by critics for her scene-stealing turn as Princess Isabella (the word "badass" has been employed), sister of the city's new leader, Prince Escalus (Sterling Sulieman), who has a past with Juliet's cousin Rosaline (Lashana Lynch) but has ordered her to marry Romeo's cousin Benvolio (Wade Briggs) to try to force a truce between the warring families.
And that's just the beginning of the drama, based on the novel of the same name by Melinda Taub.
Meanwhile, Princess Isabella will enjoy her own intrigue this season, so of course we wanted to know more about the actress who plays the fierce, independent-minded royal.
Medalion Rahimi was born in Los Angeles to Iranian parents, whom she remains very close to. She graduated from UCLA with a degree in theater before landing her first TV job...which led to more jobs, on the likes of Jane the Virgin, NCIS and Mystery Girls. Most recently she was on the big screen in Before I Fall, with Halston Sage and Zoey Deutch, and she had a multi-episode arc on The Catch—in which she also played a princess!
And, excitingly for us, she is also the latest star to take the E!Q:
What time did you wake up this morning?
11 a.m.
Night owl or early bird?
Night owl for sure.
Who's the first person you talked to today?
Why my mother of course.
What do you never leave the house without?
A notebook and pen.
Favorite way to work up a sweat?
Running or hiking.
Guilty pleasure snack?
Mexican candy.
Last movie that made you cry?
Moonlight.
Montagues or Capulets?
I'm not supposed to choose sides...but between us, Capulets ;)
Celebrity crush?
Jimmy Fallon.
What's the last thing you Googled?
"Covfefe"
Name your favorite thing that starts with the letter E:
Empathy.
Still Star-Crossed airs Mondays at 10/9c on ABC.