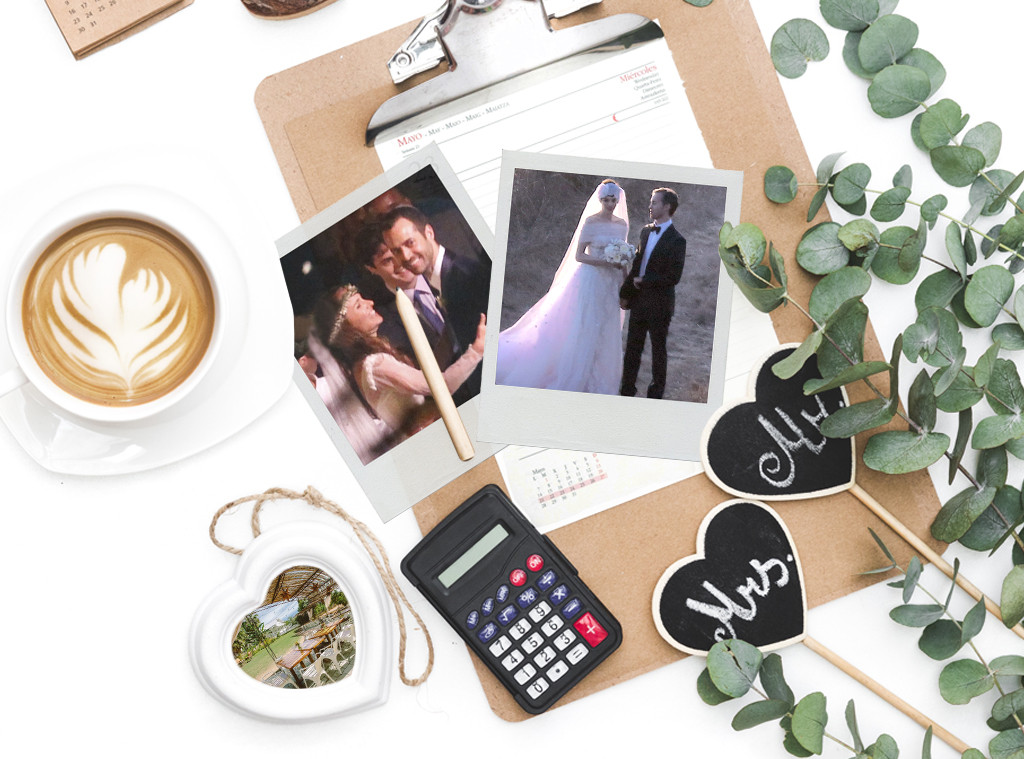 Splash News; Fameflynet; E! Illustration
If Hollywood is a business, then getting married in Hollywood is a Fortune 500 company. 
A wedding in any ordinary sense of the word is a union of two people, but in the town of glitz, glamour and seven-figure paychecks, it's more of a merger of two people. A-list stars beget A-list celebrations and A-list celebrations beget A-list event planners. In Los Angeles, that is Yifat Oren. 
The luxury wedding designer is the go-to for all of Southern California's wealthiest and most famous brides—if an actress has tied the knot in the utmost luxury, there's a good chance Oren was behind it. As a seasoned professional well-versed in discretion, you won't find her name-dropping, but a quick Google search of, the recent nuptials of, say Anne Hathaway or Drew Barrymore or Reese Witherspoon will allow a peek into her handiwork. 
The command center for the industry's most fabulous weddings sits smack in the middle of West Hollywood, where Oren Co., the company behind it all, houses its 11 full-time employees. The team churns out record hours to make A-listers' dreams come true, but they do so in an environment that one has to imagine is just as tasteful as the weddings they're behind: The space is laden with fashion-forward light fixtures, sprinkled with design books and inspirational magazines, and decorated with framed photos of events past. 
But it wasn't always like this, and Oren's journey to becoming the foremost expert in celebrity weddings is just as telling as the paparazzi photos of her many famous brides. 
"In the beginning, it was just me working 18 hours a day for four years," she tells E! News from behind her oversized desk in her office that can best be described as the space of a very, very busy person. 
Oren got her start in the event business when she was working for a catering company and had the opportunity help organize parties for clients on the side and then, as she puts it, "I just worked my a-- off building my clientele." Although the early days weren't marked with the huge blowout parties of today's company—think less private mansion and more banquet hall reception—she managed to get in with some very Young Hollywood stars of the moment. In 2001, when Jason Bateman was still a budding talent, she scored a gig planning his nuptials to Amanda Anka (to whom, it begs mentioning, he is still married to this day), and the couple ended up referring her to others in their very exclusive Rolodex.
"The business was definitely built by word of mouth," explains Oren. "I could track every single client back to the person I got that business from." 
Buzz around Hollywood couples began to spread that there was a very big talent in town, and the next thing she knew, the wedding planner who got her start working catering was flying on Kevin Costner's jet. (Don't worry; more on that later.)
Now that Oren is in charge of some dozen weddings at a time with any number of A-list stars, all of which can be expected to run her clients upwards of millions of dollars (or more), spending a day in her life is just as juicy as picking up a copy of Us Weekly. And just as hectic too. 
"There's no average day in this business," she teases. "I'll start out with everything laid out for me and then I'll get a call from a client and there's a fire to put out and the entire thing will change."
When a celebrity (or simply incredibly wealthy Angeleno) comes to Oren seeking her wedding planning services there is a very detailed process that must be set in place before any venues are booked or cakes are tasted or dresses tried on. Sometimes the stars will arrive with a general idea of what they're looking for in their big day, but more often than not the team is starting from scratch—that is their expertise, after all. Oren and her employees will press the bride and groom with all sorts of questions to hone in on their interests and tastes: They ask everything from where the couple vacations to what they like to read to an absolute favorite hotel. 
"We really immerse ourselves," she says. "I don't want to plan my version of their wedding; I want to plan their wedding. Walking into their event should feel like stepping into an experience of who they are. I always say that we do a good job if no one knows we're there." 
Of course, it's quite the opposite during the planning process: Oren and her team are there for everything. The luxury and extravagance of these wedding weekends cannot be overstated; what else does one expect for the biggest day of Reese Witherspoon's life? (And did we mention Adam Levine and Natalie Portman?) The biggest and most important rule of thumb in the industry is that they are not in the business of saying no. An outrageous request is merely a fun challenge. An actress wants cheese flown in from France? Done. Another actress wants an entire outdoor living room designed from scratch (meaning not a piece of rental furniture in sight), complete with custom colors and fabrics? Sure. A girls trip to Paris try on dresses at the world's best ateliers? Just show them where to park the private jet. 
(And yes, these are all things that Oren has done—although who she did them for is a secret she'll take to the grave.)
Yifat is quick to mention that extravagant requests aren't unique to just brides; grooms often have ideas of their own and it's not unusual for them to come in the form of very specific musical entertainment. Iron-clad loyalty to her clients prevents her from divulging any more, but if a person wanted to be nosy they could simply read the rumors of Stevie Nicks flying in to perform for Adam Levine and Behati Prinsloo at their Cabo San Lucas affair to get an idea of what she means. 
As is shocking to no one, celebrity weddings do not come cheap. Everything is done with the best vendors and designers and the location fees are often just the very beginning. The stars often choose exclusive venues (think the $1,000-a-night-and-rising San Ysidro Ranch) that aren't even accessible to the average person, astronomical deposit notwithstanding—thanks to Oren's clout within the industry, she can command access to locations that only deal with people of a certain status. Many stars also choose to host their weddings in their own homes (like Witherspoon's wedding weekend at her ranch in Ojai, Calif., or Barrymore's Montecito, Calif. affair) which add another dimension of expense and logistics.
"Weddings can get expensive when you start serving things like caviar and having incredible synchronized waiter service, but once you start hosting in remote locations the cost rises," says Oren. "The ambience that we end up building is incredible, but just getting everything to the location and the design and preparation and the load-in and load-out become so elaborate that the price tag skyrockets." 
Oren Co. uses the local economy whenever possible for a destination wedding—and they always donate leftover materials to local charities—but for the most part their clientele is such that they need top quality that doesn't exist in a place like Big Sur. So if you are Natalie Portman or Anne Hathaway, you're going to have to shell out to get the florist, band and caterer, not to mention a large production team, up Highway 1. 
Even harder than coordinating the transport of a five-figure cake to California's most remote coastline is the level of security and privacy that a wedding between two A-list actors requires. Every single step of the planning process is done with security in mind, from the location that the team chooses to how they design a tent. It all starts in the Oren Co. office, where they never use a client's real name on a contract or rental agreement and keep the weekend's attendees in the dark about details until the last minute. Yifat also recommends that the biggest stars opt for nuptials in smaller cities (read: not Los Angeles) and keeping the guest list small to ward off the chances of a busybody in the audience. 
Next comes the day-of tactics. Decoy brides and cars are not unheard of, and guests at a celebrity's big day shouldn't be surprised if they're asked to check their phone at the door. 
"There also may be someone in a different house rental near where the wedding is actually taking place," Oren teases coyly. "There may be a bride's dress hanging in the window, for instance, and a few bridesmaid dresses. There may even be a getaway car. But I'm not going to give away all my secrets." 
But even the best laid plans often go awry, and Reese Witherspoon herself (all-powerful as she is) can't contain every single leak. Sources will inevitably talk to the tabloids, giving away details like the decor's theme or a special performance that was given. Or, even when you put all the money and man power you have into throwing a remote Big Sur wedding, pictures will surface. As hard as Oren and her team work to keep things quiet, the paparazzi have a way of getting their shot. Just look at the snaps that came out of Portman and Hathaway's remote cliffside affairs, grainy as they are. For that, even the A-listers have to throw up their hands. 
"You can request a no-fly zone but you can't get one," cautions Oren. "Unless you're the President of the United States. Celebrities often worry about the noise and the commotion it creates, and that's no fun for anyone."
So what has Yifat learned after almost two decades in the most exclusive wedding planning business in the country? To be trite, everything. She's learned that she can put on a five-star nuptial in as little as two-and-a-half months, so long as the bride and groom are efficient. She's learned that there is still no good answer to working with a bridezilla, but that the longer she's been doing it, the less tolerant she's become. She's learned that, as extravagant as celebrity weddings are, they're not necessarily the most expensive. She's learned not to feel any extra pressure when producing an event for an A-lister and that at the end of the day it's just to people creating a celebration. 
And she's learned that it is certainly not for the weak of heart. "Almost 20 years ago when I started the company I thought, this is fun," she says. "And then five, ten years later when I'm on Kevin Costner's jet and flying around the world doing these amazing projects I loved it. But if I thought I would have two kids telling me I'm always late to dinner or always looking at my phone, I would have thought twice about this career. It's very challenging when you have children. But it's been an amazing run and it will be hard to ever let it go."