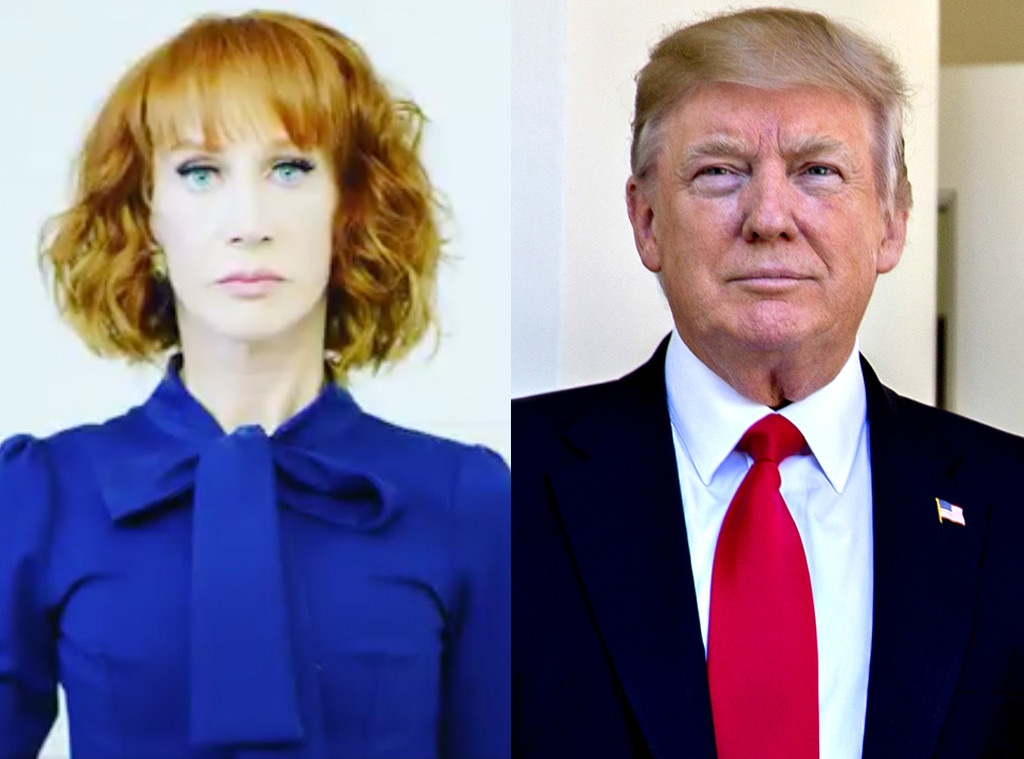 Twitter; Andrew Harrer/Bloomberg via Getty Images
UPDATE: Katy Griffin has apologized for her fake Donald Trump beheading video, which she posted via Twitter earlier today. A few hours after the original message hit, the comedy queen tweeted a new video, along with the caption, "I am sorry. I went too far. I was wrong."
Her apology comes on the heels of a huge backlash over the gory images, which were filmed by celebrity photographer Tyler Shields.
Donald tweeted about the controversial shoot Wednesday, writing, "Kathy Griffin should be ashamed of herself. My children, especially my 11 year old son, Barron, are having a hard time with this. Sick!"
________
Kathy may have finally gone too far...
Earlier today, the comedian sent shock waves through Twitter after she took to her social media to post controversial video, which shows the redhead holding up a beheaded, blood-soaked image of President Donald Trump to the camera.
Along with the bloody images, Griffin wrote two tweets. "1/ I caption this "there was blood coming out of his eyes, blood coming out of his...wherever" Also @tylershields great Photog/film maker."
The 56-year-old also wrote, "2/ OBVIOUSLY, I do not condone ANY violence by my fans or others to anyone, ever! I'm merely mocking the Mocker in Chief."
Griffin may have meant it as a joke, but the backlash of her graphic video has been quick and severe. Many followers and commentators were outraged over the gory images, aimed at the sitting president.
Chelsea Clinton, the daughter of former democratic presidential candidate Hillary Clinton, was one vocal critic of Griffin's posts. "This is vile and wrong. It is never funny to joke about killing a president," wrote Clinton.
The Secret Service also took to Twitter with messages that were not specifically a response to Griffin, but were sent out shortly after Griffin's video went viral.
A barrage of people tagged Secret Service on Griffin's images and quickly the account, which has over 440K followers, tweeted out, "On it! @SecretService has a robust protective intelligence division that monitors open source reporting & social media to evaluate threats."
One hour after that tweet, the account added another tweet: "Threats made against @SecretService protectees receive the highest priority of all of our investigations. #ProtectionNeverRests."
Donald Trump Jr. also took to his Twitter to slam the video, writing, "Disgusting but not surprising. This is the left today. They consider this acceptable. Imagine a conservative did this to Obama as POTUS?"
(Originally published on May 30, 2017 at 4:38 p.m.)