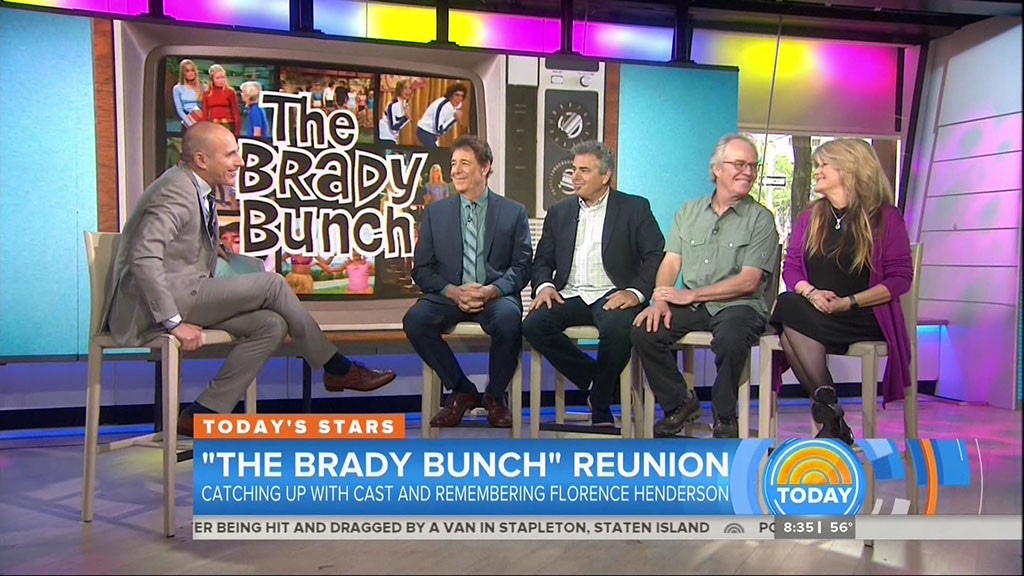 NBC/Today
They became the Brady Bunch—and nearly 50 years later, here they are again. 
In a special reunion interview for alum of the beloved sitcom, Barry Williams (Greg Brady), Christopher Knight (Peter Brady), Mike Lookinland (Bobby Brady) and Susan Olsen (Cindy Brady) reminisced about the show that made them everlasting TV stars. 
"You don't grow old for yourself until you see yourself in a photo—somehow you just don't see it. It's as though the show keeps us young in everyone's mind," Knight, 59, described to Today's Matt Lauer. 
"Everyone always refers to us as kids, so no matter how we mature, we're still the kids," Williams, 62, added.  
While fans of the longtime series may continue to picture the Brady kids no older than teenagers, it's clear they've grown up and moved on—but the spotlight of their characters has always followed them. 
"A teenage girl came over and asked me to sign an autograph—for her mother," Williams recalled, referring to it as the moment he realized he would never shake the character. 
"Our fans have grandchildren," Lookinland quipped. 
While the child stars might not have always welcomed the attention the show brought them after the fact, the group does agree—what they created is a TV rarity today. 
"What you have on The Brady Bunch is something you're not going to see these days, which is a family where the parents and the kids respect each other," Olsen said. 
The country is also missing the family's on-screen and off-screen matriarch, Florence Henderson, who passed away in November 2016 from heart failure. 
"She was great humanity," Knight described. "Everyone she met felt better about themselves and the world around them after spending a moment with Florence."
While she may not have been their real mother, Henderson imparted lessons behind the scenes. "We learned how to interact with the public [from her]," Williams recalled. "She was so gracious with her fans and we learned how to do that graciously."
"Mostly she loved to make people laugh," he added. "She made people smile."
(E! and NBC are both part of the NBCUniversal family.)