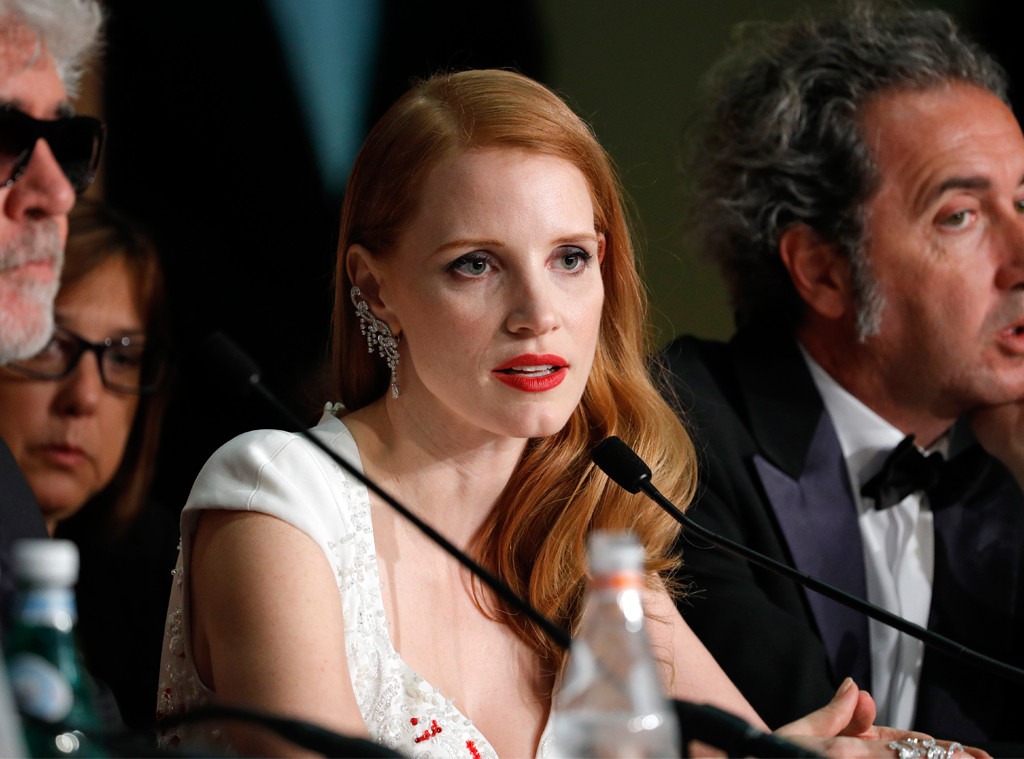 Andreas Rentz/Getty Images
Jessica Chastain calls it like she sees it.
At the 2017 Cannes Film Festival, during a press conference following Sofia Coppola's Best Director win for The Beguiled, Chastain took the opportunity to share what she'd learn during her time as a juror. "I do believe that if you have female storytelling you also have more authentic female characters. This is the first time I've watched 20 films in 10 days, and I love movies, and the one thing I really took away from this experience is how the world views women from the female characters that I saw represented. It was quite disturbing to me, to be honest," the two-time Oscar nominee said. "There are some exceptions, I will say. But, for the most part, I was surprised by the representation of female characters on screen in these films."
"I do hope that when we include more female storytellers, we will have more of the women that I recognize in my day-to-day life: ones that are proactive, have their own agencies, don't just don't react to the men around them," Chastain said. "They have their own point-of-view."
Many in Hollywood—including Aidy Bryant, Lena Dunham, Ava DuVernay, Mindy Kaling and Debra Message—tweeted a video clip from Sunday's press conference and thanked Chastain.
Fellow jurors Agnès Jaoui and Maren Ade also shared Chastain's sentiments. Jaoui, a French actress, discussed the importance of the Bechdel Test, admitting that "few movies pass the test." Ade, who directed the Oscar-nominated movie Toni Erdmann, claimed that it was "the first time" a woman had won n the Best Director category. "So for me, I really have to say I am always so happy meeting other female directors, just because I found out after a while of always being surrounded by men, especially men doing this job, the impression comes up that it's not the right job for a woman but that's completely wrong. We all want to the film industry to reflect modern society," Ade said. "We're missing a lot of stories, not just female characters."
Coppola was actually the second woman to win the award in 71 years; the last to do so was Yuliya Solntseva, a Russian director who won the award for 1961's Chronicle of Flaming Years. Ruben Östlund's The Square won the Palme d'Or, the highest prize awarded at the film festival.
"First, I want to say I'm really happy to present this award to Sofia Coppola, because she did amazing work to the audience," Chinese actress and fellow juror Fan Bingbing added. "We just want to advocate to focus on female filmmakers in the future. This is not something I want to judge; I want to advocate, and we want to encourage, filmmakers to present more female characters. I have to say she won this prize not because she's a female filmmaker, but because [of] the film itself."