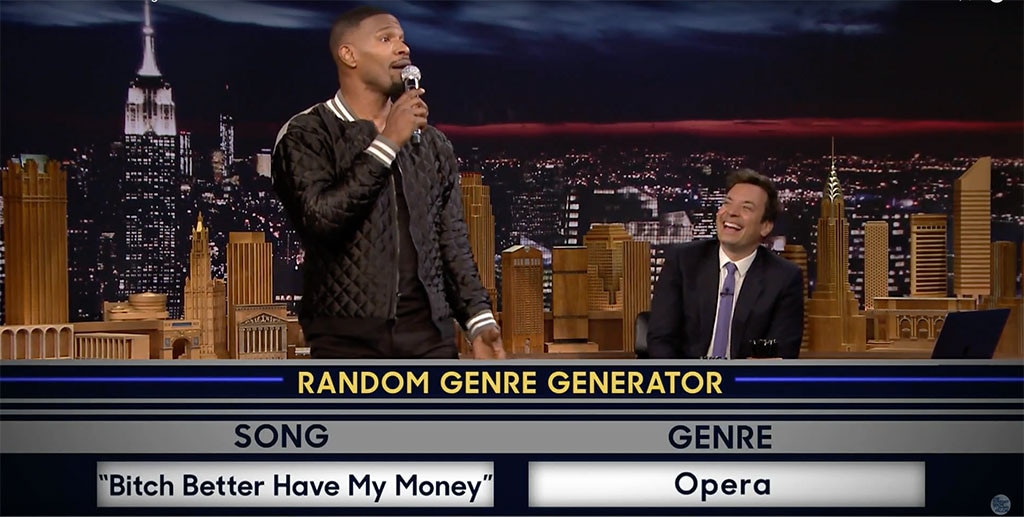 YouTube
It's no question that Jamie Foxx is talented, but this performance just took things to a new level. 
The Oscar winner joined Jimmy Fallon on The Tonight Show Thursday night for a new round of the show's signature Musical Genre Challenge. As is customary of the game, each player hits a button and is given a musical prompt containing a song and the style they have to sing it in. Let's just say this was no easy round. 
First up, Fallon had to take on The Weeknd's hit track, "Can't Feel My Face" as a 50s crooner. Honestly, we'd put it on our iPhone. 
It only got better from there as Foxx then had to turn the 2000 classic, "Who Let the Dogs Out?" by Baha Men into a Broadway tune. "Jamie, I don't know how you're going to do this," Fallon quipped. Not to fret—the singer handled it like a pro, complete with a monologue and plot surprise. 
Switching gears, the host channeled the greats to pull off Migos' "Bad and Boujee" with a '60s rock backdrop with backup vocals from his guest. 
As the grand finale, the Robin Hood actor turned Rihanna's "Bitch Better Have My Money" into an opera performance. 
We'll see you at the Metropolitan Opera House, Jamie!