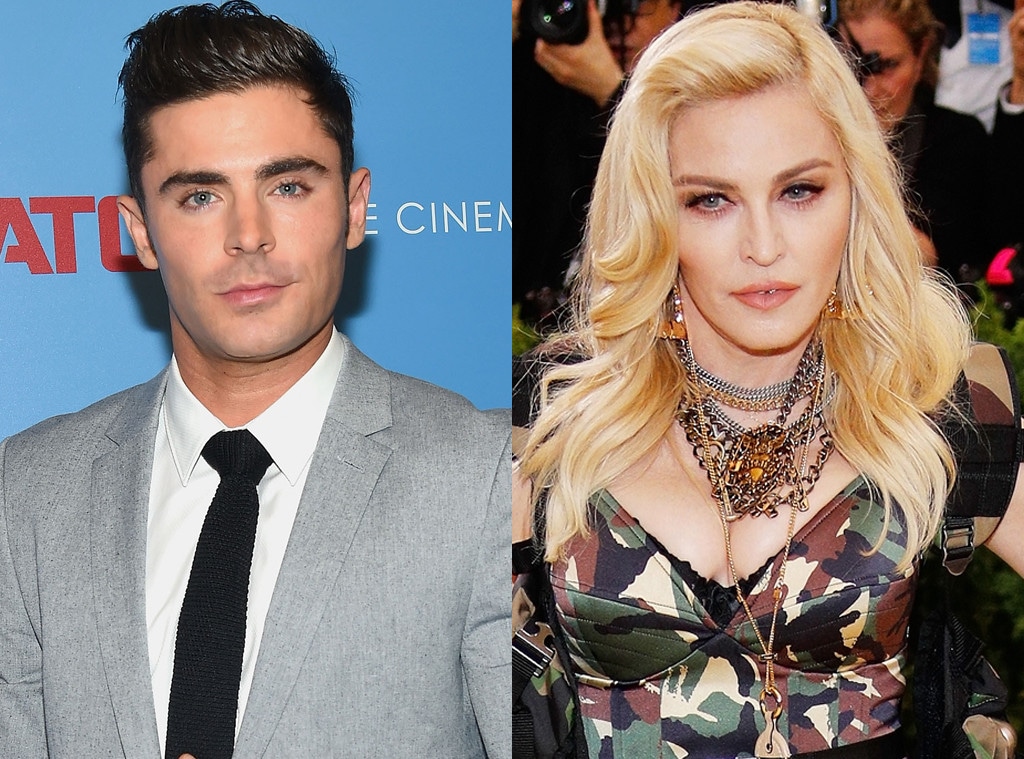 FilmMagic
It sounds like things were burning up between Zac Efron and Madonna ringside. 
During an MMA fight at Madison Square Garden, the Baywatch star and pop icon found themselves side by side to take in the main event. Thanks to Jimmy Kimmel, Efron dished on the entire night of curious events during an interview on Jimmy Kimmel Live Wednesday night. As the actor recalled, he knew he was seated close to the ring for the fight featuring Conor McGregor, but he didn't know who he would be seated next to. Fortunately, the seats were labeled. 
"I see several famous people and 'Madonna' and then 'Zac Efron,'" he remembered. "I was like, 'I'm next to Madonna for this entire fight?'"
Turns out the Material Girl is into mixed martial arts. "She was legit into the fight," Efron described. "She was having the time of her life. It was great."
While the actor was telling the story, Kimmel had something else on his mind. "Is it possible that she was trying have sex with you?" the host asked. "Madonna is an irresistible person. When she sets her sights on someone, there's no escaping."
Efron played coy."She is captivating in that way," he answered. "I can't confirm or deny that."
Of course, Kimmel pulled up footage of them together in the audience showing Madonna tapping Efron on the chest and Efron running his fingers through his hair. 
"I'll tell you one thing—Madonna was lovely. She is amazing," he described. "She just is amazing. She's rad."
So, did anything go down, Zac?
"I guess you can say she tapped me," he joked. "She tapped this."